Carleton faculty members promoted to emeritus, endowed chair
The Carleton College Board of Trustees recently approved three Carleton faculty promotions effective Jan. 1, 2021: Mariko Kaga, emeritus; Harry Williams, emeritus; and Susannah Ottaway, endowed chair.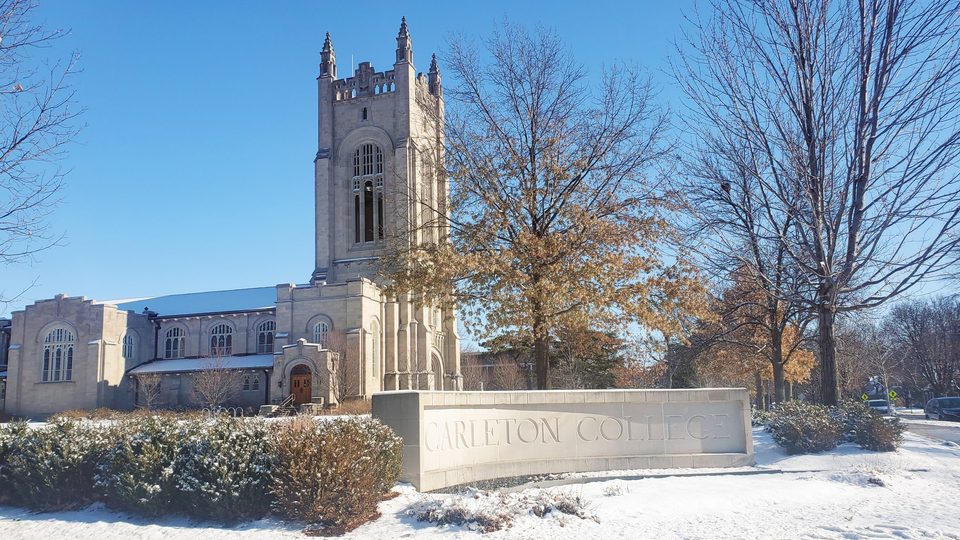 The Carleton College Board of Trustees recently approved three Carleton faculty promotions effective Jan. 1, 2021: Mariko Kaga, emeritus; Harry Williams, emeritus; and Susannah Ottaway, endowed chair.
Mariko Kaga, Class of 1952 Professor of Asian Languages, Emerita, joined the Carleton faculty in 1986. Among her many accomplishments, professor Kaga co-authored a computer program, Exercises in Japanese Counters and Kana, and worked to develop a digitized computer program for listening and reading practice.
Kaga earned a BA in English literature from Kobe Kaisei Women's College in Kobe, Japan, in 1970. She taught English for several years at Nihon Business School in Osaka and Kobe Kaisei Women's College before coming to the United States in 1976 to study linguistics at the University of Illinois, Champaign-Urbana. After receiving an MA in 1978, she entered the doctoral program at Illinois, teaching Japanese language courses there and at the Middlebury College Japanese language summer school in addition to continuing her graduate studies. She was awarded a PhD in second language acquisition and teacher's education in 1987, a year after joining the Carleton faculty.
The Class of 1952 Professorship of Asian Languages was made possible by a Challenge Grant of $400,000 from the National Endowment for the Humanities in December 2000, which has been matched almost entirely by a gift from Spencer and Barbara Gould, who graduated from Carleton in 1952 and 1957, respectively. The gift was in honor of Spencer Gould's 50th class reunion at Carleton. The endowment challenge grant provided for two positions in Asian languages, and the trustees of the College named one of the positions for the Class of 1952.
Harry Williams, Laird Bell Professor of History, Emeritus, joined Carleton's faculty in 1989. Over the years, Williams has served as director of the Africana Studies program and led an off-campus studies program to Ghana. His teaching interests were that of African-American history with primary interests in 19th century slavery studies, social and intellectual history, Black conservatism, and cultural studies. Secondary teaching interests include the Black Atlantic with an emphasis on Ghana (Gold Coast) and the United States, and the Concord intellectuals.
Among his many accomplishments is the establishment of the Williams-Harris Endowed Prize in Africana Studies to honor his mother, Edith Moselle Harris Williams (1931–1992); his grandmother, Patsy Harris Tunson (1914–1998); and his great-aunt, Ellen Harris Brooks (1909–1998). This prize recognizes their respect for the transformative power of education, the vast richness of their life experiences, and the strength of their characters. The prize recognizes a member of the senior class who has produced a distinguished integrative exercise on any aspect of the African American experience in the New World.
Williams received a BA from Lincoln University, MA from the University of Missouri, and MA and PhD from Brown University.
Susannah Ottaway, Laird Bell Professor of History, joined Carleton's Department of History in 1998, where she teaches courses in Early Modern European History, Modern British and Irish History, and Historical Methods. She has developed courses and programs in public history and currently serves as the faculty co-director of the four-year Mellon-funded initiative, Public Works: Carleton Arts and Humanities Connecting Communities. From 2011-14 she served as director of Carleton's Humanities Center and was the Bryn-Jones Professor of the Humanities. She was awarded a Doshisha University Fellow position and will teach in Kyoto, Japan, in 2021 or 2022.
Ottaway's publications span a number of topics in early modern and 18th Century history. Her work on the history of old age has appeared in her monograph published by Cambridge University Press, "The Decline of Life: Old Age in Eighteenth-Century England;" an eight-volume co-edited source reader, "The History of Old Age in England, 1600-1800;" a forthcoming co-edited volume, "Cultural History of Old Age" (under contract with Bloomsbury); and several articles and book chapters. She has published essays on women's work and household structures, and, together with philosophy professor Anna Moltchanova, on rights and reciprocity in the political and philosophical work of John Locke. Her recent research has focused on the history of social welfare and has resulted in publications in The Journal of Social History, The Historical Journal, and a chapter in The Workhouse and Medicine. Her work has been supported by the American Council of Learned Societies, as well as grants and fellowships from Carleton, and she is currently part of an interdisciplinary team of scholars on a National Endowment for the Humanities (NEH) grant related to a digital humanities project centered on the virtual reconstruction of an Irish castle.
At Carleton, Ottaway has served on numerous committees, and chaired the history department, as well as the Argument and Inquiry Implementation Committee. She is honored to have been appointed by Minnesota Governor Mark Dayton to serve on the Board of Directors of the Minnesota Humanities Center, where she helped to successfully attain and lead two NEH grants under the Dialogues on the Experience of War initiative. Ottaway serves on the editorial board of Social Science History and has held elective and appointed positions at the North American Council of British Studies. She was elected to the Nominating Committee of the American Historical Association and served in that role from 2017-19. She has been on program and departmental external review committees at 11 colleges and universities, and has been a reviewer for the Fulbright, American Council of Learned Societies and NEH Fellowships.
Ottaway earned a BA in History from Carleton College in 1989 and her MA and PhD in History from Brown University in 1997.
The Laird Bell Professorship in History was established in memory of trustee Laird Bell.