Carleton economics department receives American Economic Association award for achievement in diversity and inclusion
The winners of the award were announced in January.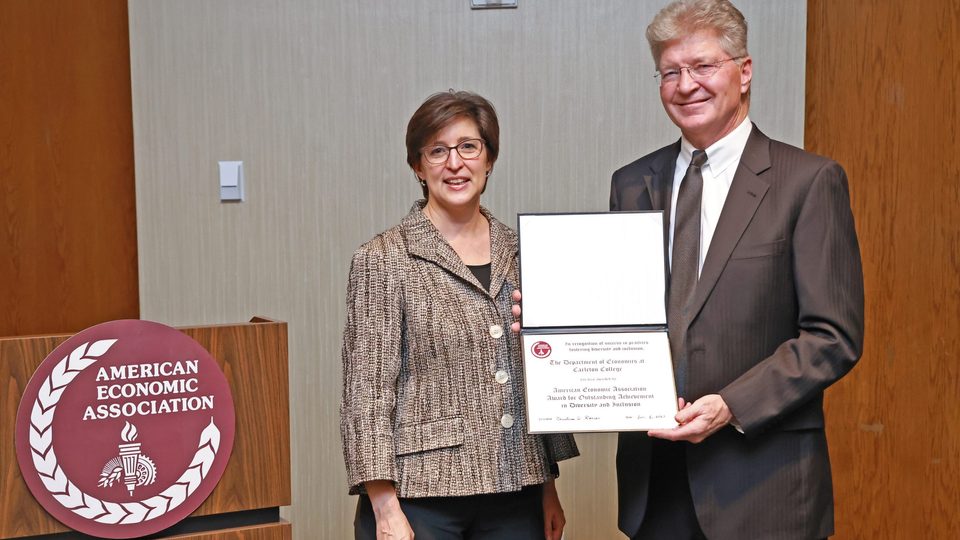 Carleton's economics department received the third annual American Economic Association's (AEA) Award for Outstanding Achievement in Diversity and Inclusion in December 2022. The award, which was announced in January, recognizes college economics departments and other organizations which have demonstrated "outstanding achievement in diversity and inclusion practices."
Mark Kanazawa—Wadsworth A. Williams professor of economics, former department chair and the faculty member who wrote and submitted the award application to the AEA—explained that the department has recently undergone a renewed push to improve its diversity and inclusion practices.
"We've been aware of things [around diversity and inclusion] that we should be doing more of for a while now… but I think it's really fair to say that the trigger was the George Floyd murder in the spring of 2020," he said. "We had a lot of conversations among the faculty in different departments, which helped us to recognize our own shortcomings and the shortcomings of our program. That was really the catalyst for a lot of our recent efforts, and so for the last three years we've been trying to put a lot of things in place to remedy some of those shortcomings."
The new initiatives include a variety of events and programs at various levels of the department, including a new visiting speaker series on Race, Privilege, and Inequality; annual mentoring sessions for BIPOC students with BIPOC economics department alumni over Zoom; book reading groups; and the addition of courses focused on themes of diversity and equity.
Professors have also made a conscious effort to make their classrooms more welcoming for BIPOC, women, trans and gender non-conforming students with explicit statements regarding inclusion at the start of classes and by changing curricular material to create a more inclusive learning environment.
A survey done in 2021 revealed that students had primarily positive feedback about the economics department in regards to diversity and inclusion, although the scope of the survey was limited. However, the department did take away a few areas in which they could improve communication with students.
Kanazawa said it is still "too early to tell" what all of the outcomes of the initiatives will be, but he is hopeful about the future of the department's efforts. Looking forward, he hopes to incorporate a mentorship program for prospective BIPOC economics majors modeled after WE+, a mentoring program for women-identifying and nonbinary Carleton students in economics.
The AEA bases their diversity and inclusion award on three main criteria: processes and structures which support an inclusive environment and empower students from underrepresented backgrounds, programs and policies that support the AEA's standards for making the profession more inclusive, and public evidence of these efforts.
In 2022, Georgia State University and Howard University received the award alongside Carleton.