Carleton community celebrates the 2021-22 academic year with Honors Convocation
Among speeches from President Alison Byerly and alum Michael Martin '09, Carleton students were recognized for honors societies, prestigious national awards and fellowships, and Carleton-specific awards and prizes.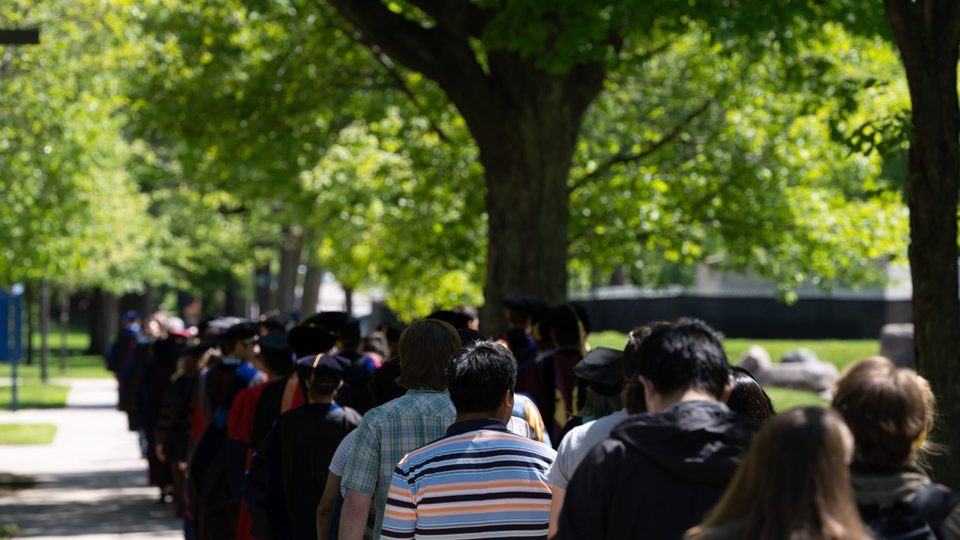 Skinner Memorial Chapel filled with bubbles and faculty displayed their academic regalia as the campus community culminated its 2021-22 academic year with Honors Convocation on May 27. This convocation celebrated the awards and academic accomplishments of Carleton students, including those selected for honor societies, recipients of prestigious national awards and fellowships, and winners of Carleton-specific awards and prizes.
"While their accomplishments differ, what these students share are the qualities which make Carleton students special: intellectual curiosity, energetic engagement and commitment to the hard work of learning," President Alison Byerly said. "The achievements of these students are even more remarkable in light of the challenging circumstances that impacted their culminating years at Carleton. In spite of many pivots and changes, they took full advantage of Carleton's broad liberal arts education, covering every area of the curriculum and undertaking significant research projects."
In total, 294 students were named and presented with awards.
Geology major Jaren Yambing '22 received a Churchill Scholarship and will spend one year at Cambridge University doing research in the department of earth sciences on the potential of carbon capture and storage of industrial slag. Yambing is the seventh Carleton student to win the award in its 58-year history and one of just 16 recipients for 2022-23.
Georgie Mukeshimana '25 received the Davis Projects for Peace award and will work with the Nyabikiri community village to provide training in sewing and handcrafting to women in rural Rwanda.
Will Bausch '22, Ella Milliken '22 and Thomas White '22 received Fulbright awards. Max Gjertson '22, Lila Stolkiner '23 and Marianne Gunnarsson '22 received Critical Language Scholarships.
Also honored were the many new members of three national honor societies: Phi Beta Kappa, Sigma Xi and Mortar Board.
The event was the culmination of this year's convocation program, a rich Carleton tradition which features many notable guest speakers such as Stacey Abrams, former Georgia state representative and candidate for governor of Georgia, who gave the 2020 Opening Convocation address.
Michael Martin '09 delivered this year's Honors Convocation address. The founder and CEO of RapidSOS, a tech company providing life-saving data to 9-1-1 and first responders, Martin graduated summa cum laude from Carleton as a Rhodes Finalist.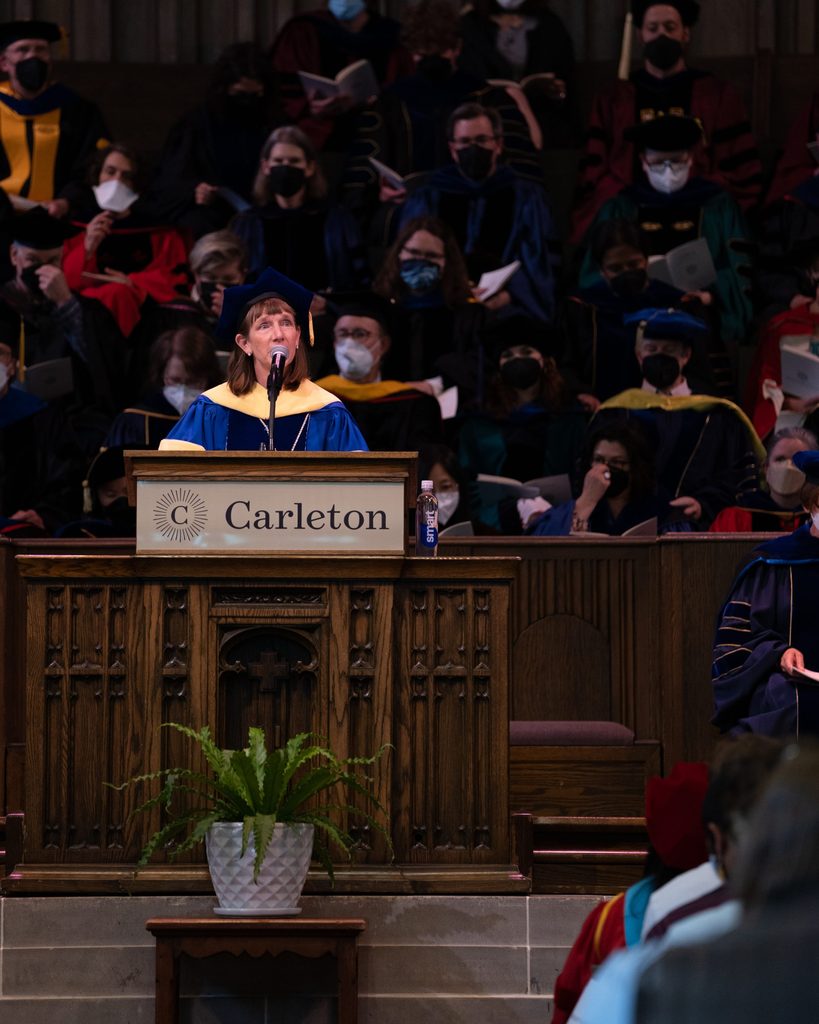 "Michael's path since graduation is a wonderful example of how curiosity, creativity and determination of the kind nurtured at Carleton can lead to transformative solutions for critical problems," Byerly said.
Martin opened his address with an engaging story about being chased around in the Arb as a Carleton student by a police helicopter, which had mistaken him for an escaped inmate. His experience on the phone with 9-1-1, during which the operator had little information about his identity or whereabouts, inspired him to create RapidSOS.
"As you think about wherever your next adventures lead you [and] where your passions drive you, I really want to encourage you to go where that community of people is," Martin said, "to go where that need is, to go where the people are who are experiencing those challenges."
Quoting Natasha Bedingfield in her song, "Unwritten," he added: "Feel the rain on your skin, because no one else can feel it for you."
Martin concluded his time on stage with a reference to the college's fight song, "Carleton, Our Alma Mater," which is sung at the end of every Honors Convocation.
"We need you to pledge your fight—'the strength of all your days'—to solve those challenges worthy of your talent, your energy and the extraordinary education all of us have received here," Martin said.
---
Watch the recording of Honors Convocation.