Carleton community celebrates 2022-23 academic year with Honors Convocation
Amidst a cloud of bubbles, speeches from the dean of students, provost and more, Carleton students were recognized for prestigious national awards and fellowships, honor societies and Carleton-specific awards and prizes.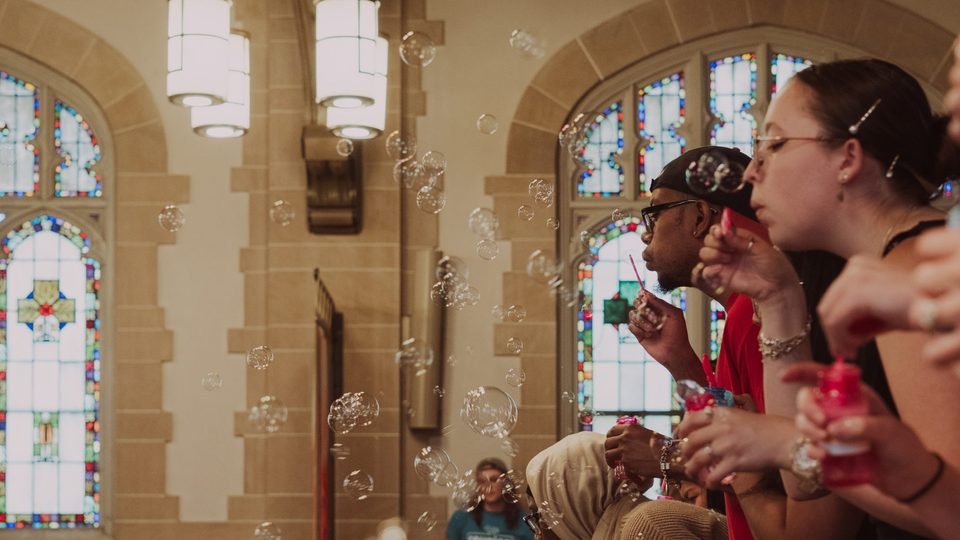 The Carleton community gathered in Skinner Chapel on Friday, May 26 for Honors Convocation, a celebration of Carleton students' academic excellence and the culmination of the 2022-23 academic year. Honors Convo is the final event in the convocation program, a Carleton tradition that this year featured speakers like U.S. Senator Amy Klobuchar, Pulitzer Prize-winning journalists, activists, scholars and Emmy-winning directors. Honors Convo also features the Bubble Brigade at the beginning and end of the program, where Carleton seniors blow bubbles from the Chapel balcony over the faculty's processional and recessional.
This year's convo address was a bit different; instead of being delivered by a traditional speaker, the Carleton Chinese Music Ensemble, led by Director of the Chinese Music Ensemble and Senior Lecturer in Chinese Musical Instruments Gao Hong, performed pieces titled "Spring Festival Overture" and "Happy Feelings."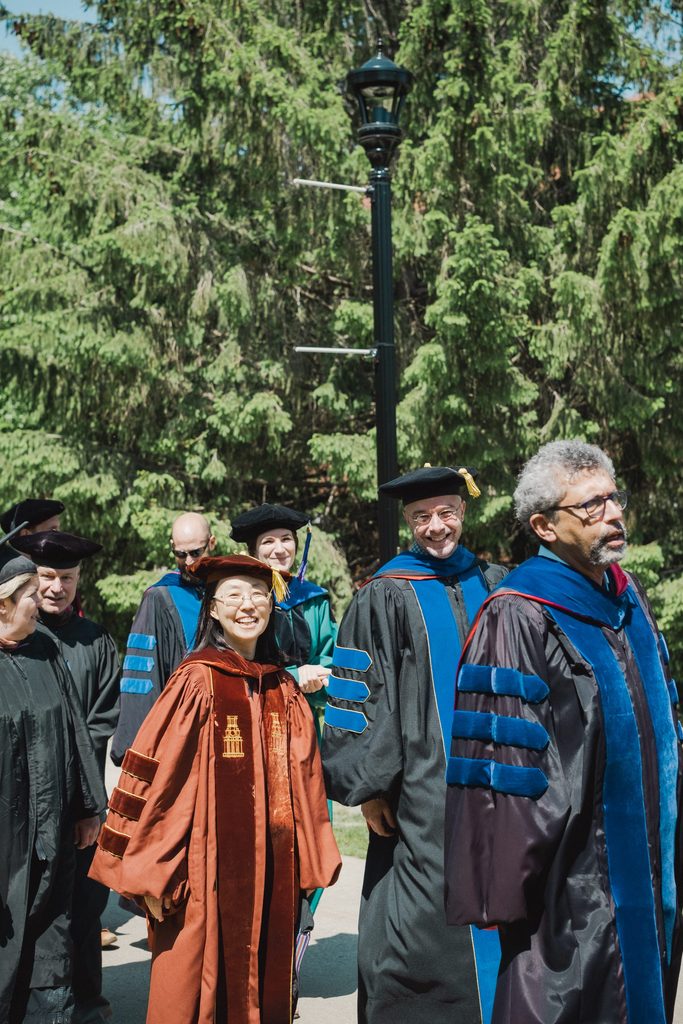 Before announcing individual awards, Vice President for Student Life and Dean of Students Carolyn Livingston commended the accomplishments of all the students being honored.
"Their achievements are motivated by the highest of Carleton values," she said. "Curiosity, creativity, intellectual adventure, engagement with the world around us, a tenacious pursuit of knowledge, generosity and kindness of spirit. In honoring these students we not only recognize their achievements, we also celebrate the core values of our Carleton community."
This year, Carleton students were the recipients of more than 80 prizes, fellowships, honor societies and awards. This piece will highlight just a few; to see the full list of honorees, visit the Honors Convo website.
Lucklita Theng '23 received the Projects For Peace award, an initiative from the Davis United World College Scholars Program that supports students in creating their own "grassroots projects for peace."
10 Carleton students from the Class of 2023—Sophie Baggett, Lindsay Boettiger, Horace Fusco, Thomas Gatewood, Emmett Lefkowitz, Chisom Oguh, Michaela Polley, Zak Sather, Mikhalina Solakhava and Allison Teichman—were awarded prestigious Fulbright awards to pursue independent research, graduate study or English teaching in different countries around the world. Natalie Bax '24 and Oliver Tullio '24 were honored with awards from Fulbright MITACS-Globalink, a highly competitive Canadian program that supports student participation in advanced research projects at Canadian universities. 
Eric Cheng '23 and Susanna Kisker '24 were both awarded Critical Language Scholarships, with Cheng planning to study Arabic in Jordan and Kisker planning to study Swahili in Tanzania. Annemily Hoganson '24 was awarded the Barry M. Goldwater Scholarship, which recognizes outstanding academic achievements in science, technology, engineering and mathematics (STEM). Julian White-Davis '23 was awarded the Thomas J. Watson Fellowship to spend a year abroad exploring people's feelings of belonging toward the lands on which they live.
Carleton also celebrated the induction of students into three honor societies; 47 Carls were announced as part of Mortar Board, 86 as part of Phi Beta Kappa and 52 as part of Sigma Xi. 
CSA President Quinn Buhman '24 celebrated the exceptional accomplishments of Carleton students with thoughtful remarks to the crowd that summed up the energy of the afternoon.
"Each of us has contributed to the intellectual tapestry of Carleton," Buhman said. "We've explored the depths of knowledge, challenged our assumptions and embraced the pursuit of truth. Our achievements are a testament to our dedication, hard work and the unwavering support of our exceptional faculty and staff… May our futures be filled with continued success, laughter and a touch of the unique Carleton spirit we have come to appreciate."