Carleton Commencement 2023
486 students graduated from the Carleton College Class of 2023 during a Commencement ceremony featuring remarks by President Alison Byerly, Cristina Camarillo '23, Bahar Taş '23 and Jonathan Capehart '89.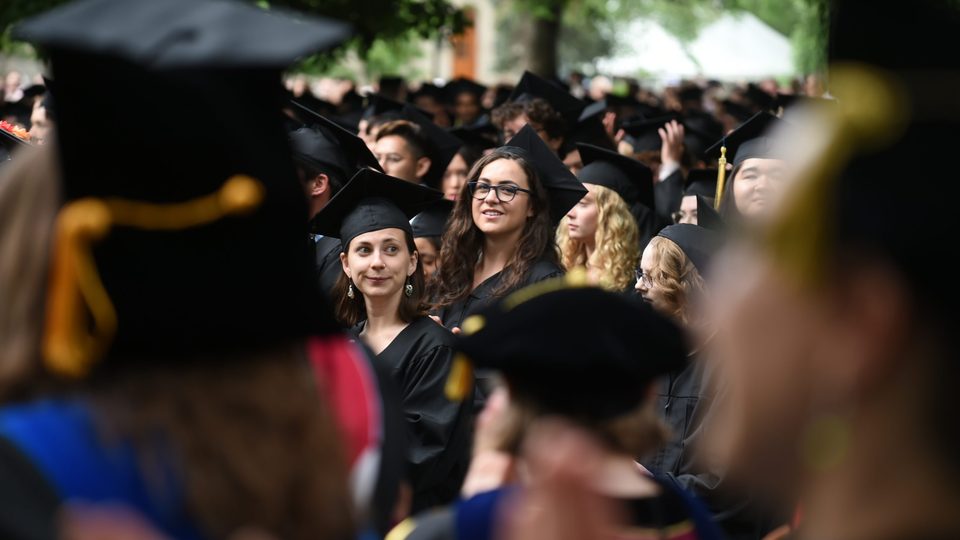 Carleton graduated 486 students from the Class of 2023 during its 149th Commencement ceremony, held Saturday, June 10 on the Bald Spot.
Hundreds of friends and family members attended in order to applaud the latest Carleton graduates, with cheers from the large crowd echoing across campus after each diploma was presented.
Michelle Mattson, professor of German and provost and vice president for academic affairs, read the names of the students as President Alison Byerly awarded the diplomas—and a handshake—to every member of the Class of 2023 in attendance.
An honorary doctoral degree was also conferred during the ceremony to Pulitzer Prize-winning journalist Jonathan Capehart '89, who also gave the Commencement address.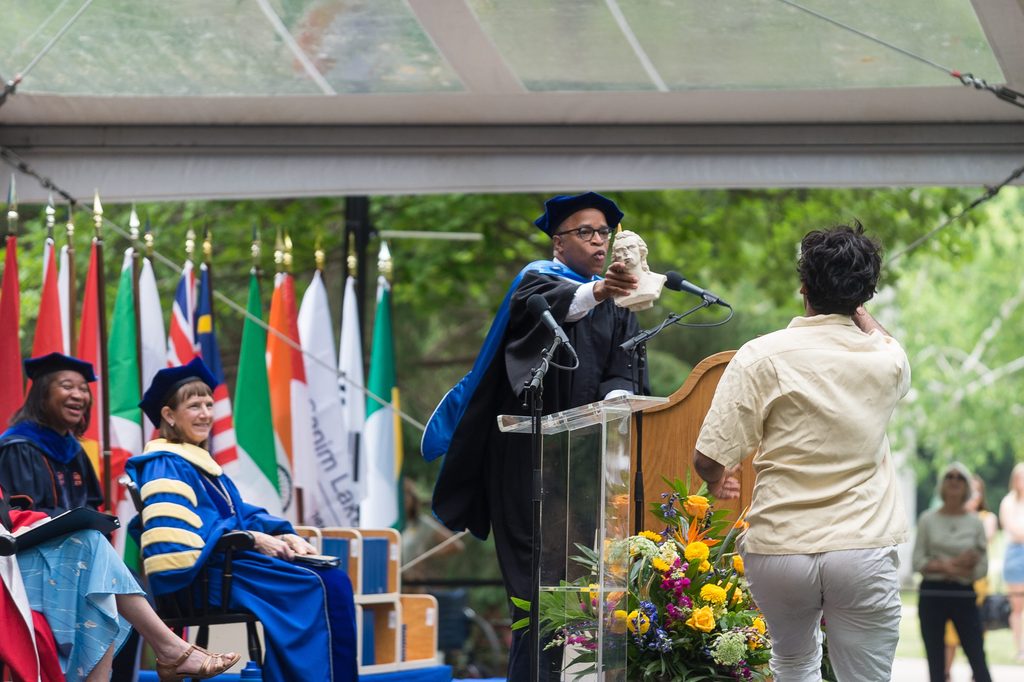 Capehart began his address by holding up the bust of the German poet Schiller—part of a long Carleton tradition where Schiller is periodically stolen and shown off at campus events only for it to be stolen again. A student promptly grabbed it from Capehart and ran into Hulings Hall behind the Commencement stage.
Capehart expressed deep gratitude for his time at Carleton during his speech, noting among other aspects of his student experience that he got his start in the news industry at The Carletonian and with KRLX campus radio.
Three specific pieces of advice to the graduating class were the cornerstone of Capehart's concluding remarks: don't be afraid to say "I don't know" when you actually don't know; don't be afraid to ask a "dumb" question, because someone else in the room is wondering the exact same thing; and don't be afraid to look at the world as it is and not only ask why things aren't better, but also how they could be better.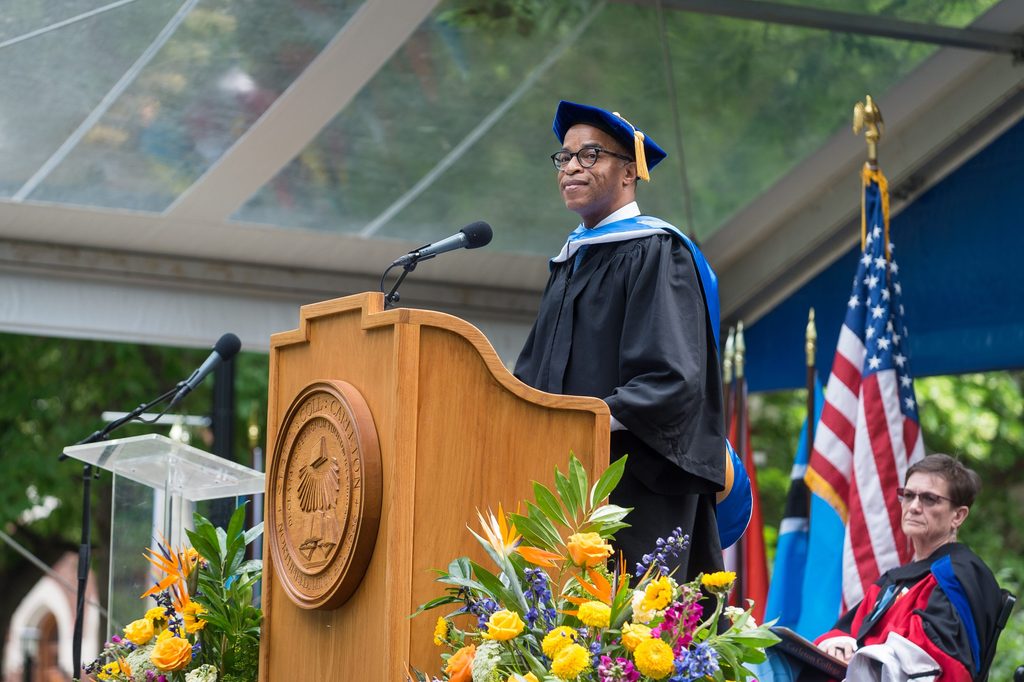 "What gives me hope for our nation and for our future, Class of 2023, is that you already excel at this," Capehart said. "You and your generation are fearless in looking at things the way they are and demanding they be better… 34 years from now—when one of you is standing here telling the Class of 2057 about the world as it is and how it can and must be better—I have no doubt the world as it is then will be better than it is today. You are the generation, Carleton Class of 2023, [that can] bend the arc of the moral universe in the right direction… and I could not be more relieved."
Capehart's address followed graduation reflections from Cristina Camarillo '23, sociology/anthropology major and history minor, and Bahar Taş '23, cinema and media studies and economics double major.
"I haven't had to follow a tough act like that," Capehart said, "since I had to follow Barack Obama at a wedding toast!"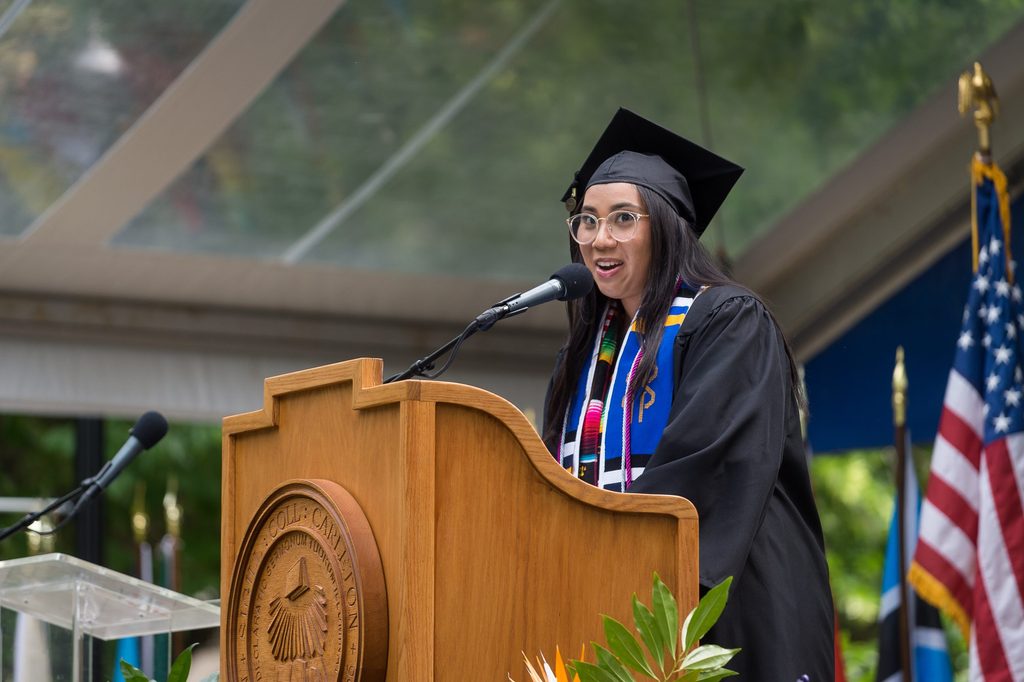 Camarillo delivered her address in both English and Spanish, focusing on her perspective as a first generation college student and often speaking directly to her proud parents in the crowd.
"I want to take this moment to thank everyone who has supported us along the way," she said, "from our families, friends and pets to the Carleton faculty and especially the Carleton staff. Know that the degree we are receiving today is not just ours, but also yours. You have earned this degree alongside us for your endless support, sacrifices and helping hands throughout our college journey. As we step into the world beyond Carleton, let's not forget the values and lessons that we have learned here. Let us use the skills, knowledge and experiences we have gained to make a positive impact on our communities and the world. I know we can do great things."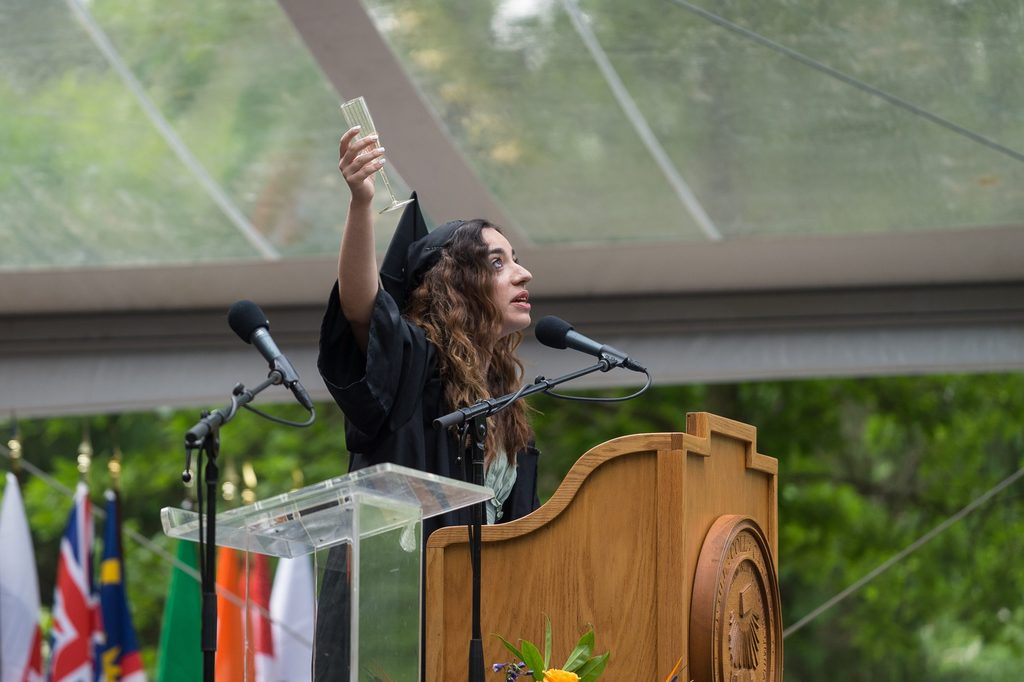 Taş followed Camarillo and opened her speech with a question: What is a Carleton experience? Watching a film in the Weitz, seeing a play in the Twin Cities, participating in off-campus studies programs and pandemic-era virtual learning were just a few of her examples, leading to her final answer: the Carleton experience is a non-stop, inspiring, growing conversation.
"Yes, this is the end of an era," Taş said, "but not the end of Carleton. As it's been proven before, Carleton exists in and outside Northfield. Carleton is where and when you have the best conversations. With people who you might or might not have met yet. With a book you haven't yet read. With the films you haven't seen. But also with your best friends and families who you might think you know so well. And with yourself. With a new blank page every day. With a beginner's mind and soul. Wake up, forget what you learned, relearn, go to sleep, repeat."
The class speakers concluded their addresses with looks to the future for a reason, as graduation marks a beginning as well as an end for many of the Class of 2023. The newly-recognized alumni will soon head off to graduate schools, fellowships and professional positions across the country and the globe, representing Carleton excellence everywhere they go.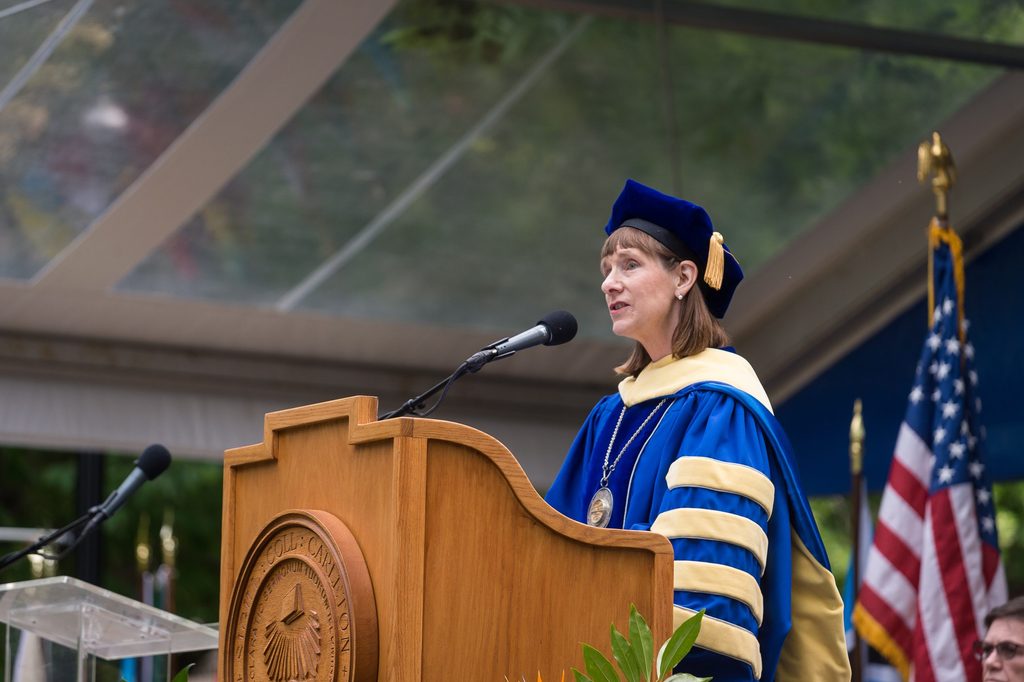 Reinforcing that "Carleton is not just your school for four years; it is your home for a lifetime," Byerly used her remarks to recognize the extraordinary challenges that the Class of 2023 has faced over the years, starting with the interruption of their first year of college by a global pandemic.
"One of the things I most appreciate about the Class of 2023 is the passion with which you seized the opportunity to make the most of your time at Carleton in spite of those challenges," Byerly said. "When student organizations that had been virtual or dormant began to re-engage, there was a need for leadership that you stepped forward to fill. When athletic teams that were unable to compete resumed competition, you worked hard to help those teams return with renewed energy and strong seasons. When music and theater groups that had relied on virtual gatherings or had to perform in masks were able to take the stage together, you produced extraordinary performances. When you saw issues here on campus or in the nation that you felt needed to be confronted, you were not afraid to call those out and work towards positive change… Graduating from college is always an important achievement, but I believe the Class of 2023 has the right to feel especially proud."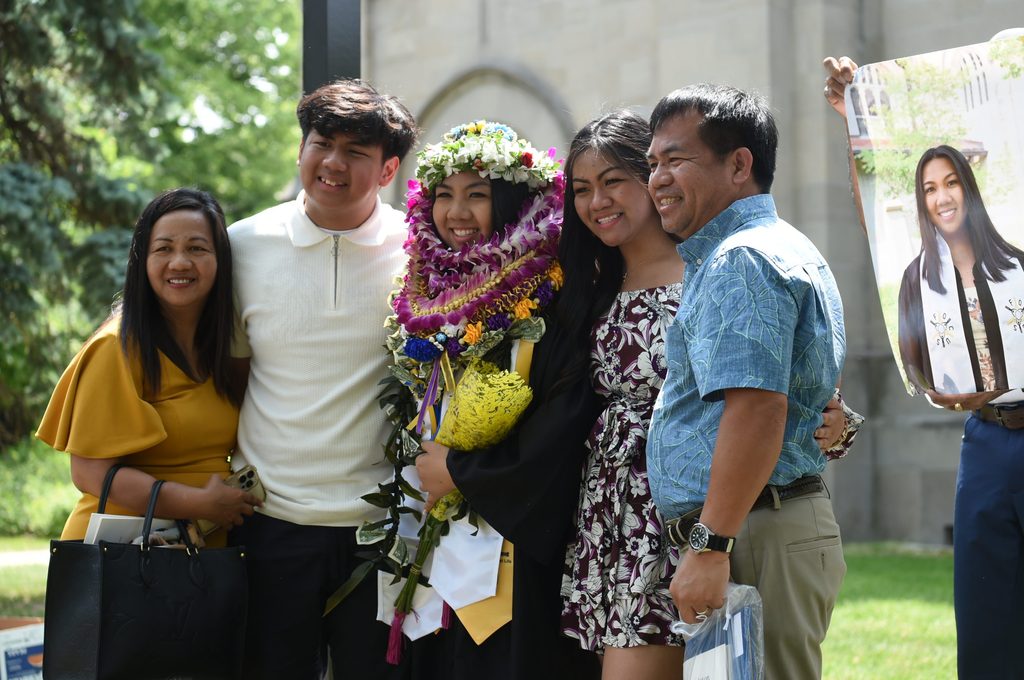 After this year's Commencement drew to a close with a rousing chorus of "Carleton, Our Alma Mater," the members of the Class of 2023 filed out of their seats to congregate with their families, professors, friends and others on the Bald Spot, happy to spend one last afternoon lounging in the sun with a picnic lunch before leaving campus for the first time as Carleton alumni.
Watch the 2023 Commencement Highlight Video
---
The 2023 Commencement ceremony was live streamed and recorded. The full video will be posted on the Commencement website.
Erica Helgerud '20 is the news and social media manager for Carleton College.