Carleton Commencement 2022
484 students have graduated from the Carleton College Class of 2022.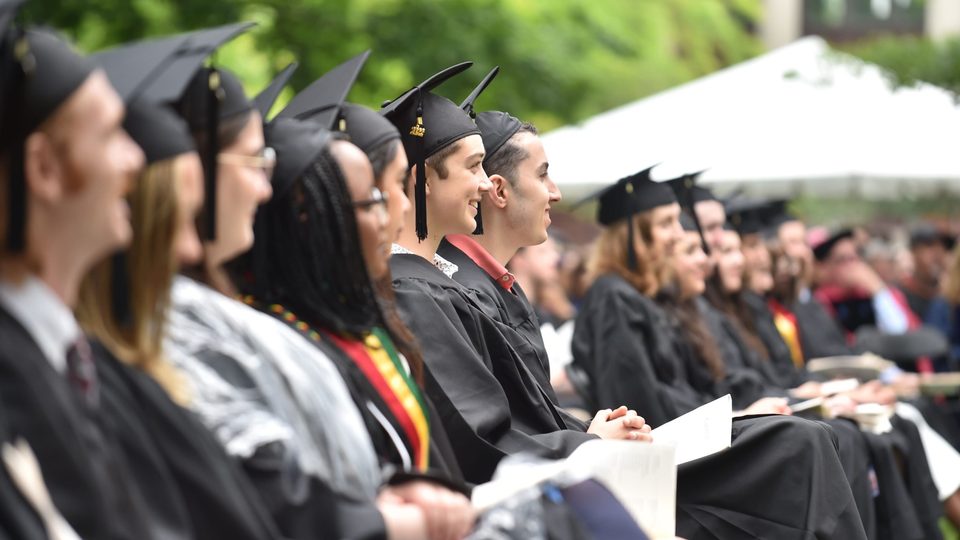 Carleton College graduated 484 students from the Class of 2022 during its 148th commencement ceremony, held Saturday, June 11 on the Bald Spot. The weather oscillated between rain and shine, keeping everyone on their toes as the celebration began.
Hundreds of friends and family members attended in order to applaud the latest Carleton graduates, with cheers from the large crowd echoing across campus after each diploma was presented.
Art Rodriguez '96, vice president and dean of admissions and financial aid, read the names of the students as President Alison Byerly awarded the diplomas—and a handshake—to every member of the Class of 2022.
Two honorary doctoral degrees were also conferred during the ceremony. An honorary doctorate of sciences was awarded to Sarah Hobbie '86, University of Minnesota professor of ecology, evolution and behavior, whose research addresses the influence of human activities on terrestrial ecosystems. An honorary doctorate of humane letters was awarded to Commissioner Toni Carter '75, the first African American ever to serve on a county board in Minnesota, who also gave the commencement address.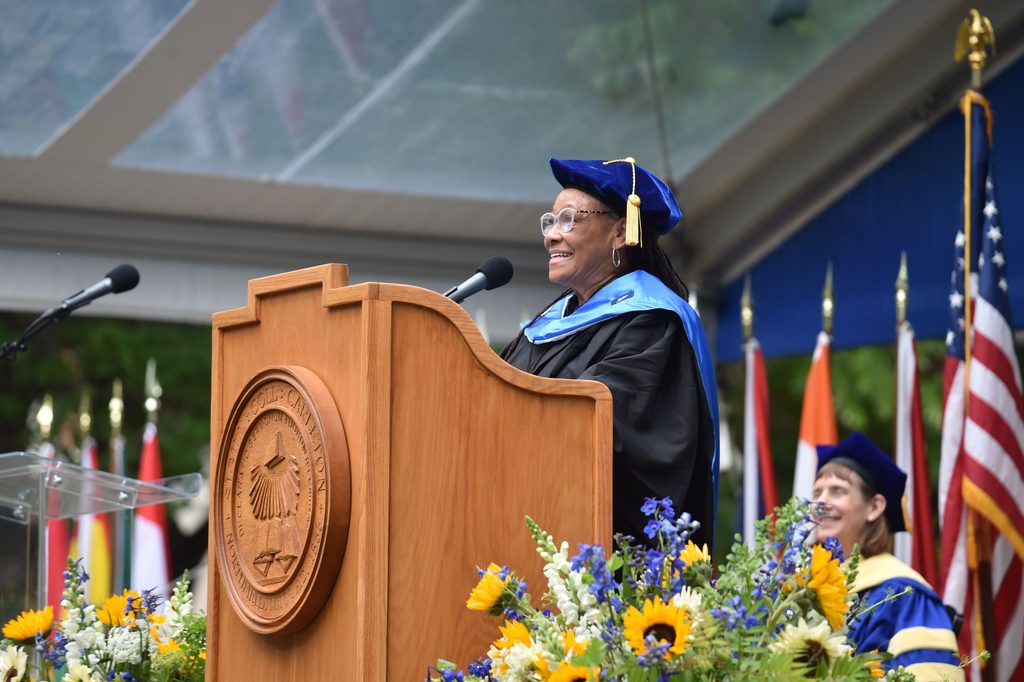 In her speech, Carter reflected on how much she appreciated her time at Carleton as she encouraged the class to recognize the power and potential of their education.
"As it was for me, I'm sure that for you, Carleton has been far more than an institution of learning… It's been a life, a home," Carter said. "For me, a good dose of Carleton has gone a long way. And it will for you as well… The benefit of the rigorous, life-long liberal arts education you have received will prove to undergird and to strengthen your critical thinking, problem solving, collaboration, teamwork and communication skills. And you will surely need all of those!"
Carter's address followed graduation reflections from Manjari "Mimi" Majumdar '22, cinema and media studies and political science and international relations double major, and Folasade Orepo-Orjay '22, cinema and media studies major and member of the Mortar Board honor society.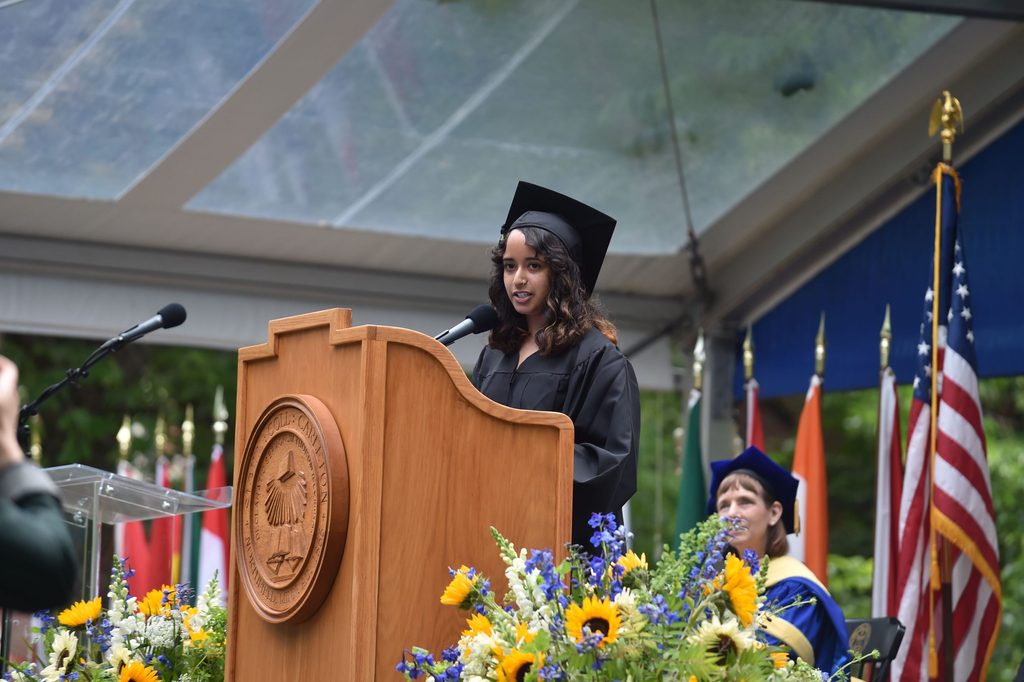 Majumdar opened her address to her fellow students by quoting the "proviso" former President Steve Poskanzer added to his welcome speech during the Class of 2022's New Student Week in 2018—in it, he apologized for the unfortunately rainy weather as he affirmed that the students would feel even better about their college choice at graduation compared to move-in day. Though finding humor in Poskanzer's comment, as Carls always can, Majumdar also found hope in the quote as a parallel to all the difficulties the Class of 2022 has had to go through over the last four years at Carleton, from a stormy move-in to window-shattering tornadoes to a global pandemic.
"He probably said that knowing that the weather conditions of today wouldn't matter," she said. "Rain or shine, we can still fly, because we have the resources we need thanks to all the flight engineers—the professors and administrative staff, the food service workers and custodians, the mentors and guardian angels who have helped us along the way. Class of 2022, congratulations, and when things around you seem to be up in the air, keep in mind that you were meant to soar."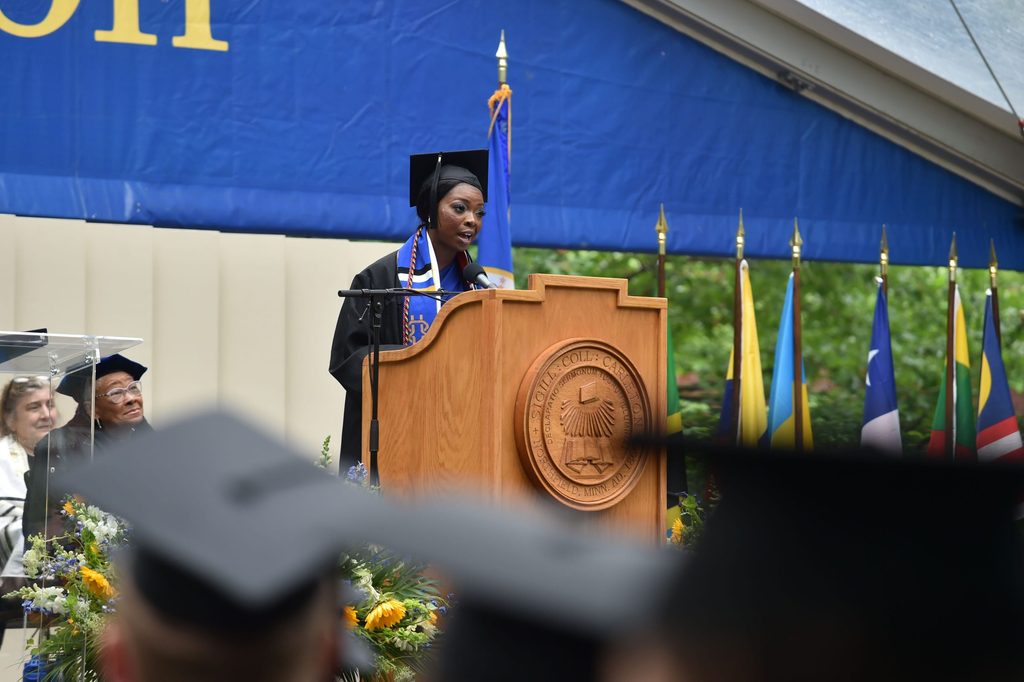 Orepo-Orjay joined her classmate in delivering encouraging words to remember in times of crisis, connecting the students' time at Carleton to all of their future endeavors.
"Carleton is a training ground," she said. "[Its] trials and tribulations [have] come to build our endurance… The next time you are stressing about the next big thing you have to do, just remind yourself to breathe and have fun while doing it, because if there is one thing that we learned from this training ground, it's that you will get through it."
The class speakers focused on the future for a reason, as graduation marks a beginning as well as an end for many of the Class of 2022. The newly-recognized alumni will soon head off to graduate schools, fellowships and professional positions across the country and the globe, representing Carleton excellence everywhere they go.
The celebration also represented a beginning for Byerly, as this ceremony marked her first commencement as the 12th president of the college.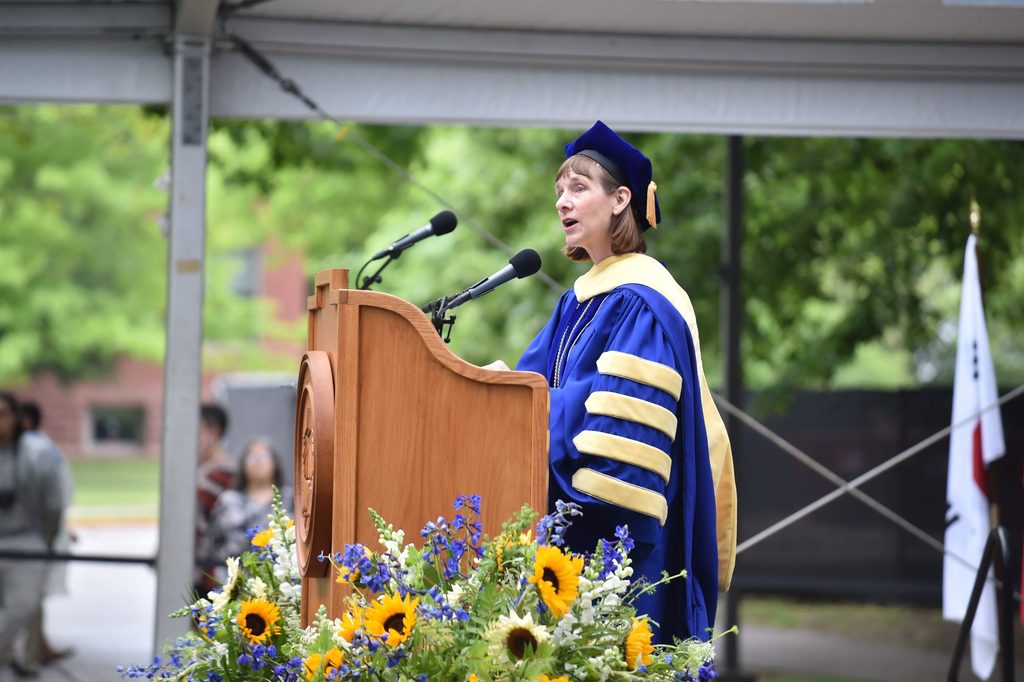 "As all of you make the transition from student to alumni, I hope that you will carry with you the knowledge that Carleton is a continuing resource in your life," Byerly said. "I hope that you look back on Carleton as the secret power that made your life, whatever you choose it to be, possible, and as a source of energy from which you can always draw strength. Carleton is not your school for four years, it is your home for a lifetime. You will always be welcome here and I hope you will come back often."
After this year's commencement drew to a close with a rousing chorus of "Carleton, Our Alma Mater," the members of the Class of 2022 filed out of their seats to congregate with their families, professors, friends and others on the Bald Spot, happy to spend one last afternoon lounging in the grass with a picnic lunch before leaving campus for the first time as Carleton alumni.
---
The 2022 commencement ceremony was livestreamed and recorded. The full video will be posted on the commencement website.
Erica Helgerud '20 is the news and social media manager for Carleton College.