Carleton Commencement 2021
Carleton College graduates 432 students from the Class of 2021.
After an unusual and extraordinary year, Carleton College graduated 432 students from the Class of 2021 during its 147th commencement ceremony, held Saturday, June 12. Carls were welcomed into the alumni community with an almost-back-to-normal commencement ceremony under a shady and sunshine-filled canopy next to the Bald Spot.
More than 850 family members welcomed the class—during the first in-person ceremony since the COVID-19 pandemic began—with hugs, laughter and congratulations. As a whole, the spring of their junior year and their entire senior year went through a pandemic and a social and cultural awakening.
For student speaker, Posse Scholar and first-generation college student Brittany Dominguez '21, choosing Carleton four years ago was the "best decision [she's] ever made."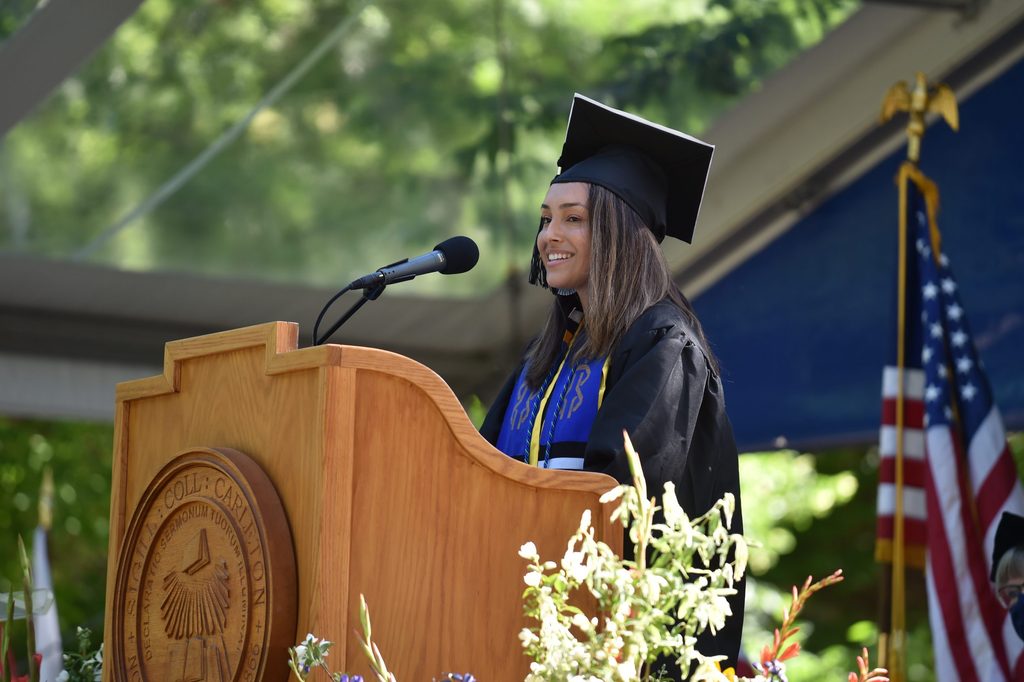 "Today, we have been granted a great deal of privilege," Dominguez said. "This is not to say that it has been easy, as some of us will be the first in our families to walk this walk and many of us have overcome barrier after barrier to be here. Not to mention that the last year has not looked anything like we thought it would. However, we did it, and we have the opportunity and responsibility to use our privilege to actively fight against the hate, oppression, racism and apathy ingrained in our systems."
The ceremony was "short and sweet," one graduate remarked, without a guest speaker and no honorary degree recipients. Ninety faculty were present to give the occasional fist bump, handshake and hug as their students walked back to their seats, diploma in hand.
What's next?
For many members of the Carleton Class of 2021, this is not the end of their academic career, but rather just the beginning, as they head to graduate schools, fellowships, and positions across the country and world.
"At this watershed moment in your lives, you too must be wondering, "What's next?" President Steve Poskanzer said in his commencement address. "What awaits once you cross this stage with your hard-won diploma in hand—after you embrace your family and friends and thank your faculty mentors one more time, finish packing up your room, and head off to still-evolving futures?"
Poskanzer related with the graduates, as the ceremony, too, marked his last as the 11th president of the College.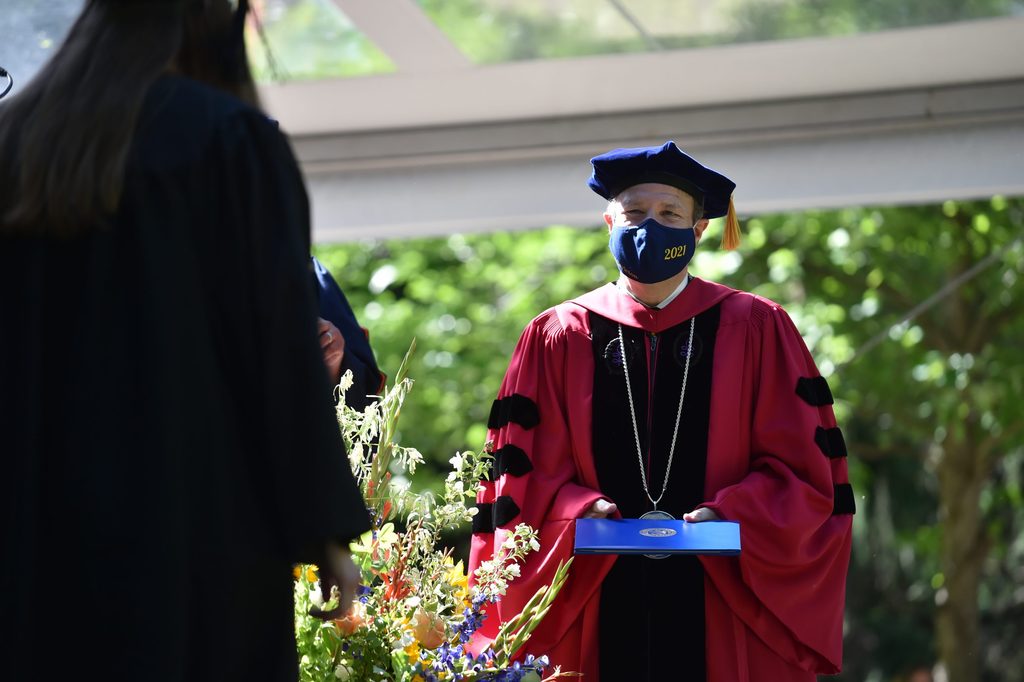 "It is only natural that graduating students should pause at what lies ahead. To be perfectly honest, I'm wondering much the same thing, too, in these final weeks of my Carleton presidency," he said. "Like you, when I walk off this stage, an unwritten future awaits me as a political science professor. But while I cannot tell you "what's next," I do know that I feel unbounded optimism at the prospect of a society where today's graduates will direct their intelligence, passion and idealism to engage with pressing problems."
Carleton's newest alumni are now headed all over the world—continuing their studies at Syracuse University, taking on Weitz Fellowships in Nebraska, starting a career at Microsoft, taking a Fulbright in Argentina, and conducting research in Pakistan, to name a few. No matter where their futures lead them, Dominguez left her classmates with words of encouragement:
"Remind yourself daily that the same things that make you feel like an imposter are what actually make you important and necessary and valuable."
View the 2021 commencement ceremony in full online.
---