Carleton College welcomes the Class of 2026
The college welcomed 535 new students to campus on Sept. 6.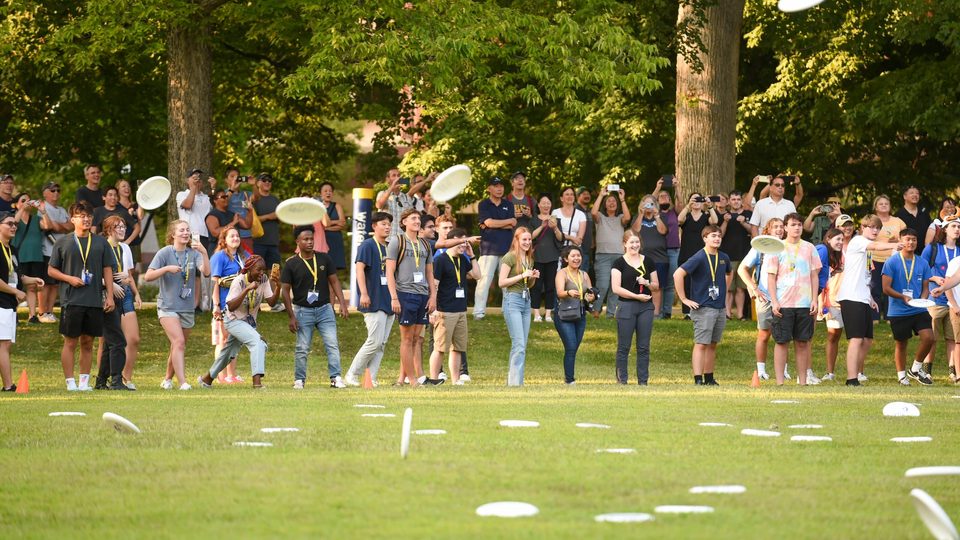 On Tuesday, Sept. 6, 2022, Carleton College welcomed the Class of 2026 to campus under a sunny sky. The class of 535 students—from 8,583 applicants—speaks 50 languages between them, with 10% being international students and 16% among the first generation of their families to attend college.
"It's not accidental that you all come from different places and have different backgrounds," said President Alison Byerly in her opening remarks. "We want to create a community at Carleton in which a wide range of perspectives come together, knowing that you'll all learn more from each other that way than if you all came from the same place or the same culture."
Among the newest Carls, 40% identify as Black, Indigenous or a person of color, and 21% report two or more races. Class members come from 46 states and 24 countries. They have outstanding academic achievements in common, with multiple National Merit and National Hispanic Recognition Scholars and 75% graduating in the top 10% of their high school class.
"When I heard those kinds of statistics thirty years ago as a first-generation Carl, I slumped in my seat and wondered, 'Did the admissions committee get it right?'" said Art D. Rodriguez '96, vice president and dean of admissions and financial aid. "Anyone who finds themselves having similar doubts, know that you were admitted to Carleton because you reflect the qualities of a Carleton student. Your academic curiosity, intense desire to learn, motivation to go the extra mile, ability to work well with others and your commitment to being and doing your very best, made an impression on us."
New to the stage this year was Michelle Mattson, provost and vice president for academic affairs and professor of German, who followed Rodriguez' and Byerly's remarks.
"My role as provost started on July 15, so I've appointed myself an official member of the Class of 2026," she said. "Just like you, my fellow first years, I'm wondering if I will make friends, if I will succeed at the challenges of the work ahead of me, if I will be able to convince others that I care as deeply as they do about the Carleton community. As we settle into our new spaces here, let us promise to put aside our assumptions and be mindful of how the paths we have traveled shape who we become. I hope that through that, you will develop a sense of belonging and of close community while we are here together and beyond."
The Class of 2026 also heard from Jancyn Appel '23, president of the Carleton Student Association.
"Carleton truly is a collaborative environment," she said. "'Carls Help Carls' is more than a catchy slogan. It's someone helping you pick up the plate of food you dropped in LDC in front of everyone, pointing you to class when you're lost on the Bald Spot, or finding a way to laugh and make some of your immediate hardships feel like simple points of growth… Remember, there's nothing wrong with being wrong, but there is no greater wrong than always assuming you're right. Welcome home—it's always a great day to be a Knight!"
After welcome speeches, the new class of first years was introduced to another Carleton tradition: the New Student Week Frisbee toss. Byerly threw out her own Frisbee along with the class on the Bald Spot before the students said their goodbyes to parents and family.
"The end of your Carleton experience is a long way off," said Byerly, "but I hope as you begin to form relationships here, you'll recognize that those relationships don't disappear the day you walk out the door. This college is not simply your school for four years, it's your home for a lifetime, and it's a community that we hope you'll enjoy being part of forever. It is a tremendous honor and privilege to welcome you to this special community. We wish you a very good first week, first year and four years at Carleton."
---
Erica Helgerud '20 is the news and social media manager for Carleton College.