Carleton College welcomes the Class of 2025
Carleton welcomes 567 members of the Class of 2025.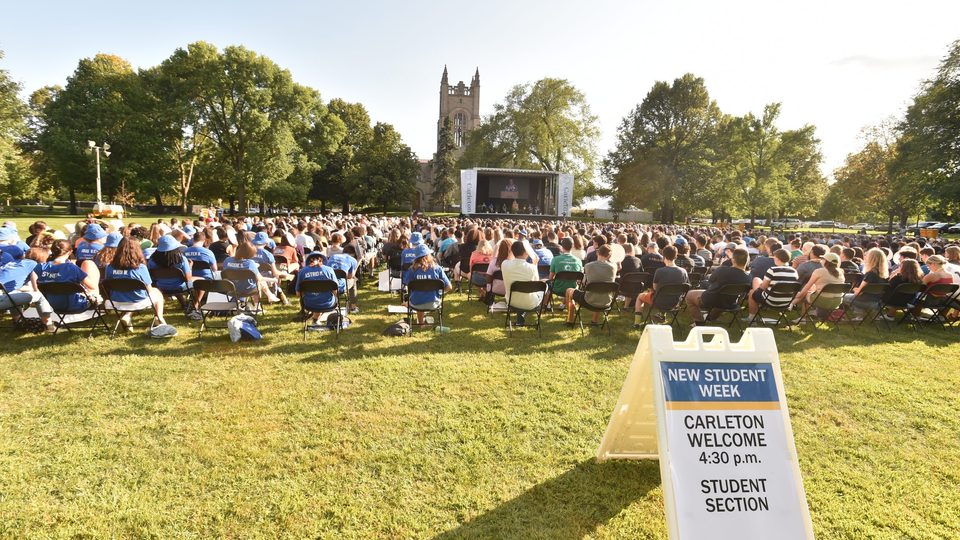 On Thursday, Sept. 9, 2021, Carleton College welcomed the Class of 2025 to campus with puffy clouds and sunshine, a Frisbee toss, and all the energy of a community coming back together after 18 months. The class of 567 students—from 7,915 applicants—speaks 50 languages, with 12% being international students and 13% among the first in their family to go to college.
"The strength of our community is why many of you chose to come to Carleton in the first place," Art Rodriguez '96, vice president and dean of admissions and financial aid, said. "The Carleton community is exceptional because of you. Welcome to your new Carleton home."
Among the newest Carls, 32% identify as Black, Indigenous or people of color, and 23% report two or more races. Class members come from 47 states and 29 countries. They have outstanding academic achievements in common, with 71% graduating in the top 10% of their high school class, multiple valedictorians, and 87% involved in community service.
"The intellectual life you lead here really starts and ends with you," President Alison Byerly said. "With your own work, your own effort, your willingness to embrace the differences in the student around you and learn from them as well, and the way in which you take seriously the opportunity to experiment, to be creative, to step outside your comfort zone."
The Class of 2025 was introduced to a Carleton tradition, the first-year Frisbee toss, by President Byerly, who threw out her own an inaugural Frisbee with the class on the mini Bald Spot before they said their goodbyes to parents and families.
"Thank you to the parents for sharing your children with us, and thank you to our new students for choosing Carleton," Byerly said. "We are excited to have you here and are so looking forward to working with you over the next four years. Welcome."