Carleton College announces 2020 faculty promotions
The Carleton College Board of Trustees approved the promotion of five faculty members from associate professor to professor, effective Sept. 1, 2020.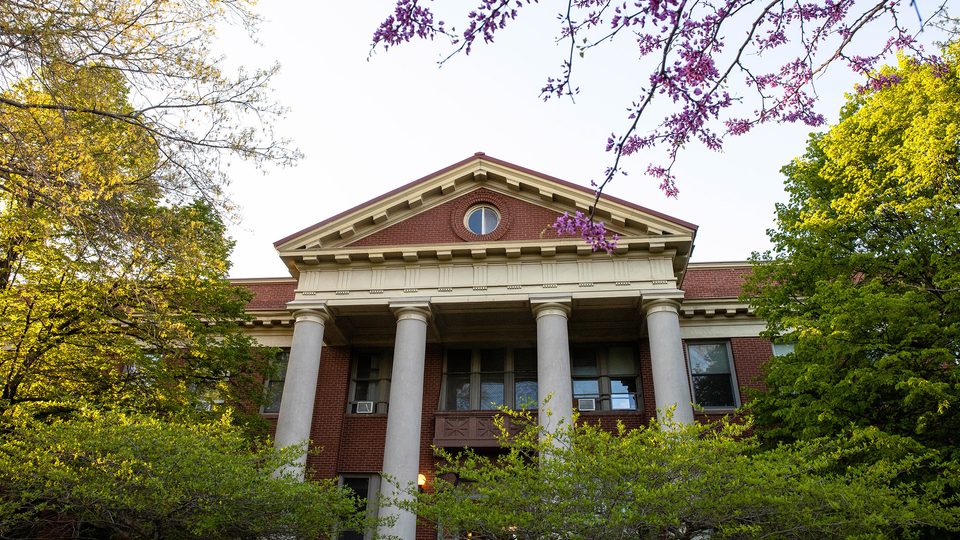 The Carleton College Board of Trustees approved the promotion of five faculty members from associate professor to professor, effective Sept. 1, 2020.
Ken Abrams, professor of psychology, joined the Carleton Department of Psychology in 2008. He received his BA from Dartmouth College and his PhD in clinical psychology from the University of Minnesota in 2001. Prior to arriving at Carleton, Abrams taught at Macalester College, the University of Richmond, and Reed College. Since 2010, Professor Abrams has led every other fall term's Cross-Cultural Psychology Off-Campus Studies program in Prague.
Abrams co-edited a book, titled, Internationalizing the Undergraduate Psychology Curriculum: Practical Lessons Learned at Home and Abroad, which was published in 2016 by the American Psychological Association. He has published 31 articles in peer-reviewed journals and six book chapters, with 21 different Carleton students having co-authored a publication.
Professor Abrams currently serves as chair of the Department of Psychology and has been a member of several Carleton committees, including the Academic Standing Committee, the Off-Campus Studies Committee, and the Institutional Review Board. He has given talks at a number of Carleton alumni clubs and in 2017 co-led an alumni travel program in which the group biked from Prague to Vienna. Additionally, Professor Abrams is a licensed clinical psychologist and in recent years has regularly volunteered as a clinician at the Walk-In Counseling Center in St. Paul, Ruth's House in Faribault, and HealthFinders in Northfield.
Judith Howard, professor of dance, joined Carleton in 2007 after teaching in the Theater and Dance programs at Macalester College. She received an MFA in Dance Performance and Choreography from the University of Wisconsin-Milwaukee in 2004. In addition to teaching and sustaining a professional career as a dance artist and researcher, Howard co-directs the Semaphore Repertory Dance Company, advises Dance majors and minors, and provides opportunities for students to participate in the professional dance world, such as performing in Minneapolis and travelling off campus yearly to the American College Dance Conference.
Professor Howard's research and artistic work includes the creation of Central Supply, commissioned by the Cowles Center for Dance artist-in-residence, Sally Rousse, to be part of the project called ICON SAM. This work was additionally supported by a Carleton Mellon Public Works grant. Other professional work includes a commission for her dance film, Vanishing Point, which was presented at the Book Center in Minneapolis and the University of Minnesota. In addition, Professor Howard's recent dance review on the Body Cartography Dance Company was published in Culturebot, an online publication about experimental performance. She is the recipient of a numerous awards for her work including several Jerome Foundation Grants, a McKnight Choreographic Fellowship, and a Sage award for "Outstanding Dance Educator" in Minnesota.
Professor Howard is currently the chair of the Department of Theater and Dance and Director of the Dance Program, and has served on several committees including the Carleton Arts and Technology Committee, Judicial Hearing Board, and Women and Gender Studies Steering Committee. In addition to her service to Carleton, she is an active member of a number of professional organizations including the National Dance Education Organization, the Dance Studies Association and the Dance Educators Coalition. Professor Howard has served her discipline as a mentor, speaker, and panelist for multiple arts organizations including the McKnight Foundation.
Aaron Rushing, professor of physical education, athletics, and recreation (PEAR), arrived at Carleton in 2005. He received his BA from Grinnell College and his MA from Minot State University. In addition to teaching courses such as Weight Training and Conditioning, Fundamentals of Baseball, and Methods: Principles and Philosophy of Coaching, Rushing serves as head coach of the baseball program and assistant strength and conditioning coach for the varsity athletic programs.
Under professor Rushing's direction, Carleton's baseball program has achieved twelve double-digit win totals, an accomplishment achieved only 14 times in the 120-year history of Carleton baseball before his arrival. Rushing was voted the Minnesota Intercollegiate Athletic Conference (MIAC) Coach of the Year in 2009, when he led the team to its first-ever appearance in the MIAC baseball tournament. The 2014 team finished with the second-highest win total in school history and finished in the top 10 nationally in nearly every offensive category. The 2015 graduating class set a new school record for the most career wins.
The Carleton baseball team also has won the American Baseball Coaches Association Team Academic Excellence Award every year it has been in existence, an accomplishment less than 5 percent of collegiate programs have achieved. Additionally, Rushing has worked with each of the college's 18 varsity athletic teams in his role as assistant strength and conditioning coach.
Professor Rushing has contributed to several college committees. He enjoys volunteering in the Cowling Arboretum with his wife and children, and has served as chair of the PEAR Department recruiting committee. He recently completed a four-year term on the NCAA Division III Baseball Committee and as Chair of the Midwest Regional Advisory Committee. He has been the MIAC representative on the Regional Advisory Committee, and is a member of the American Baseball Coaches Association. Additionally, Rushing has represented Carleton as an instructor at numerous baseball camps all across the country. He is an active member of the National Strength and Conditioning Association, and is both a Certified Strength and Conditioning Specialist and Certified Personal Trainer.
Noboru Tomonari, professor of Japanese, joined the Carleton faculty in 2001 as a member of the Department of Asian Languages and Literatures. Tomonari earned his PhD in Japanese Studies from the University of Chicago in 2001. Prior to that, he completed his BA in Education from Sophia (Jōchi) University and Master of Education from the University of Tsukuba, both in Japan. He also earned an MA from Monash University in Australia. Professor Tomonari offers courses in Japanese language at all levels as well as Japanese literature, cinema, and popular culture in both Japanese and in translation. His scholarship focuses on autobiographies, minority studies, and popular culture studies.
Tomonari published his first book in 2008, titled, Constructing Subjectivities: Autobiographies in Modern Japan. His current book project, Brotherhoods in the Borderlands: Masculinity and Identity in Cinema by Koreans in Japan, investigates issues of ethnicity, masculinity, and identity embodied in the works by Zainichi (resident) Korean filmmakers in Japan. He also has been working on other subgenres of Japanese cinema, such as stop-motion puppet animation. His chapter titled "Marionettes No Longer: Politics in the Early Puppet Animation of Kawamoto Kihachirō" appeared in The Routledge Handbook of Japanese Cinema. He has subtitled several Japanese documentaries with his students; these films with their subtitles are now widely available in North America and elsewhere.
Professor Tomonari currently serves as Chair of the Department of Asian Languages and Literatures and as Director of East Asian Studies at Carleton. He has served on numerous Carleton committees including chairing the Academic Standing Committee. Outside Carleton, he has chaired the Midwest Japan Seminar, and serves as a board member of the Associated Kyoto Program, the flagship Off Campus Studies program in Japan run by a consortium of Carleton and peer liberal arts institutions.
George Vrtis, professor of environmental studies and history, joined Carleton in 2006 with a joint appointment in the Department of History and the Environmental Studies Program. He earned his BS from Marquette University, his MA from Northwestern University, and his PhD in history from Georgetown University in 2006. During his doctoral studies, he taught as a visiting instructor at Georgetown, Northwestern, and Washington College in Maryland. Vrtis teaches a wide range of courses, including American Environmental History, American Wilderness, American Cities and Nature, and American Farms and Food. Among his most innovative courses is his two-term American Wilderness seminar, which includes a two-week off-campus studies program at Grand Canyon National Park.
Among his recent publications are the co-edited book Mining North America: An Environmental History since 1522, an article on teaching environmental history in the field at Grand Canyon National Park, and an article-length biography of the current president of the American Historical Association. He is currently co-editing a book on Minnesota environmental history, Nature's Crossroads: The Twin Cities and Greater Minnesota (forthcoming 2021), and he has begun work on an article-length study of federal wilderness proposals at Grand Canyon National Park.
Professor Vrtis serves as the Director of the Environmental Studies Program. Additionally, he has served on many college committees, including the Commencement and Honorary Degrees Committee and the Environmental Advisory Committee. He also was part of the core group of faculty that developed the environmental studies major that was approved in 2009. In addition to his service to Carleton, Professor Vrtis has served on the American Historical Association's Raymond J. Cunningham Prize Committee, SEA Semester's Academic Advisory Board, and the Association for Environmental Studies and Sciences' Awards Committee. He also has served as a proposal and manuscript reviewer for the National Endowment for the Humanities, the National Science Foundation, and several university presses and academic journals.