Carleton Ceramics' 16th annual Empty Bowls event to be held virtually
Participants are invited to help raise awareness around hunger issues and funds for the local food shelf.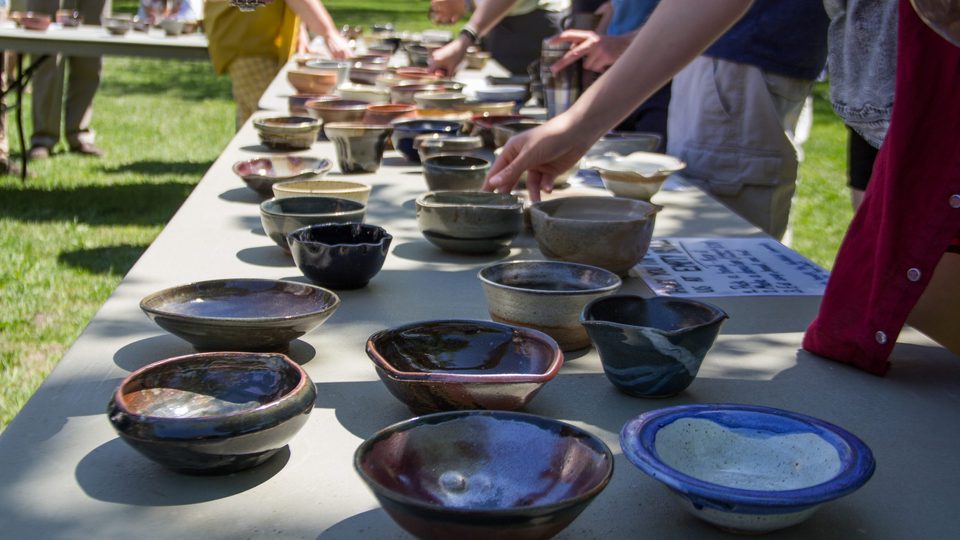 Carleton Ceramics will be hosting its 16th annual Empty Bowls community meal virtually on Friday, May 15. The event, traditionally held on campus, raises awareness around hunger issues and funds for the Northfield Community Action Center (CAC) food shelf by selling student-made ceramic bowls. Since its inception in 2005 at Carleton, the project has raised over $91,000 for the CAC food shelf.
What started as an initiative to build a connection between art and the local community has become an annual tradition students, staff, faculty, and community members look forward to each year. However, with the COVID-19 pandemic and a shelter-in-place order, that community gathering is not possible, therefore, Empty Bowls will be going virtual for 2020. All Carleton and community members are invited to participate in this year's virtual event.
On Friday, May 15, participants are invited share a photo of themselves with their previously purchased Empty Bowl (or any bowl) and post it to their Instagram tagging @carletonceramics, or on Facebook tagging CCCE.
Participants are also encouraged to consider making a donation to the CAC food shelf, or any local organization with a mission to fight hunger, through May 16 in honor of this virtual event. Donations can be made through Venmo @CarletonEmptyBowls, online, or by texting "EmptyBowls" to 44321.
About Empty Bowls
Originally founded in 1990 by Michigan high school teachers Lisa Blackburn and John Hartom to give high school students a chance to impact the local community, the Empty Bowls project has become a prominent national and international movement with local potters, churches, artist organizations and schools.
This event is co-sponsored by Carleton's CCCE and Carleton's Department of Art and Art History.