Carleton celebrates start of academic year with Opening Convocation
Guest speaker Sen. Amy Klobuchar joined President Alison Byerly in welcoming students, faculty and staff to campus.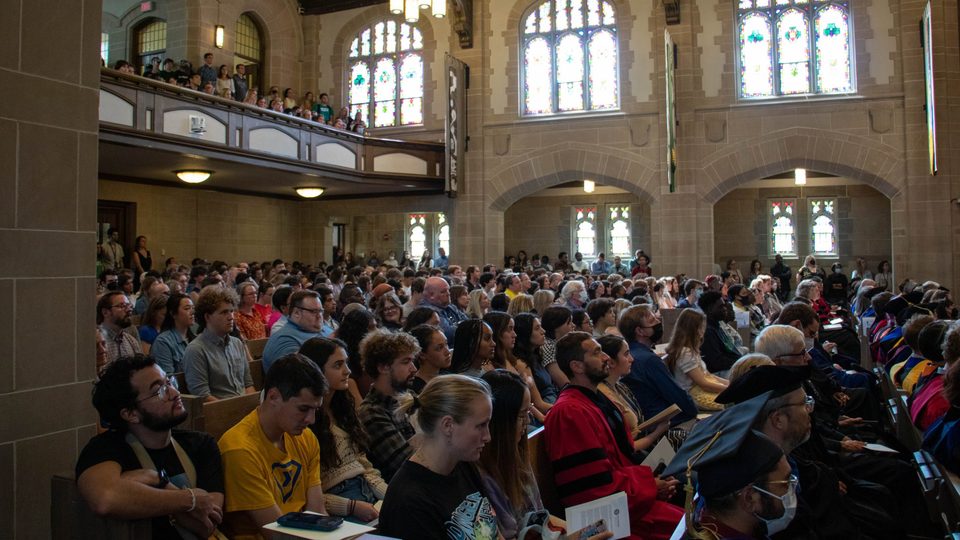 After concluding an eventful New Student Week, Carleton's entire campus community gathered to celebrate the start of the new academic year with Opening Convocation on Sept. 12, 2022. Skinner Chapel was packed with students, faculty and staff as the traditional bubble brigade oversaw the event from the Chapel balcony.
"The start of a new academic year is a joyous time, particularly after a period in which gatherings such as this were more difficult to accomplish," said President Alison Byerly. "It has been wonderful to see students return to campus to take part in New Student Week and other activities, to see faculty and staff engage in retreats and discussions to prepare for the coming year, and to see all the signs of strength in Carleton that give us confidence that a wonderful year lies ahead."
Byerly was joined virtually by this year's Opening Convocation speaker, U.S. Senator for Minnesota Amy Klobuchar. In her address, Klobuchar spoke fondly of the late Paul Wellstone, who was a political science professor at Carleton before being elected to the U.S. Senate and who acted as a mentor for Klobuchar when she ran for Hennepin County attorney. Klobuchar also shared stories from Washington, D.C. and her recent visit to Ukraine along with inspiring words for Carleton students.
"I know people tell you that college is about preparing to enter the real world, but let's be honest—you've already been living in it," said Klobuchar. "I just encourage each and every one of you to heed Professor Wellstone's advice: be interested and be involved… The world is counting on you, and it's not going to be easy. Just remember, when something goes wrong or you don't understand something, that the obstacles aren't obstacles, the obstacles are your path. The obstacles and overcoming them are the way to volunteerism; generosity of spirit; life-long friendships; new ideas; understanding different backgrounds, cultures, religions and political views; and understanding that to succeed, you must both stand your ground and find common ground. The education you get from Carleton College is truly valuable in this way and will allow you to lead with innovation, creativity and moral clarity. This is your four years to shine, to dream, to act and to lead."
Byerly joined Klobuchar in celebrating the power of Carleton's liberal arts education. She concluded her convocation remarks with an extended metaphor identifying the STEM and humanities fields as sky-blue asters and goldenrod, two flowers that work together and complement each other, and whose maize and blue colors decorate the Carleton Arboretum.
"As students, you can feel confident in the 'value' of your degree, because that value does not depend on what you chose to major in at Carleton, but on what you are capable of doing after Carleton," said Byerly. "Your Carleton education is a renewable resource. And as faculty, you can feel pride in offering, and staff can feel pride in supporting, this extraordinary education. It is a privilege to join you in this effort and be among the gardeners of this beautiful field. Thank you for your contributions to making Carleton what it is, and best wishes to all for a wonderful start to a new year together."
---
Read Byerly's full remarks on the President's Office website. A recording of Opening Convocation will be archived on the Carleton Convocations website.
---
Erica Helgerud '20 is the news and social media manager for Carleton College.