Carleton Celebrates Indigenous Peoples' Day
The campus community came together with the Prairie Island Indian Community to honor Indigenous Peoples' Day.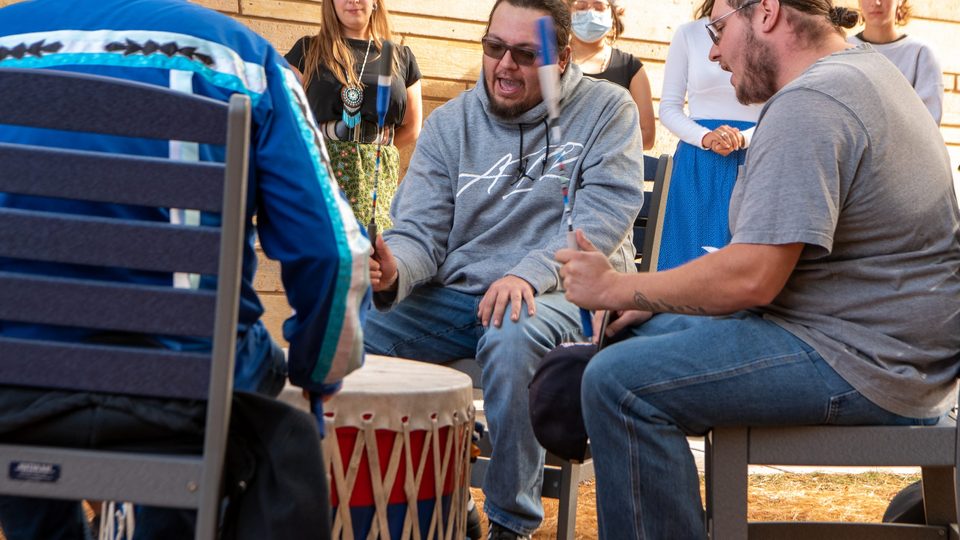 The sun shined down on a perfect fall day as Carleton hosted members of the Prairie Island Indian Community to campus on Monday, Oct. 11, to honor Indigenous Peoples' Day—the first such recognition in the college's history.
A land acknowledgement ceremony with Prairie Island Tribal Council President Shelley Buck and President Alison Byerly was held to celebrate partnership with the Dakota community. The ceremony featured a prayer and honor song, as well as words from both presidents, students representing Carleton's Indigenous Peoples Alliance, and Assistant Professor of American Studies and History Meredith McCoy.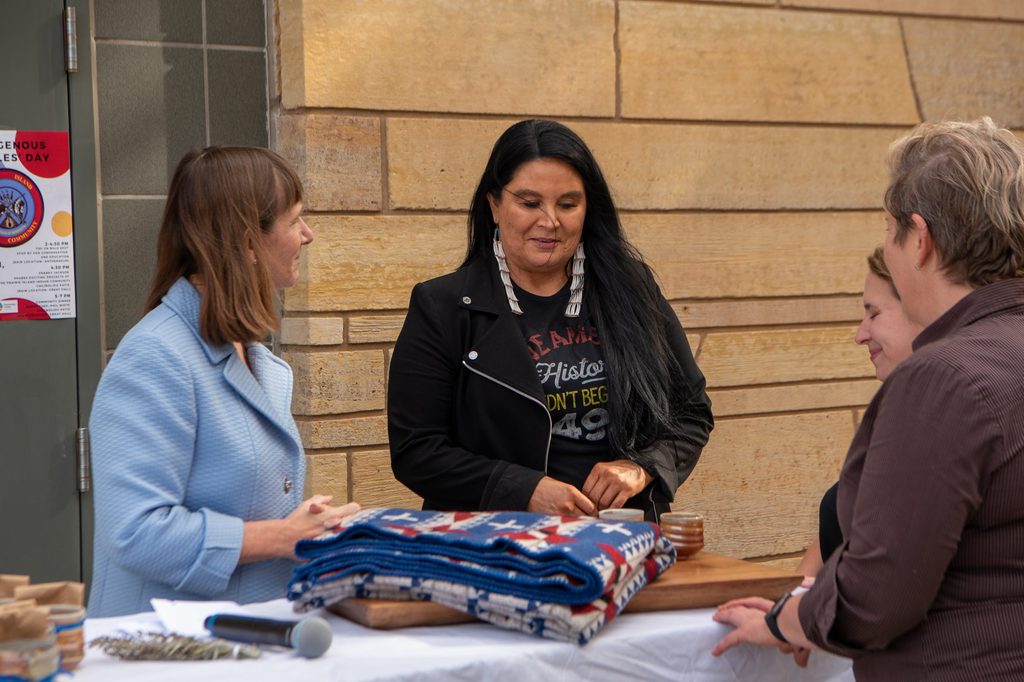 "As far as we know," McCoy said. "Monday was the first time in Carleton's history we have hosted a presidential delegation from a Native nation. For me, as a Native faculty member, that's a really significant opening to what could be a future of possible partnerships."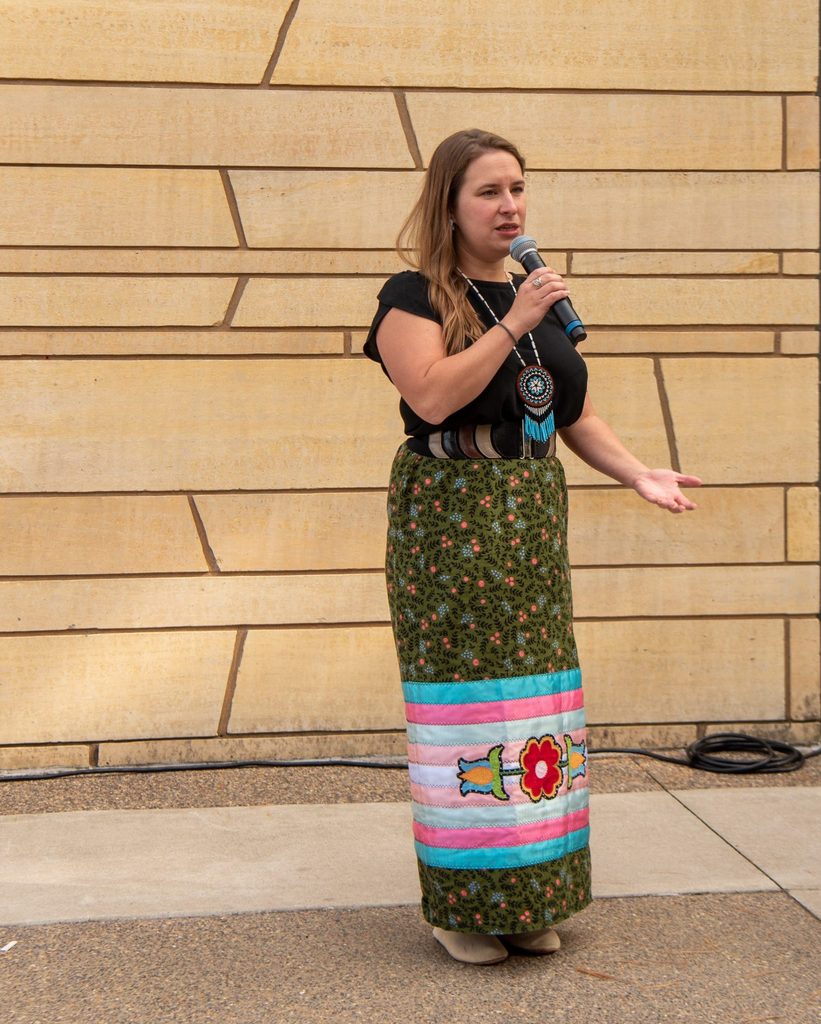 "Now that we have passed the land acknowledgement," McCoy continued. "How do we think about a commitment to acts of healing and honest storytelling—making sure we move beyond a rhetorical commitment to a commitment that is grounded in action and relationship? Our hosting of Indigenous Peoples' Day events and the Prairie Island presidential delegation is a really beautiful first step and we have to remember it is a first step."
A tipi was set up near the Bald Spot for the campus community to listen and learn from Dakota education professionals. A Liberation Theologies class, taught by religion professor Lori Pearson, and other students and campus community members gathered in the lodge to ask questions and engage in stories about Dakota history and contemporary experiences. Franky Jackson, a Prairie Island member, shared Dakota history and archaeology as well as upcoming projects for the community.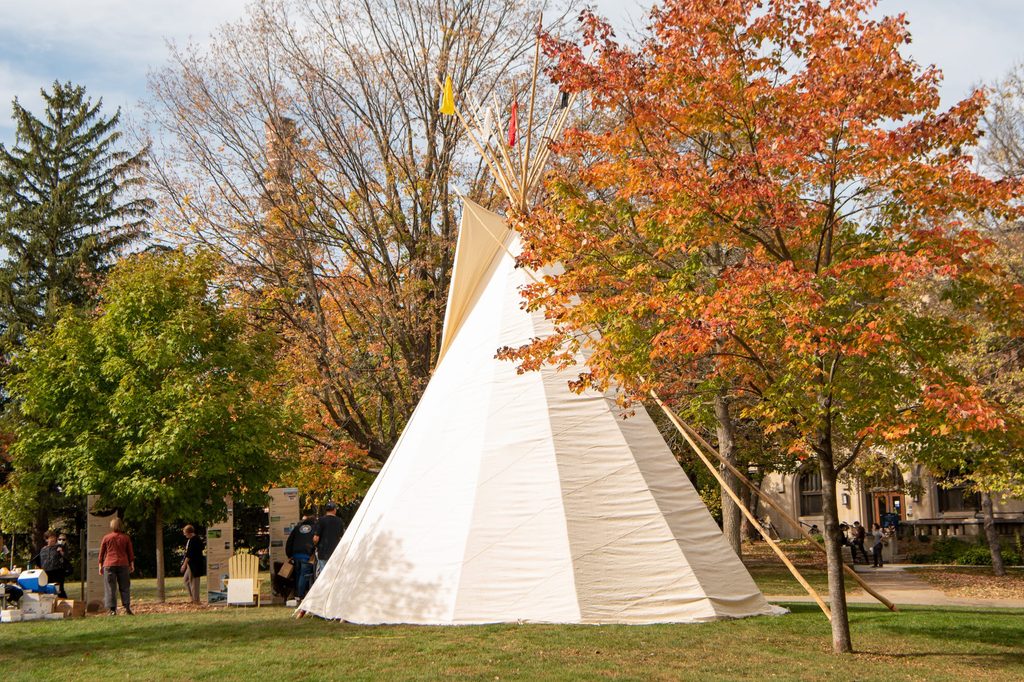 "Monday was one of my best days at Carleton in my 17 years here," Professor of Art and Co-Director of the Public Works: Arts and Humanities Connecting Communities initiative Kelly Connole said. "I was so happy our guests felt welcomed and appreciated. This is the start of something wonderful."
The day ended with a community dinner, overlooking Lyman Lakes, prepared by Dakota chef Phil White with help from Carleton's Bon Appetit dining staff. Faculty, staff and students tasted turkey and wild rice soup, a wild rice salad, and fry bread.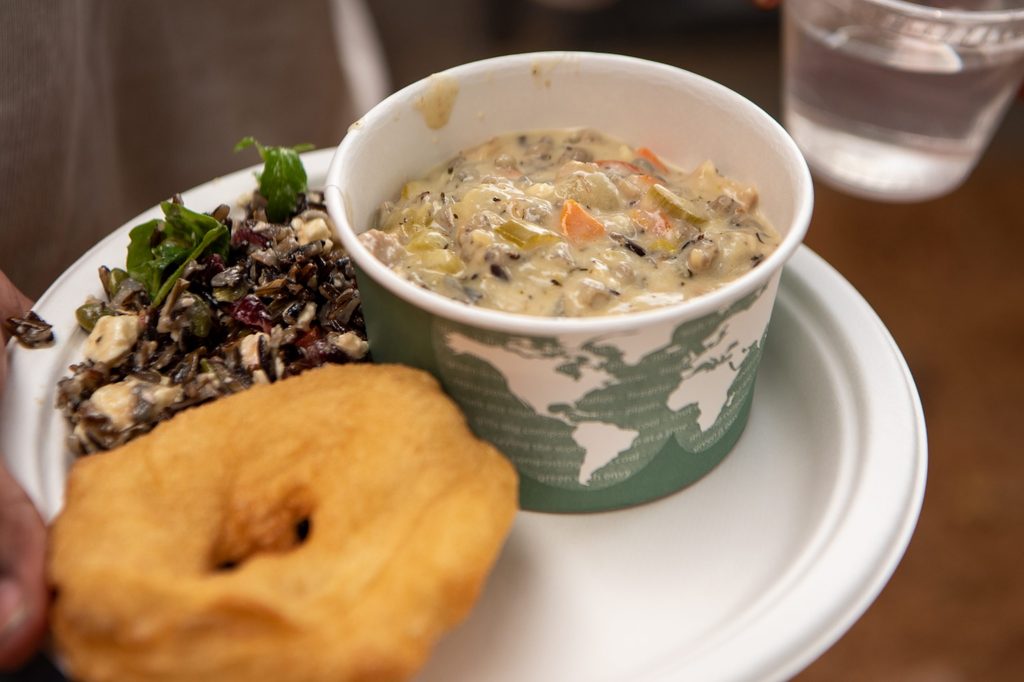 "Monday was such a beautiful day and I am so grateful for it." McCoy said. "I want us to pause and really enjoy the magnitude of what Monday was for our campus. Now that Monday is over, it's time to reflect as a campus about where we go from here. Indigenous Peoples Day is not just one day. Every day is a day to live out our commitments to Native nations."
Programming for the day was part of a college collaboration for the Why Treaties Matter exhibit. The exhibit, made in partnership between the Minnesota Humanities Center, the Minnesota Indian Affairs Council, and the Smithsonian's National Museum of the American Indian, explores relationships between Dakota and Ojibwe Indian Nations and the U.S. government in this place we now call Minnesota. The full exhibit is located in the Hamline Creative Space in the lower level of the Weitz Center for Creativity through Oct. 17.
Read more about the Prairie Island Indian Community and Carleton's land acknowledgement.
---