Carleton campus geothermal project wins GeoStar 'Top Job' award from New York Geothermal Energy Organization
The project by Salas O'Brien is part of Carleton's Utility Master Plan, which is a major component in the college's goal to be a carbon neutral campus by the year 2050.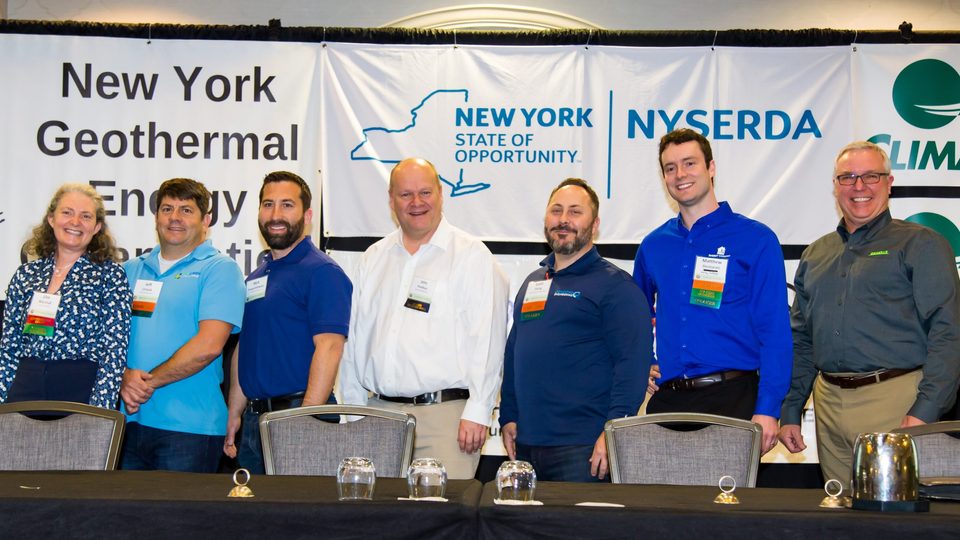 During its annual conference in April, the New York Geothermal Energy Organization (NY-GEO) named Salas O'Brien the winner of the 2022 GeoStar Top Job competition for its work on Carleton's campus geothermal system.
The gathering was the first in-person NY-GEO conference since 2019, drawing an attendance of over 450 geothermal stakeholders.
"We were pleased to have such a treasure trove of innovative and exciting projects to choose from this year," said Bill Nowak, NY-GEO executive director.
Although there were many impressive submissions, the system built for Carleton stood out among the others.
"In the end, they chose the Carleton College project, where an artfully designed geothermal system is heating and cooling 40 campus buildings, replacing an over 100-year-old steam system in one of the coldest towns in the lower 48 states," said Lisa Marshall, the NY-GEO volunteer who coordinated the competition. "The judges noted that this project could easily inspire New York's many colleges and universities to follow suit."
Carleton staff especially appreciate the possible influence this award could have in other places.
"We were fortunate to learn from other institutions who demonstrated that ground source heating and cooling is a smart way to decarbonize a campus energy supply," said Martha Larson, manager of campus energy and sustainability at Carleton. "We hope the Carleton project can now serve as an inspiration to others."
Carleton's 2021 fiscal year data shows that the new energy system has reduced the college's energy consumption by 46% compared to average use during the five years before the implementation of the Utility Master Plan. This data shows how well the geothermal heat pump can capture and "recycle" heat that is already produced on campus. Previously, excess heat evaporated through the cooling towers as waste. Heat is now captured from the cooling system and deposited directly into the heating system or exchanged with the geothermal bore fields. The campus distribution system is also operating much more efficiently, which saves energy as heat moves from the central plant to connected buildings.
"Carleton College committed to a very aggressive program of carbon elimination, establishing a model of geothermal viability for district-scale systems throughout the U.S. and Canada," said Lee Tapper, who led the Salas O'Brien team on the Carleton project. "Salas O'Brien is thrilled to have been involved in such a landmark achievement."
Current and former members of Carleton's leadership team are honored by what this win represents for the college.
"My most enduring sense of pride about this fantastic project," said Fred Rogers, emeritus vice president and treasurer, "in addition to what it represents for Carleton, is how it has inspired and motivated others to think big and act."
"So thankful that others have recognized this project for what it was," added current vice president and treasurer Eric Runestad, "an ambitious, forward-thinking, massively carbon-reducing, collaborative mega-challenge, well-met!"
---
Founded in 2014, NY-GEO is a not-for-profit trade association dedicated to promoting geothermal heating, cooling and domestic hot water. Members include geothermal system designers, installers, drillers, general contractors, engineers, manufacturers, distributors, renewable energy consultants and other industry stakeholders who install and advocate for the use of ground-source heat pumps to heat and cool buildings.
---
Erica Helgerud '20 is the news and social media manager for Carleton College.