Carleton announces 2020 faculty appointments to endowed chairs
The Carleton College Board of Trustees recently approved four faculty appointments to endowed chair positions.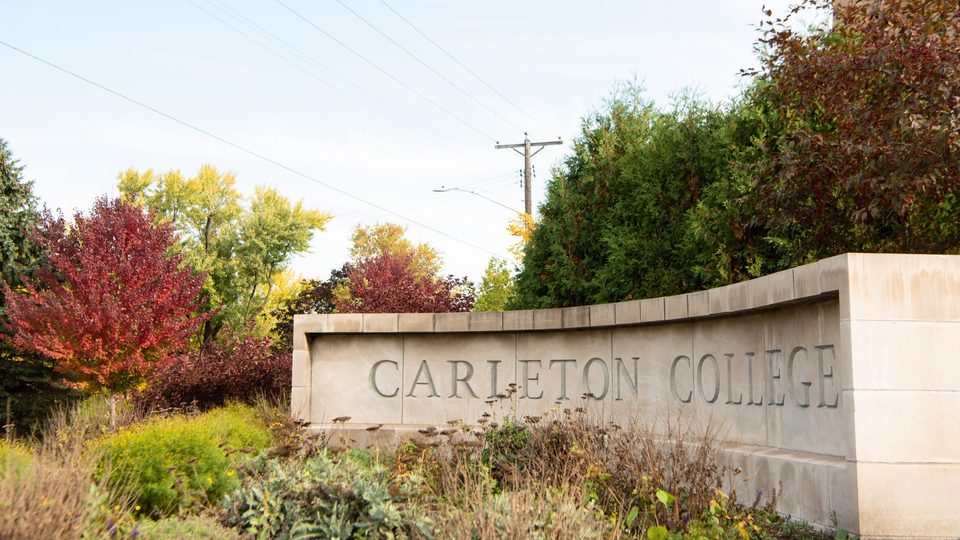 The Carleton College Board of Trustees recently approved four faculty appointments to endowed chair positions: Victoria Morse, Humphrey Doermann Professor of Liberal Learning; Anna Moltchanova, David and Mary-Alice Sipfle Professor of Philosophy; Clara Hardy, David and Marian Adams Bryn-Jones Distinguished Teaching Professor of the Humanities; and Cam Davidson, Charles L. Denison Professor of Geology.
Morse joined Carleton's History Department in 1999 where she teaches medieval and Renaissance history, with an emphasis on Italy and the cultures around the Mediterranean Sea. Her courses deal with topics ranging from European interactions with the Middle East, the history of maps and mapmaking, and women's literacy. Professor Morse is currently working on a book about political changes in northern Italy in the 14th century expressed in maps of the region. She is also finishing the introduction to an important primary source dealing with Italian political and religious life in that same century. In 2003-04, she won a Rome Prize from the American Academy in Rome and is a Fellow of the Academy. Morse has served on numerous committees, including the Library Committee, Writing Across the Curriculum, Student Fellowships, and Education and Curriculum Committee. She served on the Science Planning Board, on a number of extra-departmental or special review committees, and as co-director of the Mellon Foundation-funded Visualizing the Liberal Arts initiative. Professor Morse led the team on Ethical and Responsible Conduct for College's 2019 reaccreditation, and was President of the Carleton chapter of Phi Beta Kappa. She also is co-director of the Medieval and Renaissance Studies minor. Morse earned her PhD in medieval history from the University of California, Berkeley after receiving MAs in History and in Library and Information Studies and a BA in French from that same institution. She completed a post-doctoral fellowship with the History of Cartography Project at the University of Wisconsin, Madison.
The Humphrey Doermann Professorship of Liberal Learning was established in 1998 to be held by the coordinator of the Perlman Center for Learning and Teaching (LTC). Humphrey Doermann, former president of the Bush Foundation, provided strong leadership for higher education throughout the upper Midwest, with a strong emphasis on both faculty development and the strengthening of institutions through challenge grants.
Moltchanova joined Carleton's Department of Philosophy in 2001 where she specializes in social and political philosophy, philosophy of law, phenomenology and most recently and centrally, social ontology. She teaches a variety of courses in these areas, focusing on topics ranging from just and unjust wars, to freedom of the will, to love and friendship. Professor Moltchanova has participated in the European Studies concentration, and next spring she will team-teach a course on migration in Cross-Cultural Studies. In June 2017, Moltchanova undertook a research project on the philosophical implications of neuroscientific research on gender with three rising sophomores; the pedagogical goal was to introduce talented students to research earlier in their career. She has also co-produced and performed in two philosophical plays—Plato's Symposium and Sartre's The Flies. Moltchanova has published numerous articles on nationhood, group rights, immigration, group action and group awareness in major journals. Her book on international law, "National Self-Determination and Justice in Multinational States," was published as part of Springer Studies in Global Justice. She has been active in international professional associations and symposia in her discipline, including the International Society for Social Ontology and the European Network for Social Ontology. Over the years, Moltchanova has served the Carleton community as Chair of the Philosophy Department and as a member of the Community Board on Sexual Misconduct, the Academic Standing Committee, the Student Fellowships Committee, and the board of the Humanities Center. Moltchanova earned her PhD in Philosophy at McGill University. Her undergraduate degree in philosophy is from Saint Petersburg State University.
The David and Mary-Alice Sipfle Professorship recognizes a faculty member whose enthusiasm for learning, commitment to teaching and scholarly work centers on the philosophy of science.
Hardy joined Carleton's Department of Classics in 1990. For thirty years she has taught dozens of courses in the languages, literatures and cultures of the ancient world. She is active across departmental boundaries, regularly offering classes that satisfy requirements for Women's and Gender Studies and Theater majors. Much of Hardy's research has arisen from her teaching, with articles and talks on issues of gender and the performance of ancient drama. She has also produced scholarship about her innovative pedagogical and theatrical collaborations with other Carleton professors. As a recent prominent example of her work, Clara utilized the department's gateway course, Classics 110, as an opportunity for a deep investigation into the history, culture and society of a single eventful year in ancient Athens. That long-running project resulted in her new book "Athens 415: The City in Crisis." At Carleton, she has chaired the Classics Department and directed Women's and Gender Studies, served as chair of the Faculty Affairs Committee, and been a highly-respected and effective Faculty President. She has also been president of the Classical Association of Minnesota, and Minnesota Vice-President for the Classical Association of the Midwest and South. Clara recently led a two-year Mellon Faculty Career Enhancement grant from the ACM to articulate the outcomes of an undergraduate degree in Classics and develop compelling language around its value. Hardy received her BA from Oberlin College in 1983 and her PhD from Brown University in 1990.
The David and Marian Adams Bryn-Jones Distinguished Teaching Professor of the Humanities was established in 1992 through a grant from the National Endowment for the Humanities and the generosity of Marian Adams Bryn-Jones '23, former head of the Carleton library staff, and David Bryn-Jones, Carleton professor of economics and political science (1920-27) and later international relations (1936-52). This chair promotes cross-disciplinary dialogue on campus, mentoring faculty in the humanities, and honors distinguished teaching.
Davidson joined the Department of Geology at Carleton in 2002 and currently teaches Introduction to Field Geology, Mineralogy, and Petrology. He has also taught Structural Geology, Geology of Energy and Mineral Resources, Energy and the Environment, and led off-campus studies programs in Italy and New Zealand. In 2009 he helped develop the Carleton Summer Science Institute and was the Program Director from 2009-2013. Davidson's publications span a number of disciplines, including metamorphic petrology, structural geology, and tectonics. His early work in Alaska, the Swiss Alps, and the Bhutan Himalayas focused on using mineral equilibria, reaction textures, deformation fabrics, and geochronology from high-grade metamorphic rocks to constrain the nature and timing of deformation in the Earth's deep crust during mountain building. His current research focuses on the accretion and translation history of southern Alaska. Much of this research effort has been supported by the National Science Foundation and the Keck Geology Consortium and has involved numerous undergraduate students from Carleton and from across the country. Davidson has served on the Education and Curriculum Committee, as Chair of the Department of Geology, and was Director of the Carleton Interdisciplinary Science and Math Initiative. He is currently serving as Co-Director of the Keck Geology Consortium, and he has served on a number of National Science Foundation panels, on the editorial board of Geology, the flagship journal of the Geological Society of America, and on various committees for the Geological Society of America and the American Geophysical Union. In 2018, he was elected a Fellow of the Geological Society of America. Davidson received his BS from the University of Wisconsin-Madison, and MS and PhD from Princeton University.
The Charles L. Denison Professorship in Geology was named in honor of a geologist who developed several successful coal, silver, and gold mines in the eastern United States and Canada during the late 1880s and early 1990s. At the time of Denison's death in 1930, Loren Wood, Carleton Class of 1899 and prominent New York lawyer, was co-trustee of the Denison estate. The professorship has helped Carleton develop one of the preeminent undergraduate geology departments in the nation.