Carleton and St. Olaf make annual donation to City of Northfield
The annual gift, split between the two colleges, dates back to the 1920s.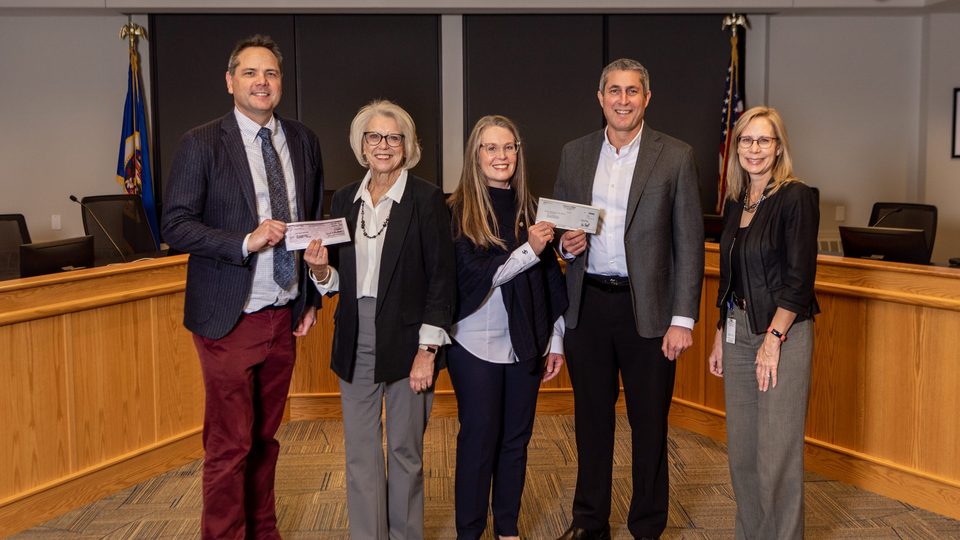 Carleton College and St. Olaf College made their annual donation to the City of Northfield on Monday, Nov. 28, at City Hall in the Council Chambers. Carleton Vice President and Treasurer Eric Runestad and St. Olaf Vice President and Chief Financial Officer Janet Hanson presented the donation to Mayor Rhonda Pownell, City Administrator Ben Martig and Finance Director Brenda Angelstad.
This year's donation is $160,000, split evenly between the two colleges.
The annual gift dates back to the 1920s, when Carleton and St. Olaf were among the first colleges in the United States to make such a gift.
Northfield provides the nearly 5,000 college students who call it home for the academic year with restaurants, shopping, and emergency and professional services. Students enjoy local employment, internships and volunteer opportunities that expand their collegiate experience.
Likewise, the Northfield community benefits from the students and visitors St. Olaf and Carleton bring. The students are significant consumers and clients for local businesses, and provide countless volunteer hours for local schools and organizations. Their family members also visit Northfield regularly in order to attend festivities, competitions, recitals, concerts, award ceremonies and commencements. These visitors, as well as the thousands of prospective students and their families who visit each year, frequent local hotels, restaurants and shops. Both colleges host a wide range of athletic, art and musical offerings as well, which are often free and open to the public.
Carleton and St. Olaf are two of the largest local employers, employing more than 1,500 people combined.