Carleton alumni join global response to COVID-19 pandemic
Through their numerous efforts during these past few months, Carleton alumni have been a powerful force among those helping fight the pandemic.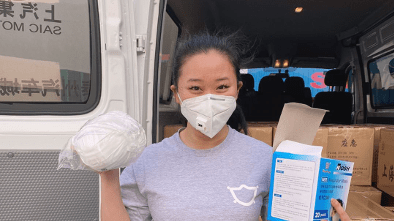 By Lea Winston '22
Carleton alumni around the world have been joining the response efforts for the global COVID-19 pandemic, working to serve both local and international communities in this time of need. We interviewed several alumni to learn more about their contributions during this crisis.
Chris Courneen '07
After graduating from Carleton with a degree in Black cultural identities and dance, Chris Courneen now works as the senior director of human resources for MS International, a leading importer and distributor of natural stones, countertops, landscaping tiles and porcelain in North America.
When COVID-19 hit, Courneen and his company began facilitating the shipment of masks from China to the United States, as well as the distribution of technology and meals to people in need. They've been able to leverage their strong and deep relationships with vendors around the world, and particularly in China, to facilitate the shipment of tens of thousands of hospital masks and KN95 masks to medical facilities, first responders and long-term care facilities both in California and around the country.
MSI also started providing iPads and Chromebooks to families and schools in the U.S. They have donated over 1,000 iPads and Chromebooks to individual families and hundreds to local schools to support virtual learning. The company has also donated over 10,000 meals for first responders and vulnerable populations in Southern California, and have worked to distribute more than 20,000 food relief kits to low-income families in India and hundreds of survival kids to migrant workers, women and at-risk children living in remote Indian villages.
Courneen's role in these philanthropic efforts has been "managing everything related to mask distribution," and his employees have been packing and shipping the masks in a Human Resources conference room. Courneen has also helped organize the distribution of technology for virtual learning.
Additionally, as the manager of the company's health care benefits, Courneen said COVID-19 "changed the way I think about healthcare and access to healthcare options," leading to an understanding that "preventative healthcare is really important."
Gretchen Gasterland-Gustafsson '89
Carleton studio arts graduate Gretchen Gasterland-Gustafsson has been sewing masks in her house in St. Paul from scraps of cotton and yards of elastic. Gasterland-Gustafsson explained she has distributed these masks and some surgical hats "to anyone who has requested them, as well as local hospitals."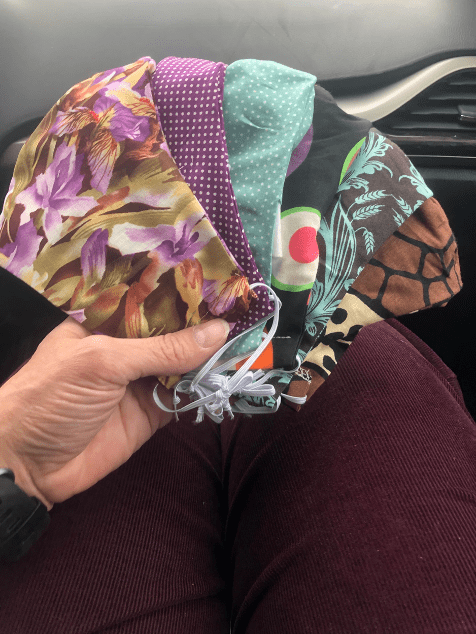 As a professor in the liberal arts department at the Minneapolis College of Art and Design and the head of costume design at Out on a Limb Theater Company and School, Gasterland-Gustafsson is an experienced seamstress and had plenty of materials she could put to use, "so the idea of making masks came pretty quickly," she said.
"Lack of available masks for the general population was already on my mind," Gasterland-Gufstafsson said, as she was currently hosting two Chinese international students in her home, one of whom was working to send PPE to Wuhan before the outbreak began in the United States.
"Honestly, I needed an outlet for my frustration at the lack of preparedness we are seeing, and sewing made me feel like I could do something to help," Gasterland-Gustafsson said. "I would like to believe that I have done the little I can to help slow the spread of the contagion."
Claire Du '08
After graduating from Carleton with degrees in both history and political science, Du eventually moved back to China to work as an impact investor in the field of education. Du is currently an advisor for Owl Ventures, the largest venture capital fund in the world, as well as one of the founders of Operation Masks, a nonprofit helping ship masks from China to the United States.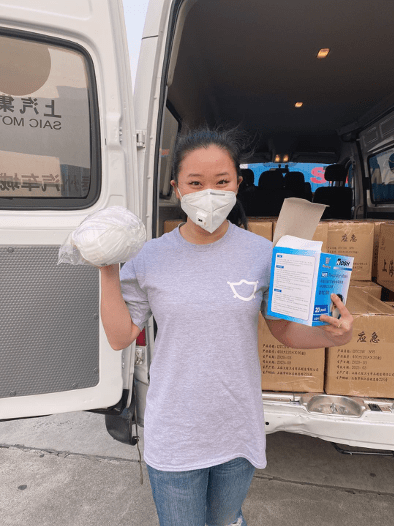 Du lived through the coronavirus pandemic in China long before it became a national crisis in the United States. On Jan. 22, Du returned to her hometown of Changsha, 200 miles from Wuhan. The next day China went into lockdown, and Du spent the next nine weeks in quarantine with her family. "A lot of my family friends got infected," she said, and 13of her mom's family friends passed away. "It was a pretty scary time," Du said.
When China was in the thick of the pandemic in late February and early March, Du first became involved with relief efforts by launching a t-shirt project called #LoveUnity with Phillip Lim, the famous Chinese-American designer, and friends in Hollywood and China. "The idea was that during COVID-19 there shouldn't be any discrimination against Asian and Chinese [culture], and that this whole thing is supposed to be a unified fight against the virus rather than a fight against race or nationality," Du said.
During this time, Du was also using Facebook to warn people about the dangers of the virus. "A lot of my Carleton friends saw my post and they were appreciative and they took precaution pretty early," Du said.
With the situation growing worse in the United States, Du began to source manufacturers and factories that produced PPE for herself, family and friends, which led to the idea for Operation Masks.
At first, Du helped put together a Google Sheet to share on Facebook for friends to get masks and PPE. Du then teamed up with investors and entrepreneurs in Silicon Valley and China to form Operation Masks, a nonprofit to "help government and hospitals in the U.S. to get direct access to factories in China at cost," Du explained.
The first week of May, Operation Masks shipped 3 million masks from China to the United States. They were one of the few suppliers for the United States that could get the highest-level NIOSH-N95 mask. In the month of May alone, Du expected to ship around 1.5 million NIOSH-N95 masks, 1 million surgical gowns, and 2 million surgical masks to the United States. The nonprofit has also worked to help corporations obtain non-surgical masks for everyday use.
"I think we are one of the largest platforms now between China and the United States on PPE supplies," Du said. Operation Masks has survived longer than other similar projects because Du's deep connections in China allows them to access the Chinese factories.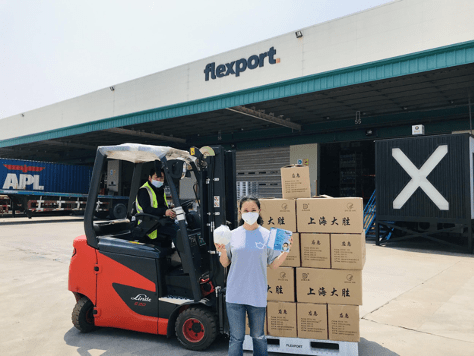 Du has been spending 18 hours a day running the China team's activities managing factory relations and accessing the PPE. "It always makes me feel very good that I'm making a contribution to the world," Du said. "We want to be as helpful as possible."
"This whole work has been a combination of investment banking, consulting, operation management, supply chain management, international relations, public relations, government relations, customer relations, logistics, data analytics…" Du said. "Thanks to my liberal arts education at Carleton, I was equipped with all that."
Moving forward, Du expects to return her focus to her work with Owl Ventures and transition from a hands-on role to a supervising role within Operation Masks.
Reflecting on her experience living through the pandemic, Du said, "You realize that life is fragile, you never know if tomorrow is going to come or not, so cherish what you have." She is also thankful for this time to be with her family. After spending nine weeks in lockdown, Du "realized life actually could be pretty simple."
Sarah Hagerty '13
After majoring in psychology at Carleton, Sarah Hagerty is now in her last year of a dual PhD program in clinical psychology and neuroscience, splitting her time between research at Stanford and a residency at VA Hospital in Palo Alto providing clinical care for veterans.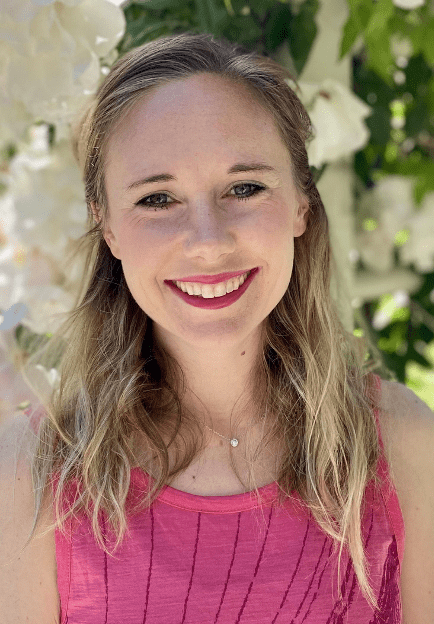 The COVID-19 pandemic has inspired Hagerty to think "about how to use the things I'm already doing to apply them to COVID," she said, leading to her work developing research studies around coronavirus and publishing articles about how to stay mentally healthy during quarantine.
"It almost felt like a responsibility that I have to my liberal arts training and to everything that I've done so far to use that perspective to effect positive change in a timely way," Hagerty said. "For right now, it seems most important to characterize the scope of the mental health impact of COVID and also to use our research skills to provide insights immediately about what could be done right now to mitigate some of the negative impact that COVID is having on our mental health."
To that end, Hagerty is working on designing research studies about the impact of coronavirus, which are soon going into the field. One study is about the impact of COVID-19 on healthcare workers, which could lead to post-traumatic stress disorder. "There are some interesting parallels between what the healthcare workers are facing right now treating coronavirus patients and what we notice about veterans coming back from combat areas," Hagerty said.
In addition to research, Hagerty has been writing articles about how to reduce stress while in quarantine, such as this op-ed published in the San Francisco Chronicle. Through her writing, Hagerty hopes the "public can understand what their current experience is like from a psychology framework" and to offer "some tidbits of information about how people can modify their habits in even very small ways to improve their mental health and stay connected to one another."
"I've noticed a new sense of feeling energized and feeling fulfilled when my work is really contributing to something very applied and very timely," Hagerty said. "I'd like to continue to find ways to integrate the broader current events and things going on and making my work as applied as possible because I think it has led to more fulfillment."
John Fangman '88
John Fangman is a practicing infectious disease doctor and senior hospital administrator at a hospital in Milwaukee, Wisconsin. After receiving a degree in political science from Carleton, Fangman earned his medical degree from the University of Minnesota.
As Fangman was driving to work one day in March, at the start of the coronavirus outbreak in the United States, the song "Save it for Later" by The English Beat came on the radio, reminding Fangman of his years at Carleton. "It catapulted me back, and I thought I would love to talk about what we are going through with a bunch of Carleton people," Fangman said.
Fangman contacted his friends from Carleton who helped him organize a webinar for his class of 1988 to discuss COVID-19. On the call, Fangman presented to 25-30 of his classmates on how the novel coronavirus was developing in the United States and how it was projected to continue. Afterward, there was a Q&A session for people to ask questions and have an open-ended discussion.
As a political science major turned doctor, Fangman said he's "always lived in this interface between healthcare and policy," leading to his observation that "the real problems that COVID-19 reveal are about how we organize society and the world." At the end of the pandemic, Fangman hopes we will understand that "there are basic standards that we all have to live by because otherwise we all suffer collectively."
In his Milwaukee hospital, Fangman said they have been "preparing for the worst and planning to live with this for the next 12-18 months." Like most hospitals around the country, at Fangman's hospital they have cut back on elective care, causing him to see "a number of patients that came in much sicker than they normally would have been because they differed getting care."
At the end of the day, Fangman does not see his work as a healthcare worker as an act of bravery. "When you're a doctor, you just be a doctor," Fangman said. "People like me, infectious disease doctors, this is what you live for."
Andrew Garrett '90
Andy Garrett said he has spent his entire career "focused on public service, emergency response, and emergency management," all of which are imperative when responding to a global pandemic.
Garrett currently holds a split position as faculty and program director for George Washington University School of Medicine's emergency health services and as a senior advisor with the Department of Health and Human Services (HHS) Office of the Assistant Secretary for Preparedness and Response (ASPR). Both of these positions have put Garrett in the middle of deliberations and conversations around the coronavirus pandemic.
At George Washington University, Garrett is a member of the Pandemic Task Force, and explained that he helps "keep the senior leadership informed of the latest science around COVID to help guide our response to the pandemic." Within that group, Garrett is one of the doctors in the Intelligence Cell, which he said "monitors the growing evidence base around COVID to help inform the senior leadership and steer important operational decisions for the University, such as when to resume on-campus education."
In his role at HHS ASPR, Garrett worked in the field on the first major federal quarantine in 60 years, caring for hundreds of people from a cruise ship. "Patients required medical evaluation and ongoing screening and care for two weeks while they stayed in a facility on a military base," Garrett said. He is also "working directly on national-level operational issues related to COVID and children, and helping ensure that our national disaster medical response workforce through the National Disaster Medical System (NDMS) is optimized," he said.
Finally, Garrett works several shifts per month in a pediatric emergency department in Washington, D.C.
"Carleton is where my initial interest in emergency services came together," said Garrett, who organized Carleton's first on-campus EMT classes in 1987 and worked with Northfield Ambulance as an Advanced EMT during his four years.
"Carleton gave me the flexibility to pursue these types of outside interests, and I was fortunate to have amazing advisors like professor Ed Buchwald who encouraged me to take risks and mash up my areas of interest in different ways," Garrett said. "That approach teed me up for a fascinating career in medicine and public health that never would have happened if I had taken a traditional approach to pursuing a career in medicine."
Through his years working for the federal government, Garrett has responded to "dozens of major disasters" such as Hurricane Katrina and the Haiti earthquake. "I keep going back because in every disaster, COVID included, there is incredible potential to do the right thing and help those who need it most," Garrett said. "So, while maybe COVID hasn't changed me as a person, per se, it has reinforced my desire to be part of the national solution to one of the most significant public health challenges we have faced in a century."
During this crisis, Carleton alumni continue to put into practice the valuable lessons they learned during their undergraduate experience about the importance of affecting positive change. Through their numerous efforts during these past few months, Carleton alumni have been a powerful force among those helping fight the pandemic.