Carleton alum rocks the stage as number seven air guitarist globally, number one nationally
Rachel Sinclair '07 competed in the Air Guitar World Championships in August after winning the U.S. championship in July.
Everyone rocks out sometimes— whether it's banging on a few intangible drums, pressing keys on a piano that isn't there or twanging invisible strings on an air guitar, not many can resist the magnetic pull to sing and dance along to a favorite song.
Rachel Sinclair '07 has brought rocking out to a whole new level: competitive air guitar.
Sinclair has been participating in competitive air guitar since 2014, after relocating to Colorado and meeting her now-husband. He started entering air guitar competitions first, around 2011, and she followed as a fun experiment.
"I did real bad in my first competition," she laughs. "I didn't even know air guitar was a thing until I moved to Colorado, so that was my first time doing anything like it. It did not go well, but it was so fun that I decided to keep going, creating new characters and competing."
The years of competition paid off; on July 15, she became the 2022 U.S. Air Guitar Champion under a persona called Hott Mess.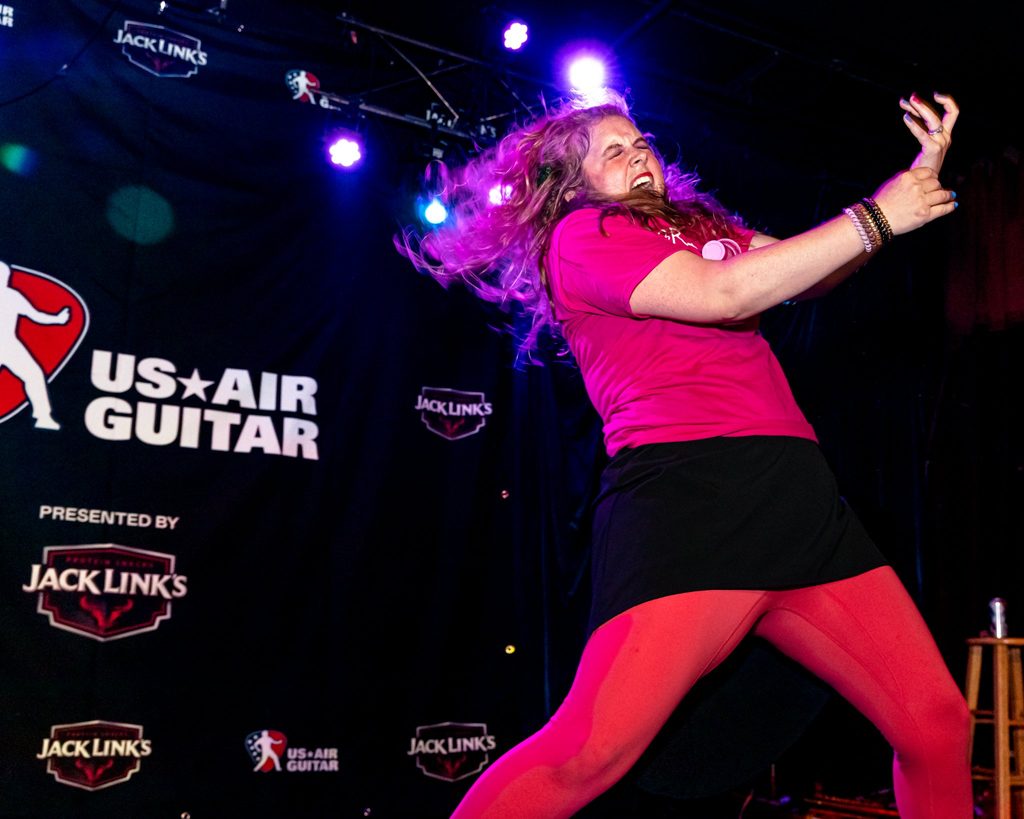 "Hott Mess is a party girl," Sinclair explains. "She's also super arrogant. She doesn't know what she wants, but she thinks she's the best thing ever to enter anyone's life. She's just all over the place, which is really fun to embody onstage."
Not all air guitarists have characters they adopt; some just use stage names to build their performances, and some compete as the same persona for a decade or more. Sinclair likes to switch her act up fairly often, though—this year is her first as Hott Mess.
"For me, being able to come up with different stories is part of what draws me to air guitar," she says. "In just 60 seconds onstage, you really get to know the character, and it feels like something is happening other than just performing."
Sinclair's previous characters include Agnes Young, an old lady who gets possessed, acts out a selection of hardcore songs and then falls back asleep onstage; Young Agnes, an interim character for a pregnant Sinclair who performed to Weird Al's "Eat It"; and Boob Tube, for which Sinclair dressed as a giant remote control and performed to a mix of television theme songs.
As Hott Mess, Sinclair made it to the U.S. National Championships as a Dark Horse—she tied for second place at her regional competition in Denver. In air guitar, one or a few of the runners-up from regional tournaments are invited to the Dark Horse competition, a last-chance contest held a few days before Nationals. Sinclair placed high enough there to qualify for the National Championships and proved the judges right for sending her on, as she snuck past air guitarists from all over the country and won the championship belt with outstanding results in all three judging criteria: technical merit, stage presence and "airness" (think: je ne sais quoi).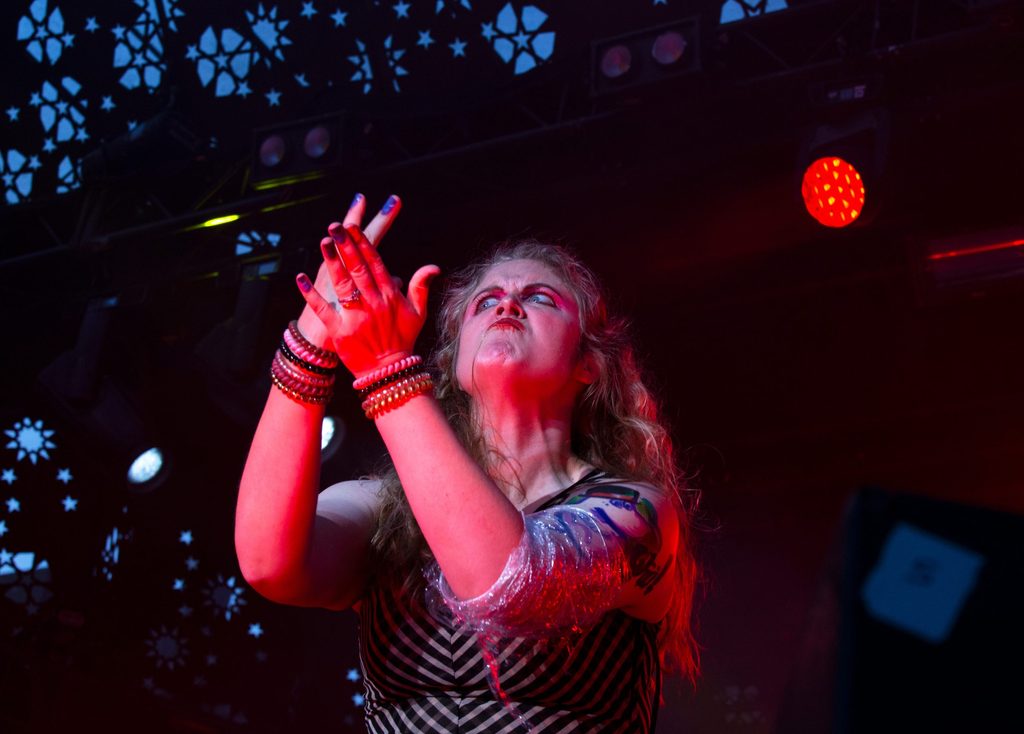 For Sinclair, her "edit"—which is either 60 seconds of one song or a 60-second-long mix of many songs used for a main performance—is a vital part of each character.
"When I came up with Hott Mess, one of the first things I knew was I wanted my edit to be a hot mess, with a million different cuts," she says. "The second thing was I wanted my first song to be 'TiK ToK' by Ke$ha. The only other things I knew right away were I needed to look like a hot mess, of course, and I wanted to vomit up my guitar at the beginning, but the music was where I started with this character."
Colorado 9NEWS, Sinclair's local station, showcased excerpts from her Hott Mess edit in a segment from this summer, along with a clip from a past performance as Agnes Young, and Sinclair's energy and passion for air guitar is clear to see onscreen.
Evidently the international judges recognized her talent, because Sinclair scored seventh place on the world stage when she competed in the Air Guitar World Championships on Aug. 26 in Oulu, Finland. With just one total point separating her and the first place winner, Dark Horse Kirill "Guitarantula" Blumenkrants from France, Sinclair can now count herself among the very best air guitarists in the world.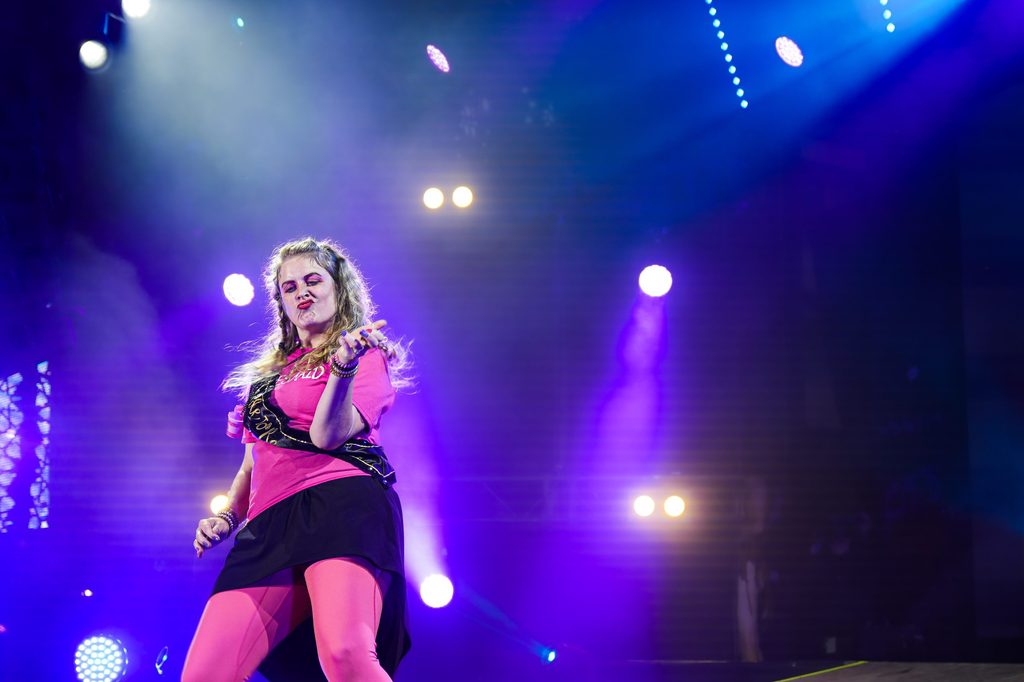 Her point total isn't the most important thing to Sinclair, though; for her, the best part of the competition is the global community it creates. For example, she says, this year's international lineup included the first air guitar champion from Kenya—Charles "Slim" Kariuki Ndung'u, who tied for third in Oulu—and a large collection of air guitarists hosted a fundraiser to help pay for his plane ticket.
"The level of camaraderie once we all got [to Finland] was incredible, too," she adds. "In the green room tent, they had a monitor set up so we could see all the performances. Everyone was cheering and clapping for every single person during and after their performance. It was a really good feeling to walk off the stage, go back into the tent and be greeted with everyone cheering, high fiving and giving hugs. Everyone wins in this sport, it's the best."
Sinclair and the rest of the performers also went on a camping trip after the competition was over. They dubbed it an "air-off," naming it after what the sport calls tie-breakers and playing on the pun of being in the open air.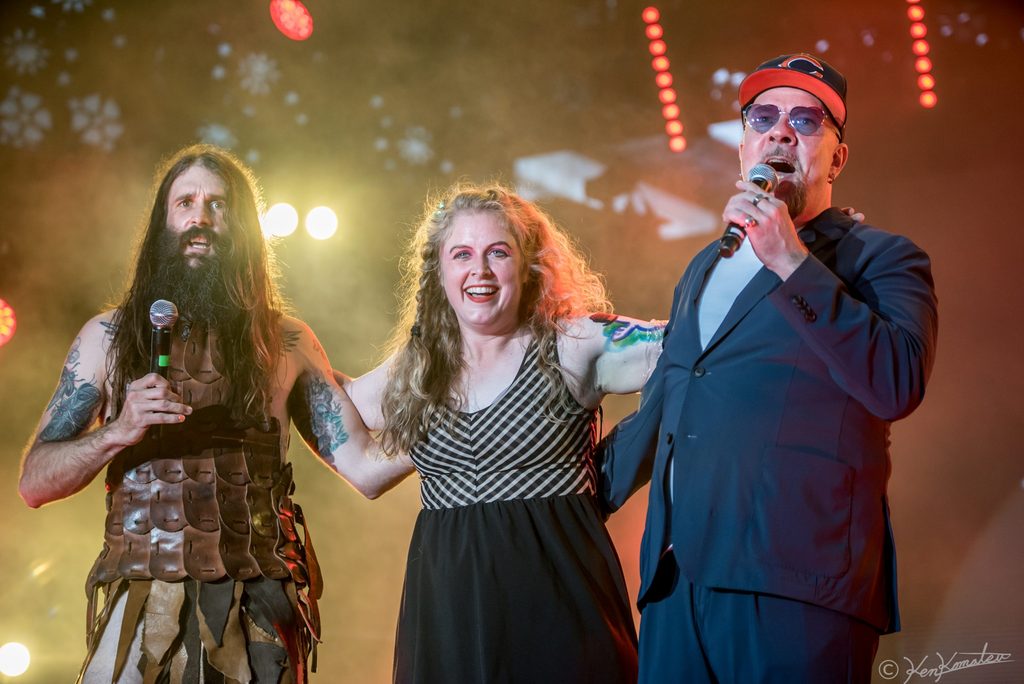 "The trip was so lovely," Sinclair says. "It was on a picturesque lake about 30 minutes outside the city. We all had tiny cabins with two to five people in them and just spent hours enjoying the sauna, laughing with friends and singing by the fire." They also recorded a group air guitar performance of a Romano Nervoso cover of Elton John's "I'm Still Standing" to mark the occasion.
Tight-knit community is at the very heart of the Air Guitar World Championships, which were founded in 1996 by Finnish students tasked with finding a way to bring about world peace. Their mission continues to be "Make Air Not War," and as they put it, "you can't hold a gun while you play the air guitar."
Their mission has proven to be popular, and this year's competition drew in a crowd of over 3,500 people. The energy was apparently palpable onstage.
"Usually Finnish folks are pretty reserved, so it was cool to hear a bunch of people hootin' and hollerin' in the crowd," Sinclair says. "I think everyone was pretty pumped and excited to see us all be fools on stage."
Sinclair also isn't the only Carl to be found in this kind of spotlight—Rob Nechanicky, Carleton's custodial services supervisor, also competes, as The Lost Heartbreaker.
"Air guitar is something I think I've done since the day I was born," Nechanicky says. "It just happens naturally. I've been doing competitive air guitar, though, for 16 years. I've been all over the U.S. playing air guitar in some of the biggest venues: The Metro in Chicago, The Independent in San Francisco, The Bluebird in Denver, and I'm the only air guitarist to open for a national act at the legendary First Ave in Minneapolis."
Nechanicky has finished in the top five of multiple regional competitions and was even inducted into the U.S. Air Guitar Hall Of Fame in 2020. "Catching Air," a documentary on air guitar hitting film festivals this year, will also feature him.
Nechanicky counts himself as one of Sinclair's biggest cheerleaders and is proud of what she's bringing to the sport.
"Rachel is what air guitar is all about," he says. "She is the most wonderful person anyone could meet. She's 100% committed and her characters come to life on stage. She's dedicated to the craft. Watching her perform over the years has been such a gift for the entire community and she is a true champion in every way imaginable. I'm proud to call her a friend."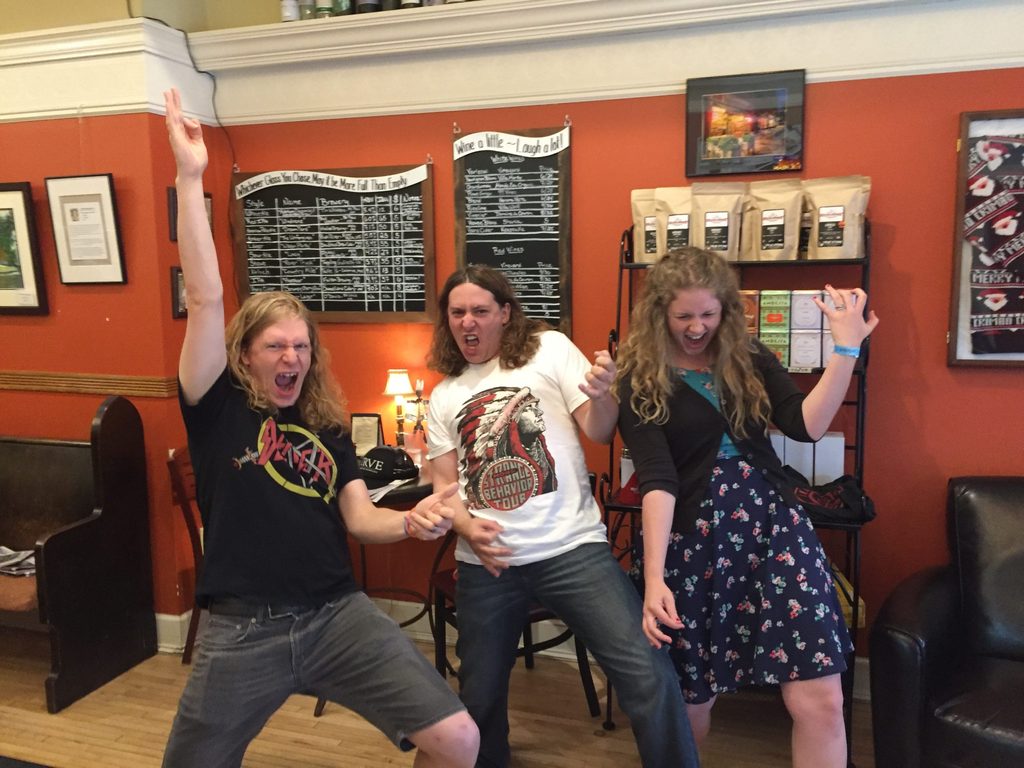 Both Sinclair and Nechanicky are all about encouraging others to try their hand at air guitar. If you feel the slightest inclination to participate or even just attend a show, they say, absolutely do it.
"I've had people ask me, 'Don't you feel embarrassed going on stage doing that?' Of course not, I'd be doing it anyway. Thanks for the stage!" Nechanicky laughs. "At the end of life's journey, all we have are the stories we created along the way. So go be you in whatever brings out the best you and create some fun stories—you won't regret it."
"Air guitar might seem silly to some, but it gives people from all walks of life an opportunity to come together and bond over this one simple and universal act," Sinclair adds. "If it weren't for air guitar, I wouldn't have traveled around the country as much as I have or traveled to Finland and met people from all over the world. This sport is literally for everyone, so if you want to get involved in any way, go for it!"
---
Erica Helgerud '20 is the news and social media manager for Carleton College.