Carleton alum among first to return to service abroad for Peace Corps
Jonas Lindholm-Uzzi '20 is currently acting as an agriculture volunteer in Zambia.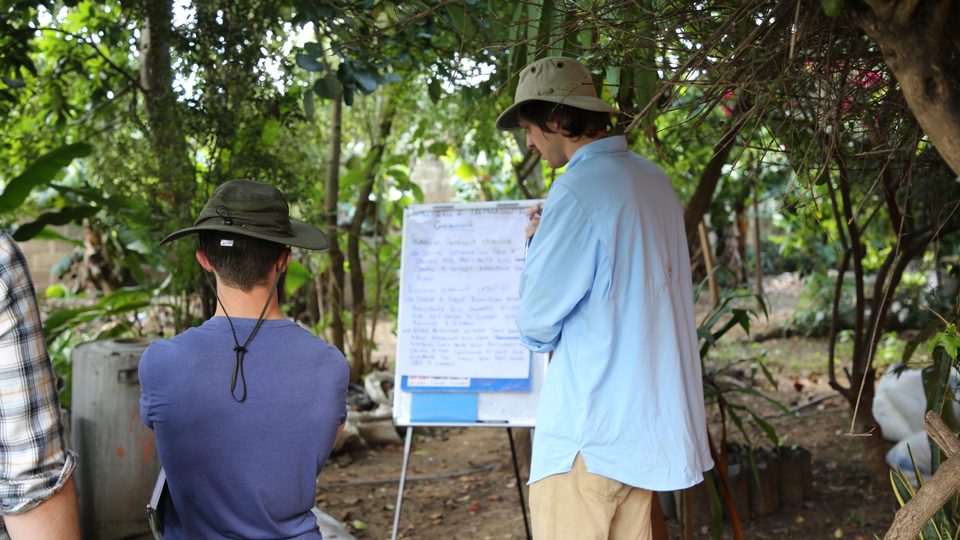 When the COVID-19 pandemic started to shut down the United States in March 2020, the Peace Corps was one of many organizations left scrambling to get international members back home. Now, almost exactly two years later, Peace Corps volunteers are finally returning to their work abroad.
Carleton alum Jonas Lindholm-Uzzi '20 is one of the first of those to return to an overseas volunteer position since the global evacuation of nearly 7,000 Peace Corps volunteers from their posts in more than 60 countries.
Lindholm-Uzzi is also the latest in a long line of Carleton volunteers. Since the agency's founding in 1961, 526 Carleton graduates have served within the Peace Corps. The college is ranked 16th among small-size schools on the agency's list of top volunteer-producing colleges and universities, and has made that list consecutively for over a decade.
Senior recruiter Julee Muro de Gerome is consistently impressed with how well alums like Lindholm-Uzzi know the organization and how eager they are to contribute to the cause.
"One thing that I notice when I'm talking to Carleton students is a shared appreciation of the altruistic nature of what we do and also the sustainable development," Muro de Gerome said. "Carleton students have typically come with a very good understanding of what it is that the Peace Corps does… I believe that partly is because of these [several hundred Carleton alumni] that have served historically, but also the staff [and faculty who] share about the Peace Corps… on campus."
Muro de Gerome also can't wait to meet students in person again.
"I am greatly looking forward to getting back on campus," she said, "and continuing that great relationship that Peace Corps has with Carleton."
That relationship, like most, is built on shared values. The phrase "Carls help Carls" is well-known among current students and alumni, and they do, but members of the Carleton community have a lengthy history of reaching out and helping people outside the campus bubble as well, and that aligns closely with what the Peace Corps aims to do.
"This is a historic moment at a pivotal time in the world. We are witnessing the largest vaccination effort in history, ongoing concerns about COVID-19 and a war that is expected to broadly impact food security," said Peace Corps CEO Carol Spahn. "The return of Peace Corps volunteers to the Dominican Republic and Zambia is just one step in returning volunteers to countries around the world to partner with host communities and support urgent response and recovery efforts."
As an agriculture volunteer in Zambia, Lindholm-Uzzi will work with local partners on a variety of projects, including many directly related to the pandemic.
"Volunteers in Zambia will partner with communities to provide COVID-19 education and promote access to vaccinations in coordination with local leaders and partner ministries, including the Ministry of Health," said Erin Curran, public affairs specialist for the Peace Corps' office of volunteer recruitment and selection.
Zambia and the Dominican Republic are the only countries currently hosting Peace Corps members again, although Muro de Gerome is hopeful other countries will be able to join them soon.
"As things progress with the COVID situation, new countries will be inviting volunteers to serve," she said. "We have, of our 60-plus countries, 32 countries currently issuing invitations [for future departure dates]."
Each community in every country the Peace Corps works with also has complete control over what projects volunteers like Lindholm-Uzzi assist with, in order to ensure they are useful and sustainable for the community in the long run.
"Even though volunteers go in with a project framework," Muro de Gerome said, "the Peace Corps agency doesn't decide what the community needs. It's the community working with… volunteers to share what they are looking for and what they want to collaborate on… Our goal is to spend our time there as effectively and productively as we can, but then of course, as the volunteer returns back here to the United States, that work continues with the community."
Although Peace Corps volunteers could not leave the country during the past two years, the organization continued its mission in other ways, through such programs as a new virtual service pilot program, the domestic deployment of volunteers to aid in COVID-19 vaccination efforts and the continued development work of the agency's many overseas staff members and partners. 
The virtual pilot program was especially exciting for Muro de Gerome.
"Evacuated volunteers [could partner] virtually with communities abroad," she said, "so they were continuing some of the work they were already doing, but also adapting to the new reality that many of the countries were faced with, having to adapt to virtual learning. So there [are now completely new] programs started… with the Peace Corps."
Lindholm-Uzzi is one of many people stepping up to help in person again, and with his volunteer service, he becomes part of a global effort to change the world for the better.
"It is one of these times in our shared history where such a difference can be made by such a [small] number of individuals," Muro de Gerome said, "so we really appreciate [Carleton]… taking time to highlight [Lindholm-Uzzi]… and the Peace Corps."
About the Peace Corps
The Peace Corps is an international service network of volunteers, community members, host country partners and staff who are driven by the agency's mission of world peace and friendship. At the invitation of governments around the world, Peace Corps volunteers work alongside community members on locally-prioritized projects in the areas of education, health, environment, agriculture, community economic development and youth development. Through service, members of the Peace Corps network develop transferable skills and hone intercultural competencies that position them to be the next generation of global leaders. Since President John F. Kennedy established the Peace Corps in 1961, more than 240,000 Americans have served in 142 countries worldwide. For more information, visit peacecorps.gov.
---
Erica Helgerud '20 is the news and social media manager for Carleton College.