Campus Community Comes Together for Opening Convocation
Opening Convocation marked the first time the full campus community has been together in over 18 months.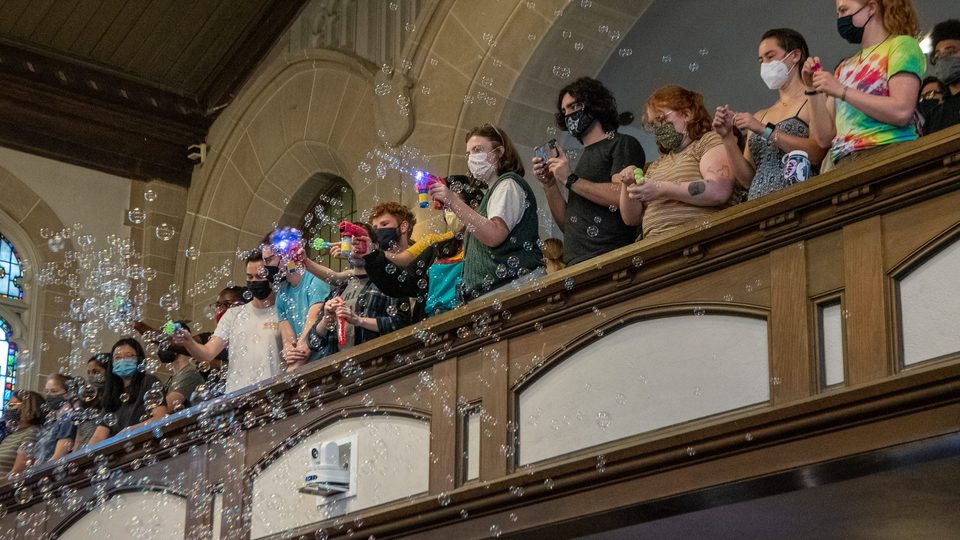 Bubbles poured over the balcony in Skinner Chapel, in true Carleton tradition, as the campus community opened the academic year with Convocation on Sept. 15, 2021. This Convocation marked the first time the full campus community has been together in over 18 months, and the first Convocation for President Alison Byerly.
"Today's coming together feels especially momentous," Byerly said. "As always, for new students, it is an introduction to the Carleton community. This year, for many returning students and colleagues who have not seen each other in a long time, it is a reintroduction to the Carleton community. For me, as a new president, it is a rare moment of opportunity, when I can enter and engage not as a unique stranger, but as part of a whole group of people who are in many ways new to each other and reimagining what it means to be a community."
Carleton's convocation program has a rich history, dating back several decades and featuring many notable speakers, including political leader Stacey Abrams, who opened the 2020-21 academic year with a virtual address.
"Today's Convocation is part of a longstanding tradition that is one of Carleton's most distinctive features," Byerly said. "We have set aside time in the College calendar to create opportunities for the entire community to gather and hear a talk or program that provides a shared basis for intellectual exchange and ongoing dialogue."
This year's Convocation focused on the campus community as a whole, highlighting the efforts of faculty, staff and students throughout the past 18 months in a message of thanks. Expressions of gratitude were sought from the community in the weeks leading up to Convocation, and select submissions were read during the event.
Poems of inspiration were read by Chaplain Carolyn Fure-Slocum; students were recognized for their Dean's List accomplishments; there was a trumpet and brass fanfare featuring music majors, faculty, and a member of the Metropolitan Symphony Orchestra; and the alma mater, sung by select members of the choir, closed out the Convocation.
"We have all chosen to come here because we believe in the value of the extraordinary liberal arts education that Carleton offers," Byerly said. "Each and every one of you plays a role in defining the kind of community we will be, and hence the kind of education that community makes possible. Thank you for being here, and for being part of that project. I could not be more delighted that we are on this journey together."
Read President Byerly's remarks. Watch Opening Convocation. Read all the expressions of gratitude (requires a Carleton log-in).