Arpita Bhattacharyya '10 reflects on climate work and her path to Department of Energy
Bhattacharyya is senior advisor and chief climate officer for the Loan Programs Office in the U.S. Department of Energy.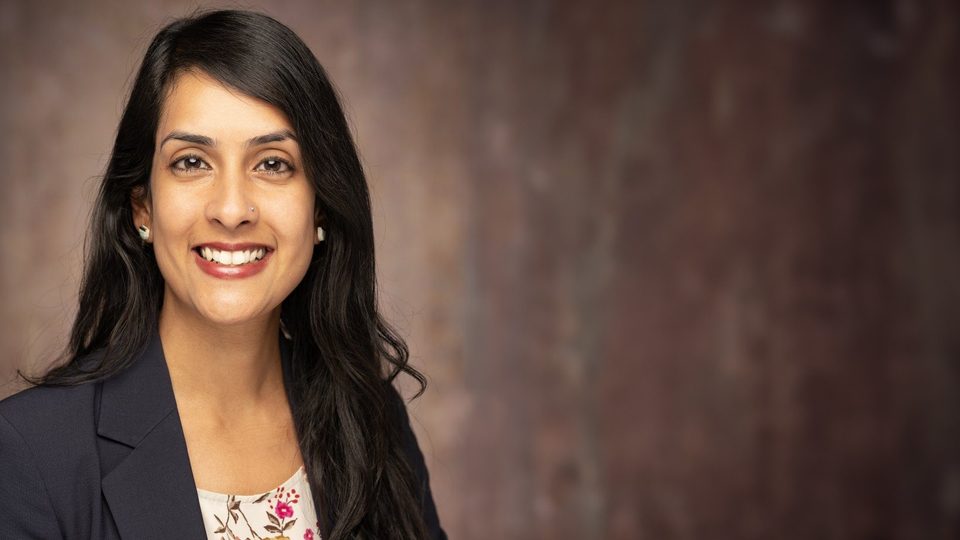 Since her time as a political science and international relations major at Carleton, Arpita Bhattacharyya '10 has been navigating the renewable energy industry during a period when both the threats of climate change and its solutions have become magnified. Currently the senior advisor and chief climate officer for the Loan Programs Office (LPO) in the U.S. Department of Energy (DOE), Bhattacharyya works to help fund companies that are ready to deploy clean energy technology at scale, serving as a catalyst for clean energy deployment across the United States. 
Bhattacharyya works closely with the director of the LPO to oversee financing and ensure the funding process meets priorities of the Biden administration, such as reducing greenhouse gasses, ensuring environmental justice, working with communities, and bringing clean energy manufacturing to the United States. Her office also works to support the DOE's Tribal Energy Finance Program to ensure loan access to tribal communities throughout the country. 
Bhattacharyya began work at the LPO in April of this year, and while managing debt financing at the DOE has always been a big job, Bhattacharyya arrived at a particularly important time. With the recent passage of the Bipartisan Infrastructure Law and the Inflation Reduction Act, the LPO jumped from $40 billion to $400 billion dollars in authority for clean energy commercialization.
"The amount of funding for deploying clean energy that has been appropriated through the U.S. government makes it a very unique moment to be here at the Department of Energy," she said.
Bhattacharyya's career has been varied, but climate and energy have always been a throughline. "I've been interested in climate change since around ninth grade," she said. "I read an article [that year] in Time Magazine about how climate change would impact India and Bangladesh, and I have family in India, so it really hit home." 
Bhattacharyya led her high school's environmental club and continued that work at Carleton, participating in environmental groups and working as a Sustainability Assistant. While majoring in political science and international relations, she continued to think about climate change and its impacts. 
"I did my comps with Professor Tun Myint on how media narratives impact how people perceive climate change," she said. "I wanted to understand how people reckon with something that's going to impact future generations but not their own lives. In the last couple years we've seen the impacts of climate change firsthand, so we are actually seeing the consequences in real time." 
After graduating from Carleton, Bhattacharyya joined the energy and climate team at the Center for American Progress. The team worked on domestic climate policy levers and harnessing partnerships between non-governmental organizations (NGOs) in the United States and India to foster climate resilience.
After focusing on renewable energy finance and investment banking at the Yale School of Management during her MBA, Bhattacharyya worked for the solar company SunPower to develop solar projects for companies like Target, Apple, and Amazon.
"My work included design, analysis, and finance," she said, "where you're thinking through how much electricity the customer uses, how you size the system, and then also how you finance the project."
Bhattacharyya then entered the startup world, helping launch products at Impossible Foods, a company that aims to lower emissions produced by the food industry by creating plant-based meat alternatives.
"Working at Impossible Foods taught me that you can't just have a product, you've got to be able to make the case for it, especially if it's a newer product," she said. "What we're trying to do is meet people where they're at. They like a burger—can we show them that this is a very similar experience to a burger and they don't have to make a difficult choice?"
Bhattacharyya's work at SunPower and Impossible Foods was an embodiment of advice given to her by Jack Eugster '67, a member of the Board of Trustees when Bhattacharyya was at Carleton. "He gave me the advice to go work somewhere that makes something," she said. It's a piece of advice she now recommends to current students. "You learn how complicated and hard it is to make physical things."
Bhattacharyya landed next at the Department of Energy as a political appointee, serving as chief of staff to the deputy secretary, before moving to her current role in the LPO. In addition to managing the deputy secretary's office and advising the budget, her work as chief of staff included using the DOE's resources, such as their national research labs, to help different countries chart paths to net zero emissions.
The breadth of her career is one reason Bhattacharyya encourages Carls to enter the energy sector. "It's a career that can bring a huge diversity of experiences," she said. "There's so much variation in the type of work you can do, and I think my career is an example of that. It's all been about energy and climate, but in different ways." 
After more than a decade of work in clean energy, Bhattacharyya says she is cautiously hopeful about the current state of climate progress.
"We are in such a better place with the Bipartisan Infrastructure Law and the Inflation Reduction Act than we were before this legislation was enacted," she said. "We have both the tax credits that are creating the demand for clean energy technologies, and then initiatives and programs like the LPO which are deploying those technologies at commercial scale. So I feel optimistic about the future."
Bhattacharyya pointed out, however, that the DOE alone can't carry the United States toward a sustainable future.
"The U.S. government should just be the catalyst," she said. "We need $300 billion a year of incremental private investment, on top of what we're putting out there through the DOE, and I think last year we did $140 billion. We're going to have to keep upping that private sector investment. Everyone needs to keep working toward the goal; DOE and LPO are just the start. Our whole goal is to ensure that there's private-sector investment on top of everything that the government is deploying." 
Bhattacharyya also emphasized the importance of thinking through the nuances and complexities of climate issues, something she said a liberal arts education at Carleton helped teach her.
"It's not just 'climate change is a scientific problem, so let's reduce emissions,'" she said. "If we did that, we would be leaving behind communities that have already been disadvantaged by the energy infrastructure of the past, we wouldn't be thinking about the workforce and creating good jobs, we wouldn't be thinking about how to ensure we're bringing new communities and people into this industry, and we wouldn't be looking through the international lens of how we manufacture here in the United States." 
While the scale and nuance of climate issues can be overwhelming, Bhattacharyya sees paths toward progress. "There is a way to make decisions and move forward even in that complexity," she said. "Otherwise, you would get paralyzed." And while finding ways to navigate setbacks and challenges in her career is important, Bhattacharyya reflected on the importance of community in sustaining her throughout the work. 
"These jobs can be challenging and climate change is an existential issue we face, so the community that you bring in from Carleton and continue to build along the way is super important," she said. "Building community will get you through the different and difficult times while working in clean energy and climate."
---
Sarah Crump '10 was a fellow Carl in climate, as a paleoclimate scientist who studied past climate change in the Arctic, and was committed to bringing more diversity into her field. Crump was diagnosed with a rare and aggressive form of cancer in April 2022 and passed peacefully on November 18, 2022. A few days before she passed, she established the Sarah Crump Graduate Fellowship through the University of Colorado Institute of Arctic and Alpine Research, which you can learn more about and contribute to on the Institute's website.