Anna Conley '20 receives Watson Fellowship to study mycology
Conley will spend the next year diving into the study of fungi in China, the Czech Republic, and Chile.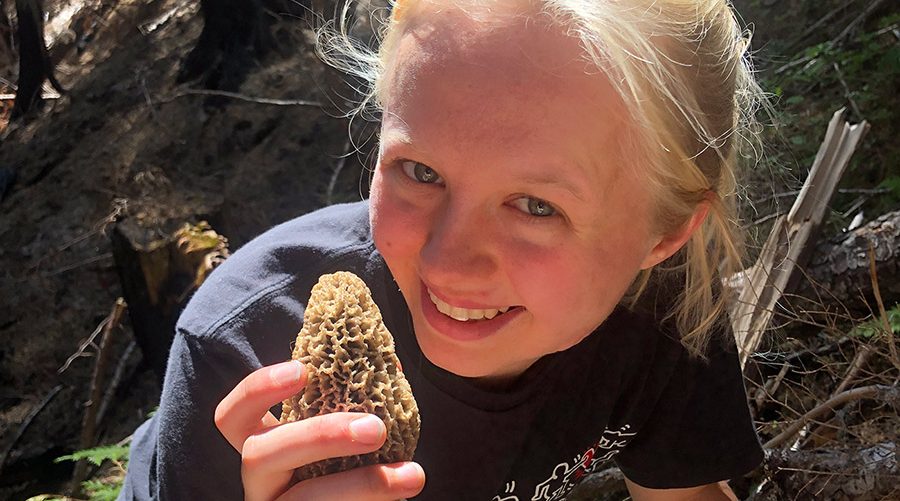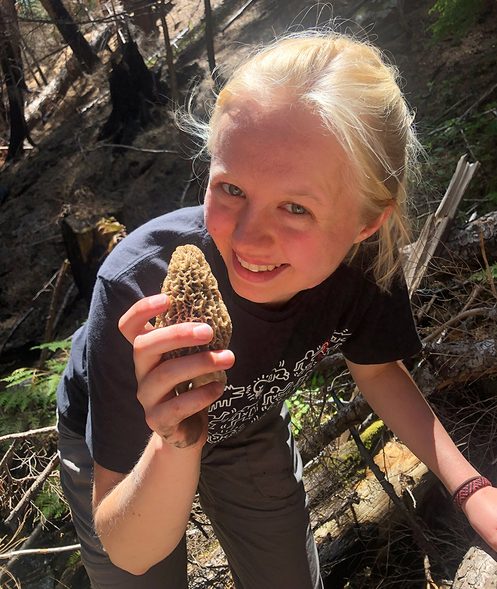 Chemistry major Anna Conley '20 recently joined 46 other college and university students in receiving a prestigious Watson Fellowship. The program provides recipients with a year of international travel and the opportunity to conduct research within their selected field of study. This year's 52nd class of Watson Fellows includes students from 20 states and eight countries who exhibit a broad range of academic specialties, socio-economic backgrounds, and project diversity.
Conley will use this opportunity to spend the next year diving into the study of fungi and into communities that value fungi. Conley plans to follow this fungal path to the ancient mushroom markets of China, the fungi research labs of the Czech Republic, and the indigenous communities of Chile. In total, Conley hopes to explore the properties of fungi in seven countries around the world.
Conley shared with us the details of her fellowship and what's in store for her over the next year and beyond.
Tell us about where you are going and what you will be doing during your fellowship.
AC: I want to spend some time in a variety of places, like China, where fungi have been a part of the culture for as long as anyone can remember and are really important in traditional Chinese medicine. Generally, it's a country that is a lot more fungi-loving in comparison to the U.S., so I want to spend time in markets where traditional fungi are sold and in local communities.
Then I want to travel to the other end of the spectrum, which is the Netherlands. It is one of the biggest countries dealing in the commercial production of fungi. In the Netherlands, they have created a lot of different cultivation techniques, so that's a different aspect in why fungi can be important. For them, it's viewed more as food and an economic commodity rather than those who utilize it for medicine, religion, or individual livelihood.
Another thing I'm really excited about is going to Chile. I've been in touch with a woman who works with indigenous groups to study all of the different species of fungi they know of in the rainforest in the mountains there. There's also a lot of unique species that have always been an important part of how the indigenous people view the world. The woman that I'm in touch with, Giuliana Furci, is the founder of the first non-profit organization, Fundación Fungi, that is dedicated to studying, conserving, and educating people about fungi.
In the Czech Republic, I want to meet a researcher who does biogeochemistry and studies how fungi take up heavy metals from the soil—which is exactly what I've thought I might want to do. I'm hoping to meet more people who collect fungi, use them for a living, as a hobby, or who research them for a living. I want to learn about all of those different views. Some other countries that I plan to visit include Russia and Australia.
How did this passion for mycology begin and how have you sustained it since?
AC: It started with my family when I was young. I always loved spending time outside and I grew up in the middle of nowhere, so, for as long as I can remember, my parents would take us foraging for morel mushrooms in the mountains of Oregon and Washington. As a child, I saw it as a treasure hunt and wanted to find more than anyone in my family. As I got older, I became more interested in other types of fungi and the science of it.
The first thing I did when I got to Minnesota, before my freshman year started, my mom and I went to a North American Mycological Society conference which was held in Wisconsin that year. So, my first introduction to the Midwest was going to Northern Wisconsin and meeting all of these people who were experts in fungi and exploring the woods with them.
One of the biggest things that has been important for my experience at Carleton is the arb. I have always felt at home in the arb. Even when I first started out at Carleton and wasn't used to being there yet, I would spend a lot of time exploring the arb. I also worked on the arb crew, which was always a great way to go get away and be outdoors. Now that I'm about to graduate, I know all of the different parts of the arb, so I have familiar places where I'll go to check for mushrooms each year.
Do you have any plans for fungi to be a part of your future career?
AC: Hopefully, yes. I've always really been interested in fungi, but never really had a chance to study them in depth or learn about them in that way. I studied chemistry at Carleton because I really love looking at things at a very fundamental, small level. I would really love to do something in my career learning about the chemical role that fungi play in forests or forest ecosystems and using that knowledge to better interact with our natural world or better use our resources. I've never been sure how to do that, but I'm hopeful that this Watson year will help me figure it out.
Who has been the most influential during your college experience, helping you reach this point?
AC: The people who have pushed me to challenge myself and helped me develop this project. My high school chemistry teacher, Doctor Baranowski, was my mentor who helped lead me to Carleton and the Watson Fellowship and encouraged me to explore my passions. Additionally, Carleton's Chemistry Department, especially Daniela Kohen and Matt Whited, have helped me to try new things in both chemistry research and beyond. Finally, I could not have made it this far without the help of Marynel Ryan Van Zee in the Fellowships Office, who helped me to develop this project and was there through every step of the application process.
Conley was planning to start her trip on August 1, 2020, however, due to the COVID-19 pandemic, it is likely that this date will be pushed back until it is safe to travel again.
About the Thomas J. Watson Fellowship
Nearly 3,000 Watson Fellows have been named since the inaugural class in 1969. A Watson Year provides fellows with an opportunity to test their aspirations and abilities through a personal project cultivated on an international scale. Watson Fellows have gone on to become leaders in their fields including CEOs of major corporations; college presidents; Emmy, Grammy and Oscar Award winners; Pulitzer Prize awardees; artists; diplomats; doctors; entrepreneurs; faculty; journalists; lawyers; politicians; researchers; and inspiring influencers around the world.
Watson Fellows are selected from 40 private colleges and university partners across the United States. They receive $36,000 for 12 months of travel and college loan assistance as needed. Following the year, they join a community of peers who provide a lifetime of support and inspiration. Learn more about the Watson Fellowship at Carleton.
About the Watson Foundation
In 1961, the Watson Foundation was created as a charitable trust in the name of Thomas J. Watson Sr, best known for building IBM. Through one-of-a-kind programs, and over 100 global partnerships, the Foundation provides students with personal, professional and cultural opportunities that expand their vision, test and develop their potential, and build their confidence and perspective to be more humane and effective leaders on a global scale.