Alysala Malik '19 earns Watson Fellowship to study food insecurity
Malik will spend the next year living and volunteering in France, Madagascar, India, Japan, South Africa and Nepal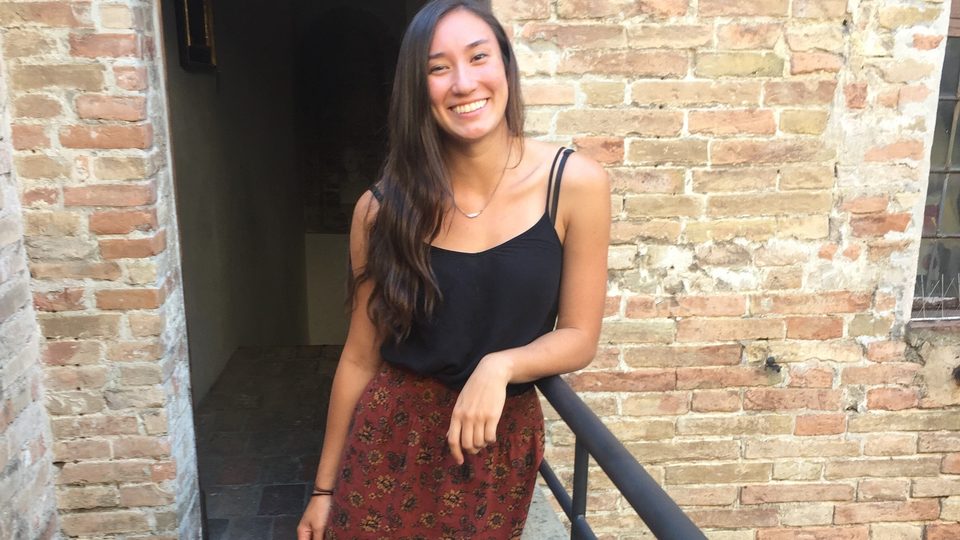 The recipient of a prestigious Watson Fellowship, Alysala Malik '19 will spend the next year living and volunteering among communities struggling with food insecurity in the countries of France, Madagascar, India, Japan, South Africa and Nepal.
The Watson Fellows program provides a year of unparalleled international exploration for select graduating seniors in any field. Malik is one of 41 Watson Fellows in the 2019-20 class, which includes individuals from 18 states and six countries who represent a broad range of academic specialty, socioeconomic background and life experience. As a whole, they will travel to 76 countries exploring topics ranging from artificial intelligence to music subcultures, food insecurity, island innovation, and neonatal and end-of-life care.
Malik, a geology major who hails from Rapid City, South Dakota, shared with us the details of her fellowship and what she plans to do next.
Tell us about the details of your Watson Fellowship. Where will you be, and what will you be doing?
AM: For my Watson year, I will volunteer and live among communities who struggle with food insecurity in both the developed and undeveloped countries of France, Madagascar, India, Japan, South Africa and Nepal. I will seek to explore how food insecurity and malnutrition are tackled across the globe by volunteering with organizations and observing the day-to-day strides they take.
The term "food insecurity" encompasses a spectrum of need that varies wildly from place to place, and I want to understand how food gets to the tables of those who need it in different communities. Each country has a slightly different focus since this universal issue takes different forms everywhere. In Madagascar, which has the world's fourth highest rate of chronic malnutrition with only 30 percent of children consuming the minimum diet recommended for growth and development, I will be volunteering with organizations focusing on providing basic nutritional needs for struggling communities.
In India, I will be working with a mid-day meals program that provides school meals for 1.76 million children across 12 states in India through a streamlined system that minimizes human contact during food preparation. In Japan, where cuisine is known globally for its aesthetic codes of presentation and small portions, I am curious to see if this aspect of Japanese culture is preserved when feeding large numbers. In each country, my time will be spent differently, which is both exciting and slightly daunting.
Were there any meaningful experiences at Carleton that paved the way for you to participate in this program?
AM: My involvement with Carleton Food Recovery Network through the Center for Community and Civic Engagement (CCCE) has been the most influential in shaping my project. I personally became aware of the magnitude of food waste in our society while working in my family's food business and other restaurants. I am from an area with a high percentage of food insecurity, near the Pine Ridge Reservation in South Dakota. Seeing great waste coexist with great need while growing up led me to join the Food Recovery Network here at Carleton. Through it I was able to get to know so many leaders and community members in the Northfield community, which is a huge benefit of Carleton's CCCE programs. I was also able to realize how many resources Northfield has that make tackling this issue possible, including Carleton. This sparked my interest in seeing how this universal issue is undertaken in other areas of the world.
What is your long-term career plan, and how does the Watson Fellowship support that?
AM: My plan as of now is to attend medical school two years after graduating from Carleton. While I realize that I will devote years of my life to learn how to diagnose and cure, my life experiences have taught me to not underestimate the power of prevention. While good health is often associated with advanced medicine, it begins in homes, in kitchens. It is found in the peace of mind of knowing where your next meal is coming from. It is at this intersection of food availability and health that I want to understand how other areas of the world attempt to safeguard the basic health of their people by ensuring that everyone has access to food. I hope to be a better healthcare provider to individuals from diverse walks of life because of this exposure.
Who at Carleton has been the most influential during your college experience?
AM: Overall, my peers have been the most influential in my time here. All of my extra curriculars (the Food Recovery Network, club lacrosse and the a cappella group "the Accidentals") are either a literal team or function as one. Classes are also very collaborative, emphasizing groupwork. I will definitely take these team-based skills with me into my fellowship and life after Carleton.
---
About the Thomas J. Watson Fellowship
The Watson Fellowship is a rare window after college and pre-career for students to engage their deepest interests on a global scale. Fellows conceive original projects, execute them outside of the United States for one year and embrace the ensuing journey. The program produces a year of personal insight, perspective and confidence that shapes the arc of fellows' lives.
Started in 1968, today Watson Fellows comprise leaders in every field including CEOs of major corporations, college presidents, Emmy, Grammy and Oscar Award winners, Pulitzer Prize awardees, artists, diplomats, doctors, faculty, journalists, lawyers, politicians, researchers and inspiring influencers around the world. Learn more about the Watson Fellowship at Carleton.
About the Watson Foundation
In 1961 the Watson Foundation was created as a charitable trust in the name of Thomas J. Watson Sr., best known for building IBM. Through one-of-a-kind programs and over 100 global partnerships, the Foundation provides students with unprecedented personal, professional and cultural opportunities that expand their vision, test and develop their potential, and build the confidence and perspective do so for others.