Alumni in Action: Lance Neirby '02 answers his community's call for PPE
Neirby and his team at Montana Silversmiths are putting thousands of masks in the hands of health care professionals and at-risk populations around the state of Montana.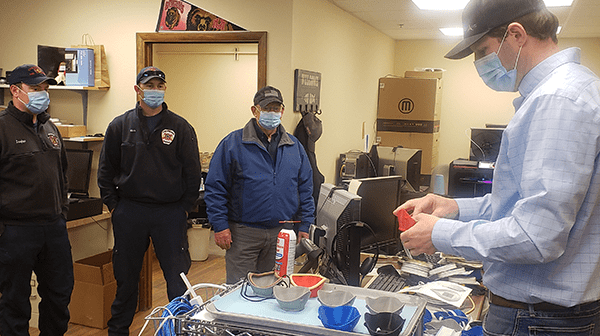 Montana Silversmiths is known for fine metalsmithing and craftsmanship. Located in Columbus, Montana, the artists rooted in the West are led by a passion for life and heritage. Lately, they've pivoted from their usual production and design of custom buckles and jewelry and are now applying that same 3D modeling technology to create Personal Protective Equipment (PPE), including N95 masks.
Lance Neirby '02 has served as vice president of operations at Montana Silversmiths for four years. A studio art major at Carleton, Neirby and wife Laura (Bloedorn) Neirby '03 moved to Montana from the east coast, where Neirby had spent 12 years working for Tiffany & Co. There, he established an extensive background in the fine art of jewelry making.
When the COVID-19 pandemic struck this spring, Montana Silversmiths was faced with the difficult task of closing its doors and furloughing over 100 staff members. Neirby asked himself, "How do we stay open and be deemed an essential business?" The answer came to him in the form of a Facebook post by a local health care organization, which shared an innovative idea to create reusable plastic masks–dubbed "The Montana Mask"—using 3D-printing technology. The masks feature a snap-in section where filtration material, such as surgical masks, can be changed out as needed. One surgical mask can be cut into up to six filters and used as replacement material in the printed N95 masks.
Neirby and his staff immediately began testing the design using their 3D printers, and before long they had printed their first prototype. The next day, they met with the local sheriff, county commissioner, and county health authorities to discuss their plan to support the medical community by 3D printing masks. Shortly after, Montana Silversmiths was approved to start the printing process and officially deemed an essential business.
"I started printing on March 16 and by Thursday, March 19, I had printed our first 20 masks off of 3D printers," Neirby said. "Because we're printing 3D masks, we've been able to remain open, which is amazing."
Within the first two weeks, Montana Silversmiths produced 200 masks. The team was able to obtain several more 3D printers over the course of the next few weeks and now, with their printers operating 24/7, they are producing 20-25 masks each day. In total, Neirby and his team have printed upwards of 400 masks.
Neirby's team first put masks in the hands of the local hospital, sheriff's department, first responders, and fire and rescue teams, then moved on to supplying masks to first responders around the state of Montana. Next, they distributed masks to Blackfeet Nation, an Indian reservation home to more than 17,000 members and one of the 10 largest tribes in the United States.
"We're trying to find the at-risk populations that are in need of PPE and distributing to those communities first," Neirby said. He and his team have also been working to create kits for the local tribe that include hand sanitizers, masks, gloves, and face shields.
Neirby is now working with the original creators of the mask design to expand the effort beyond 3D printing. The group is currently working with a splitboard binding manufacturer to produce injection-molded plastic parts for the Montana Mask. This updated design will allow for the production of 1,200 masks per day.
Using the same materials in the N95 production design, Neirby is also working on the distribution of filter materials. With the use of his global contacts, Neirby has been able to bring in 36,000 filters within a week and a half.
Between the 3D-printing efforts, the plastic injection molding, and the disposable filter efforts, Neirby has imported and distributed a combined total of 45,000 masks in Montana. "I focused on Stillwater County first, then moved to larger surrounding counties. If there's a need out there that requires PPE, my company can help due to maintaining operations inside of a small, safe rural county," Neirby said.
When asked the biggest lesson he's learned during this process, Neirby said, "Ingenuity. When businesses come up against a challenge, some give up. Businesses like mine, however, have figured out a new channel and focus on what you can do and maximize that."
"Montana is amazing," he added. "All sorts of companies are doing really cool things to help out. I'm working with 30 different businesses in Montana that I've never worked with to coordinate efforts."
Neirby says he is grateful for the opportunity for Montana Silversmiths to be able to remain open during this pandemic, and he feels fortunate to have the ability, contacts, and materials to provide PPE to those in need. However, he's not done yet. The next challenge is "finding that distribution network to start helping outside Montana," Neirby said. He and his team continue to push forward to discover new ways to produce PPE or help others in their efforts.
"I'm not a great skier, but I love skiing black diamonds," Neirby said. "This PPE crisis is like a black diamond to me."