Alison Byerly is installed as Carleton's 12th president
Community comes together with families and guests to celebrate Byerly's inauguration and Family Weekend.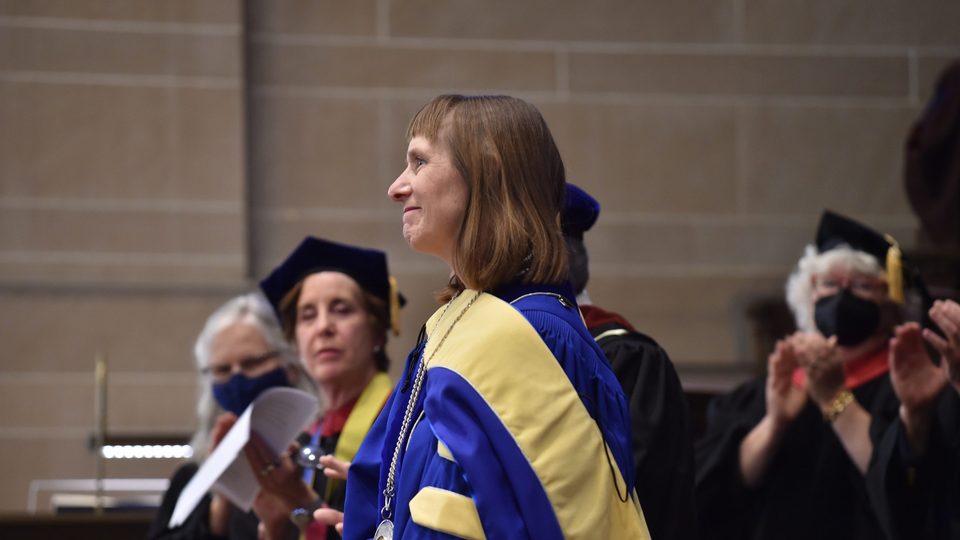 In the heart of a weekend focused on community and togetherness, Carleton College installed Alison Byerly as its 12th president—and first woman president—on Saturday Oct. 16, 2021. The installation ceremony was the highlight of many activities—from a research and internship symposium, street fair and trivia night to a tree-planting ceremony, fireworks and late-night breakfast—in a fun-filled celebration that converged with Family Weekend.
"We envisioned this inauguration as an opportunity to bring people together for a whole range of activities that would help us to rediscover the joy of community that we have missed over the last year," Byerly said in her inaugural address. "When I heard busy faculty coaxing each other into forming trivia teams for Friday night, I thought, mission accomplished."
A new era
In addition to students, faculty and staff, the installation ceremony welcomed presidential delegates, families, and friends of the college, with one special guest showing up just in time: the bust of Schiller.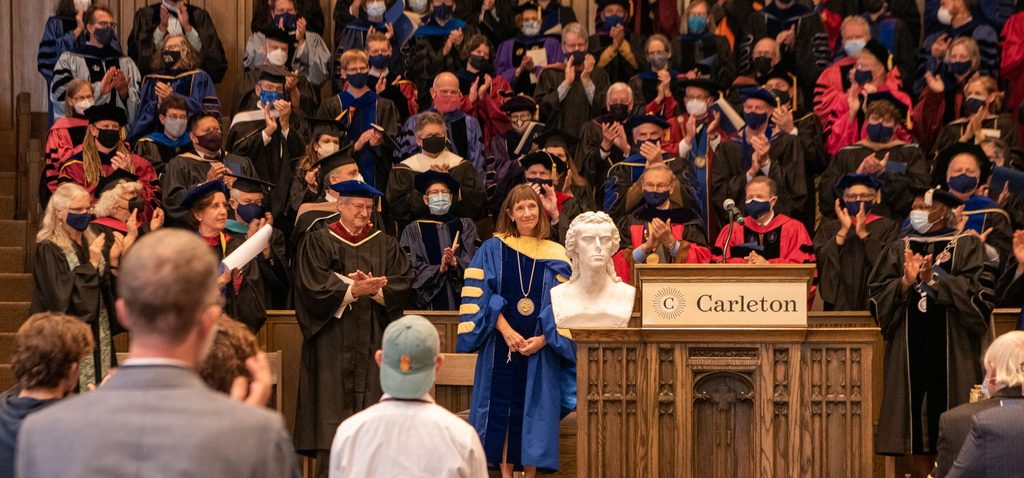 "This feels like a threshold moment, a time of tremendous change," Byerly said. "I believe one of our major tasks as a community, in fact, is to decide what change will look like for Carleton. Change can take the form of 'disruption,' a kind of imposition from external forces, or change can be a 'transformation,' an intentional seeking of new possibilities. Remaining the same is not an option."
The ceremony featured a land acknowledgement statement and poem read by college Chaplain Carolyn Fure-Slocum '82, a welcome from Hamline University President Fayneese Miller, songs from the Carleton Chamber Choir and a cappella group the Knightingales, and greetings from members of the Board of Trustees, faculty, staff, student body and alumni.
"President Byerly, the faculty look forward to understanding your beautiful dreams for Carleton," said Devashree Gupta, professor of political science and president of the faculty. "We look forward to dreaming along with you. And then, we look forward to rolling up our sleeves and doing the work of turning those dreams into Carleton's future reality."
"What is it that makes people pursue and spend their entire careers at Carleton?" Steve Spehn, director of facilities and capital planning, said. "The feeling of a personal connection to the college and the people within it, the knowledge that we are valued members of its administration, and the pride that comes from contributing to the mission of the college. Staff at Carleton look forward to supporting you in meaningful ways and to playing an earnest role in realizing your vision for the future of Carleton College."
"We referred to our former president as 'Stevie P.,'" said Carleton Student Association President Molly Zuckerman '22. "I think the fact that President Byerly is already known as 'Allie B.' speaks to how eager we are to welcome her into our community."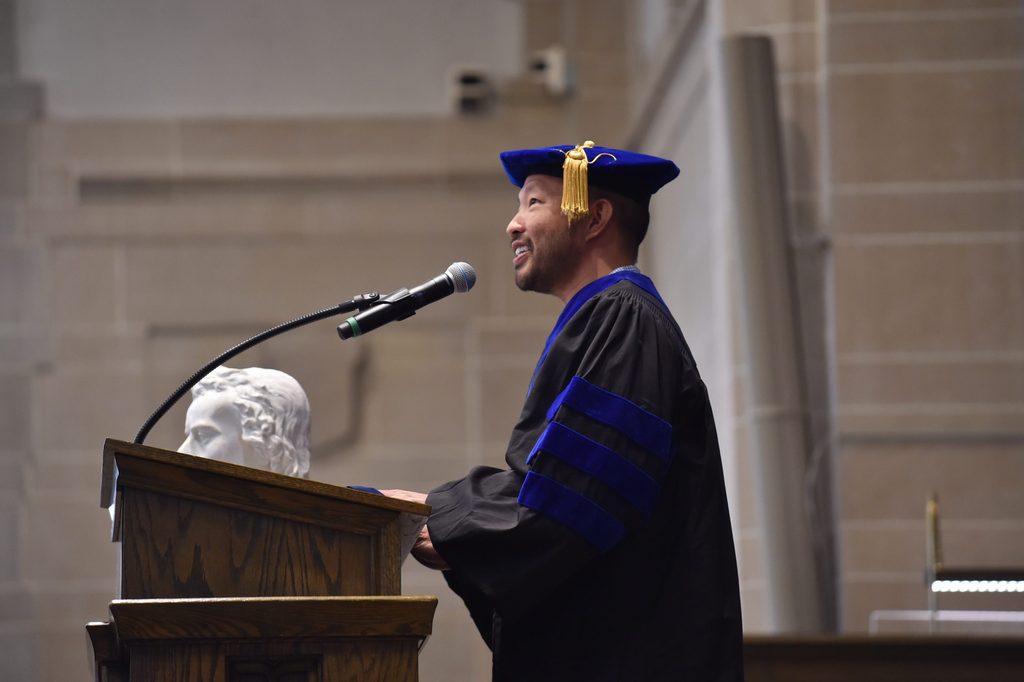 "President Byerly, as I know you learned long ago, Carleton students, both past and present, always carry a part of Carleton with us," Austin Lau '05, chair of the Alumni Annual Fund Board, said. "Oftentimes it presents itself as pride and gratitude, while other times it's a critical eye and ideas for improvement. But whether we're 5 or 50 years out from graduation, the thing that unites us all is a sense of ownership and belonging to this community, and a desire to constantly improve, strengthen, and push our community forward. In so many words: what it means to be a Carl. We welcome you as our newest Carl and look forward to collaborating with you as you lead Carleton into its next chapter."
We are family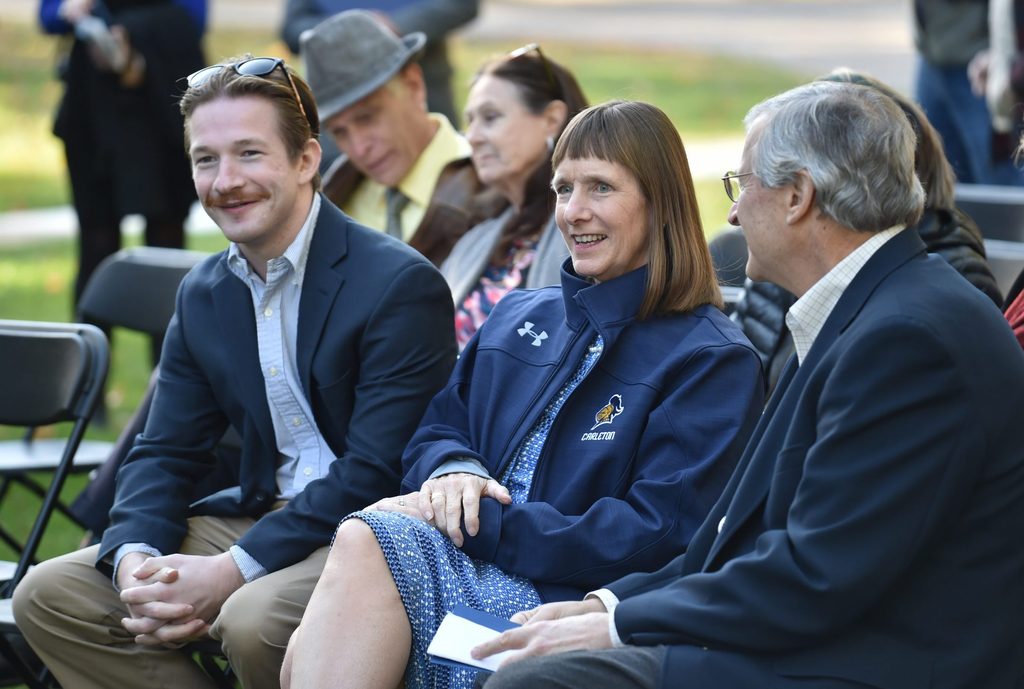 The theme of community—which has been central to Byerly's early days at Carleton—was on full display the entire weekend. Students' families returned to Northfield and arrived on campus with smiling faces and a flood of maize and blue. At the presidential tree planting, Byerly's son, Ryan Jensen, read an excerpt from William Wordsworth's Lines Written a Few Miles Above Tintern Abbey, and members of campus a cappella group the Singing Knights serenaded attendees with "What a Wonderful World." (Byerly's daughter, Laramie Jensen '15, had to miss the festivities to present at an academic conference as part of her postdoctoral research fellowship.)
The weekend also included a special convocation with acclaimed historian of African American and Native American histories Tiya Miles, a research and internship symposium featuring the work of more than 200 students, a concert featuring Grammy-nominated baritone Randall Scarlata with faculty pianist Nicola Melville, a street fair, bonfires, lively trivia, and an a cappella showcase. The weekend finished with fireworks over Lyman Lakes and a campus tradition usually reserved for finals week: Late Night Breakfast, featuring Byerly and other campus leaders serving up a warm meal to close a heart-warming weekend.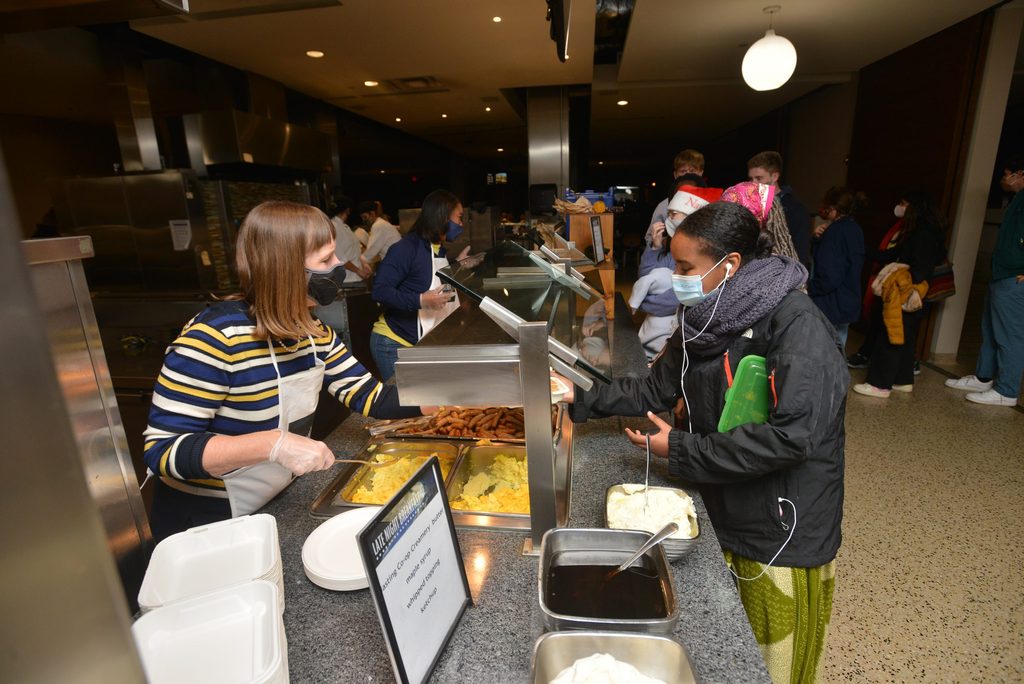 Ultimately, inauguration weekend seemed to fulfill that which Byerly set out to accomplish in her third month in office: bringing together a community that has weathered uncertainty and, at times, disconnection, as the world continues to grapple with racial injustices and a global pandemic, among many other challenges.
"At this moment in time, I believe students want to be part of what I would call a community of values, and are looking for an education that equips them to make a difference in a world with many challenges," Byerly said in her inaugural remarks. "Carleton can be a distinctive model for how a communal, broadly integrated, and equitable liberal arts education retains its relevance because it is always renewing itself."
"When I imagine Carleton, I picture the precise opposite of an ivory tower," she later said. "I think of the geothermal wells deep beneath the Bald Spot: unassuming on the surface, but with extraordinary energy and power underneath. Carleton does not stand above the world, but digs deep into its core to get at the real root or truth of things. That authenticity is a source of power and potential that has yet to be fully tapped."
"By elevating its unique strengths and values—humility, commitment to community, joy in intellectual exploration, and a capacity for growth—Carleton can become more than a static model of excellent liberal arts education. It will be a renewable resource for our students, broader community, and the world."
Read President Byerly's inaugural address and see photo galleries from the ceremony and family weekend.