Academics at Work: David Tompkins specializes in the history of the Eastern Bloc
As the chair of the European studies department and director of the Center for Global and Regional Studies, Tompkins is also a strong advocate for increased international engagement throughout the Carleton experience.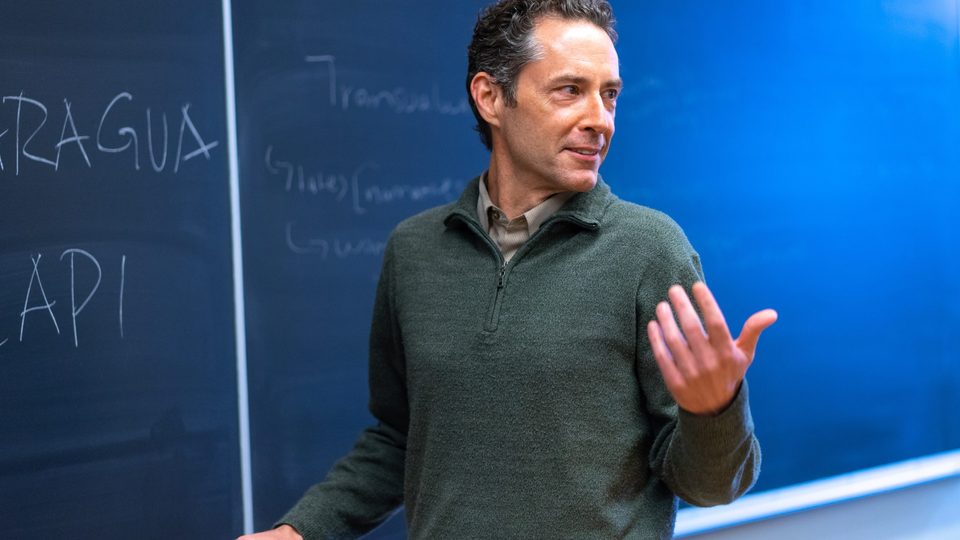 David Tompkins is a professor of history, chair of the European studies department and director of the Center for Global and Regional Studies (CGRS), an organization that knits together interdisciplinary and language programs on campus to develop and coordinate programming and events centered on global engagement. Professor Tompkins' research specializes in the history of the Eastern Bloc. In addition to the courses he teaches on modern Europe, he is currently conducting research into the development of transnational socialist identities. This research follows his first book on the relationship between music and the governments of East Germany and Poland. On campus, Tompkins has been a strong advocate for increased international engagement throughout the Carleton experience.
Under his direction, the European studies department analyzes the commonalities and differences among European societies. The department has courses registered in multiple disciplines and requires those seeking a minor in European studies to take courses from multiple fields. This position led Tompkins to direct the CGRS, where he has helped departments and programs come up with new ways to engage students with different cultures and communities. Among the projects that Tompkins helped create with the CGRS is the Hyme Loss Award for Global Engagement, an award that students can receive if they take courses in a language beyond the language requirement, participate in two major international experiences and attend a series of global events hosted by the Center. He has noticed that these awards help engage students as they learn about other cultures and allows them to fit their international experiences in the larger framework of a Carleton education.
Tompkins is also proud to describe how the Center has worked with organizations from multiple colleges and universities to help expand student horizons. These colleges, including Carleton in 2017, regularly host conferences where they discuss strategies to help grow and enrich student experiences with cross-cultural contact via classes, internships and other programs. Even with the additional challenges the pandemic has caused, these dialogues have helped Tompkins grow the CGRS by expanding current internship programs and other innovative programming. He notes that even by the highly open and adventurous standards of liberal arts colleges generally, Carleton has a particularly high rate of study abroad participants. He considers this fact part of what he finds special about Carleton students: they are enthusiastic in exploring different topics and willing to discuss and consider complex themes.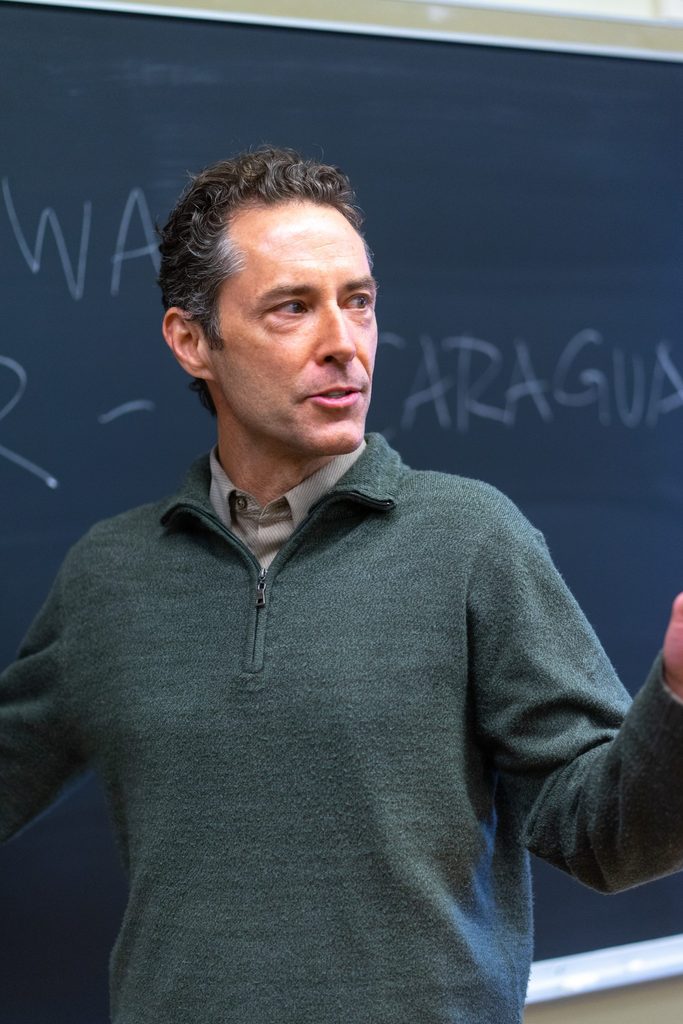 Tompkins' research provides a view of how national identity in East Germany and Poland changed with the rise of socialist governments in the early 1950s. One of the earliest priorities of communist parties and governments in both states was to connect their new ideology with older sentiments of national identity and pride. During this early period, despite the extensive costs of rebuilding after World War II, both Poland and East Germany engaged composers to write songs in local musical forms containing ideological messaging. Internationally renowned Polish composer Witold Lutoslawski, for example, worked with the Polish Communist Party to accept his compositions, even though Lutoslawski never formally joined the party. Tompkins' research showed him how these songs, combined with other art forms in the Eastern Bloc, created a form of socialist realism that adapted to the local art styles and traditions of each state.
Tompkins also speaks about some of the ways his field has changed since he first began researching communist history in the late 1990s. He notes that the first series of researchers focused mainly on filling the "blank spots" of the political and economic structures of the Eastern Bloc, while most individual researchers focused on a particular country of interest. The second wave of research, of which he was a part, saw researchers ask questions about everyday life in the Eastern Bloc, along with providing additional nuance on general trends identified by the first wave. These waves depended on the newfound openness of different national archives to historians from outside the Bloc, and their openness, Tompkins says, has allowed historians to get a far richer view of life in that era of east-central European history. Tompkins personally advanced this historiography—the study of the methods used in historical research—by providing comparative analysis of life between two different countries.
Tompkins hopes to enhance Carleton through his contributions to the field of Cold War studies in Europe and leadership of an institution that has brought Carleton's view of global engagement into dialogue with its students and peer institutions. He strives to enrich students and scholars who have worked with him over the years.
---
This story is part of a series of interviews with Carleton faculty about their research and engagements with the Carleton community. The Academics at Work series allows Carleton professors to talk about the changes they have observed and help lead in their own academic communities, as well as provide further insight into the work they do at Carleton.
Daniel Myer '24 is a former student of Professor Tompkins.