Academics at Work: David Lefkowitz displays his expertise at Minnesota Historical Society art exhibition
Lefkowitz's unique artistic perspective showcases his connection to the environment, Northfield and Carleton itself.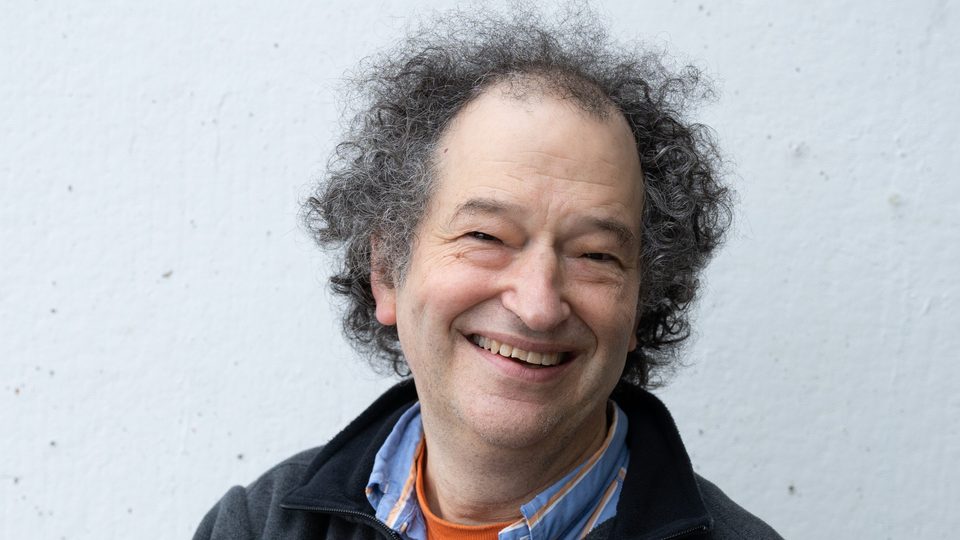 How do you show the world what you're about? That question has guided art professor David Lefkowitz over the course of his career at Carleton. He has worked in a series of different mediums, including photography, painting and "found materials," using each to capture the beauty of everyday life and show what narratives we can create with the things around us. His ability to translate any number of items into interesting stories has made Lefkowitz an important part of the larger Carleton community.
Lefkowitz has extensive experience with the college. After graduating from Carleton in 1985 and subsequently receiving his M.F.A. from the University of Illinois Chicago, Lefkowitz had the opportunity to show his pieces in various public exhibitions in addition to working on individual commissions. His commitment to making art with a broad impact brought him back to Carleton, this time as a drawing and painting instructor in 1992 and then an assistant professor of art in 1997. These experiences have given Lefkowitz the opportunity to build upon and refine his work. His creative worldview of "taking things one at a time and seeing where we can go with it" has taken him to numerous exhibitions in Minneapolis, Chicago, Nashville, New Orleans, New York City and many other major sites in the artistic world. He has also written extensively in reviews and commentaries on various exhibitions, establishing himself as an important voice in the national artistic community.
Recently, Lefkowitz has had the opportunity to present some of his work at the Art Speaks exhibition hosted by the Minnesota Historical Society at the Minnesota History Center. The exhibition, which will be up until July 31, brings together artists from across the state to give an overview of what kinds of art are made in Minnesota.
Carleton is well-represented in the exhibit. In addition to Lefkowitz, past studio art faculty Ray Jacobson and Dean Warnholtz, recently retired Dan Bruggeman, current faculty Xavier Tavera Castro and Fred Hagstrom, and occasional adjunct Leslie Barlow are all featured.
Lefkowitz noted that it was "a happy coincidence that so many Carleton-affiliated artists are included," a testament to the impact that Carleton has on the larger art community in Minnesota.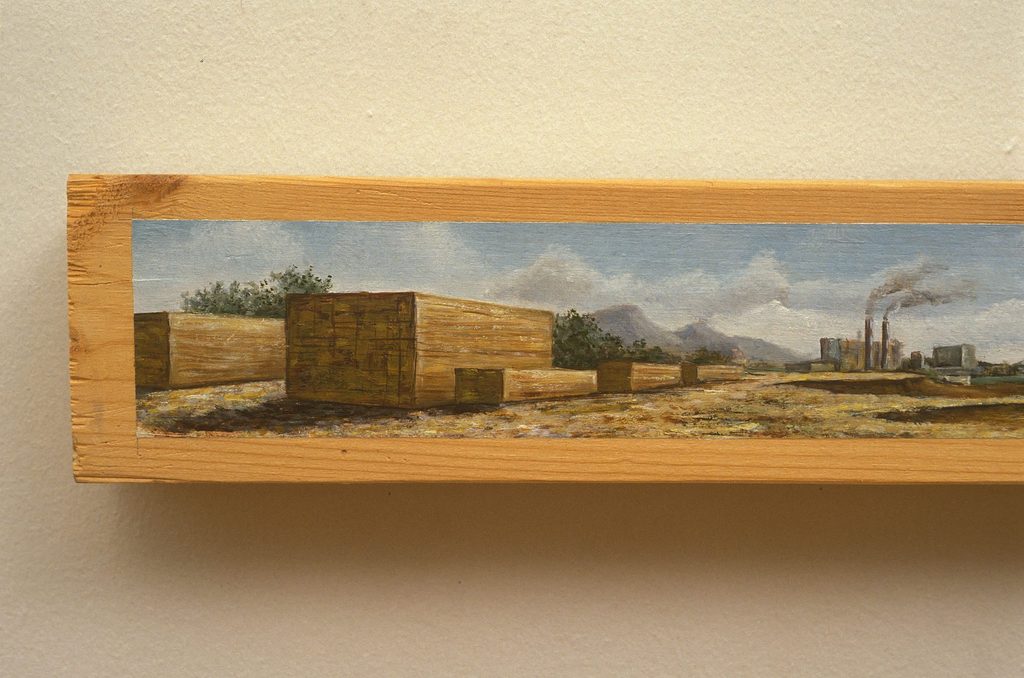 While examining works from the other Minnesotan artists in Art Speaks, Lefkowitz noticed some important trends. Some of the artists associated with certain colleges, like Carleton and St. Olaf, emphasized themes of environmentalism. For example, Lefkowitz is presenting "Import/Export," a painting on a single two-by-four.
"It was a kind of panorama," he said, emphasizing the two ends at the heart of the piece's message.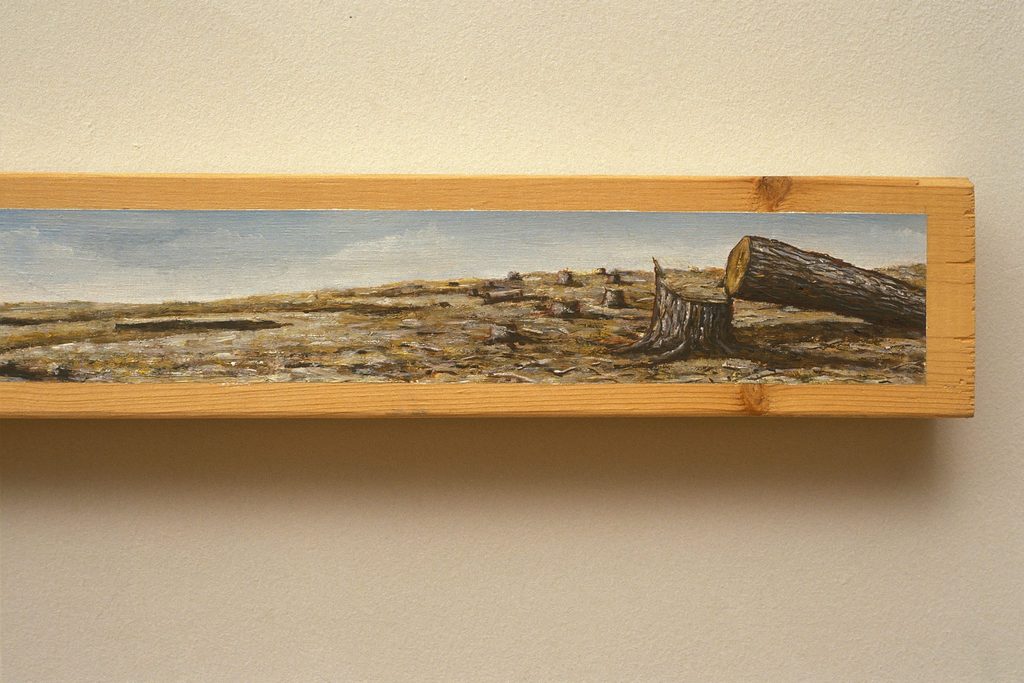 In the panorama, there are two islands on either end of the board. On one island, there are only tree stumps, the ruins of "some great, old forest." On the other island, there is a lumber mill, with stacks of timber surrounding the site. The irony of a scene describing environmental devastation displayed on the product of that devastation is the point of the piece.
"It's a way for us to acknowledge the complicity that we all have, as artists and as people, in the state of our environment," Lefkowitz said.
This conscious recognition of art in its environmental and social context has been a major part of Lefkowitz's work. When Carleton installed a new geothermal heating system a few years ago as part of its Climate Action Plan, a project which required temporarily fencing off the Bald Spot, Lefkowitz cut holes in some of the material that covered the fence and added frames "to mimic pictures on a gallery wall," titling it "Landscape and Labor."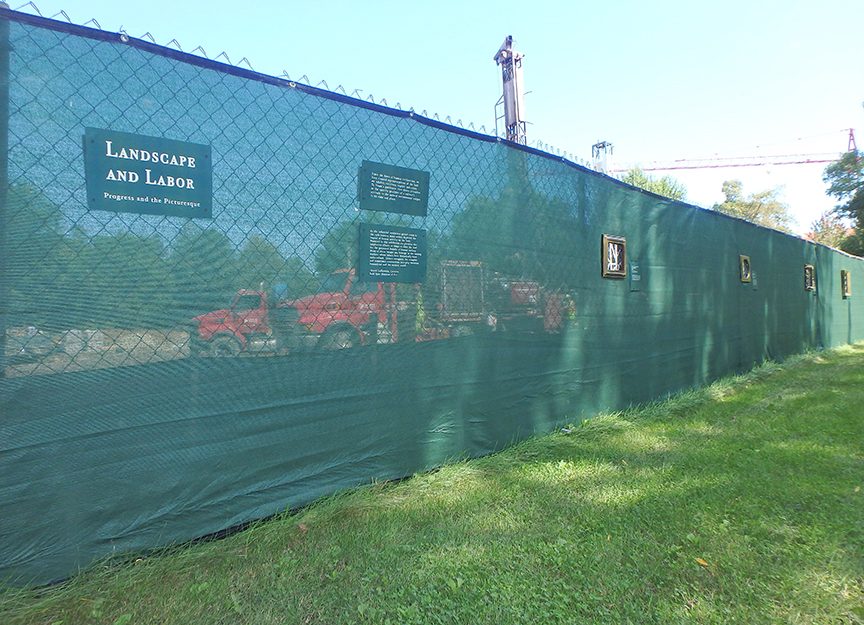 He wanted to capture numerous aspects of the project: the role of workers in the space, the separation of the pipe from the rest of campus, the connection between the project and larger ambitions to address climate change, and positive and negative student reactions, all in order "to honor, really, what was going on in that space at that time."
Lefkowitz's projects have also extended beyond connecting specific pieces to general themes. In collaboration with Doug Bratland, a St. Olaf alum and current web content and design strategist at Carleton, Lefkowitz recently created a collection of half-satirical, half-commemorative pieces called "Nirthfolde."
"The idea was based around a small-town tourism or information office," Lefkowitz said. "We wanted to gently critique the way that small towns market themselves."
The collection, which has mock walking trails, faux commemorative sites and brochures among other things, gave Lefkowitz and his peers the ability to work with the general concept in many different ways.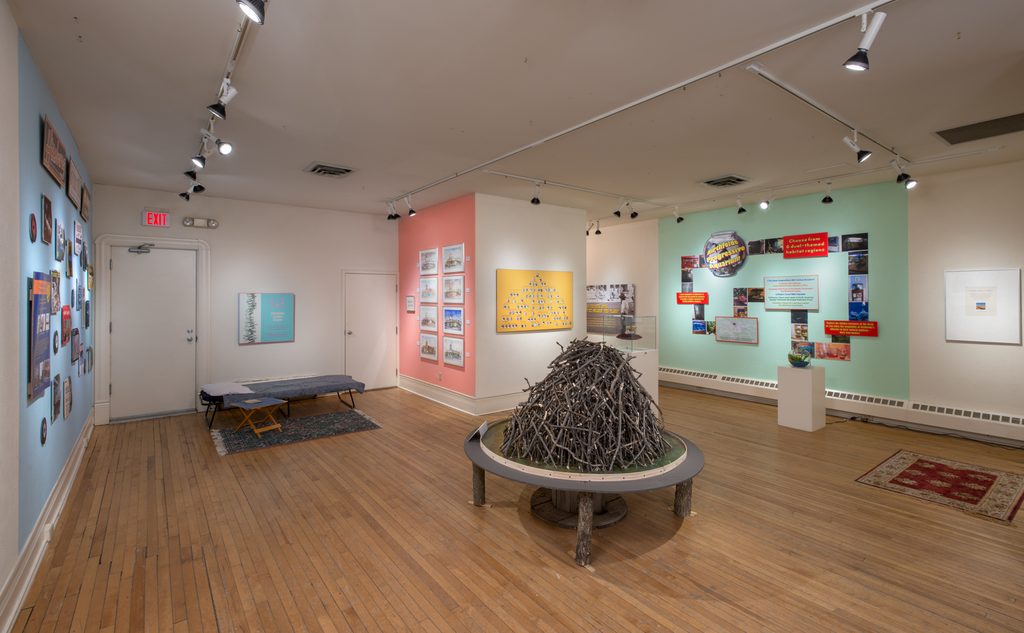 "It's been a really fun project," he said, "reimagining a familiar place as a slightly askew version of Northfield."
Lefkowitz's pride in the Nirthfolde project is self-evident. When any student comes to his office, they will pass a sign describing a talk he gave about the event. He even has boxes of extra brochures from the exhibit, which he will gladly give to those who would like one.
Lefkowitz has been incredibly grateful to his students over the years as well. In and outside of class, his students have helped him revise and contemplate how he does his work. For example, he is considering creating an art exhibition at the Rice County landfill and recycling center, where he often gets materials for his pieces, as a class project.
"It would be kind of fitting to have it in that space," he said, seeing the opportunity to educate, innovate and expand broader social interest in the "found materials" art form.
These projects and Lefkowitz's place in the Art Speaks exhibit show his commitment to the Carleton community and to the relationship between his work and the world in which Carleton connects, communicates, educates and inspires.