A conversation with 2Fik: Carleton, Culture and Community
2Fik discusses his life, his residency, his identity, Northfield, and his thought-provoking and often controversial artworks.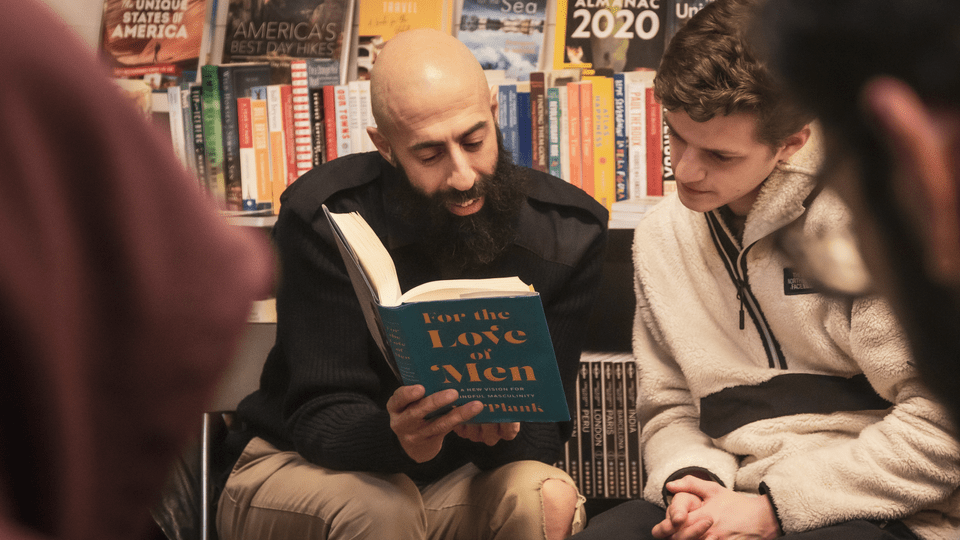 This fall, Montreal-based multidisciplinary artist 2Fik is back at Carleton—this time, as an on-campus artist-in-residence for the full term. Through continued collaborations with French and Francophone Professor Stephanie Cox and numerous community partners including Northfield Public Schools, the Northfield Public Library, the Northfield Arts Guild and St. Olaf College, 2Fik inspires and facilitates opportunities for discussions on identity, inclusivity and understanding. I sat down with 2Fik to discuss his life, his residency, his identity, Northfield, and his thought-provoking and often controversial artworks.
KO: How did you first get involved with Carleton?
2Fik: Well, this is actually my fourth time at Carleton this year. The first time I came to Carleton was 2011, when I was invited by Professor Stephanie Cox of the French department. I was here for a week—I gave some talks, and then I came back for a civil discourse project.
But the interesting thing is, every time I come back to Carleton there is a sort of interest around my practice that actually makes me engage with other professors and classes— that's mainly what I did last year, when I stayed for three weeks. But still, after those three weeks, there was still the question, "What would it be like if I stayed for the whole term and collaborated with certain other classes, bringing my art practice to the town [of Northfield] and trying to really connect people through art?"
KO: Tell me about how your collaboration with Stephanie Cox started.
2Fik: Well, [Professor Cox] teaches cross-cultural studies, and technically speaking, I'm the embodiment of cross-cultural education. I was born in France to Moroccan parents, I moved to Morocco at 8, then went back to Paris at 16, and then moved to Montreal at 24. So, when it comes to cultural clashes, I've experienced [a lot].
What I mean by cultural clashes is this moment where you realize that what you consider "normal" or "basic" is not automatically the case somewhere else. For example, when I arrive somewhere, I'm like, "OK, this is where I'll be staying for a moment. What are the rules and the codes?" You think that the rules that you know already—the ones that you were taught—are the best; then, you show up somewhere and boom: a situation of awkwardness or misunderstanding happens and you start thinking, "Uh, what did I just do? Why is this person mad at me right now?"
The thing is, we all have habits and things that we consider good and bad—and these are proper for each and every culture. There's no right or wrong; there are differences, and we should see them and embrace them to learn more quickly how to adapt in various societies.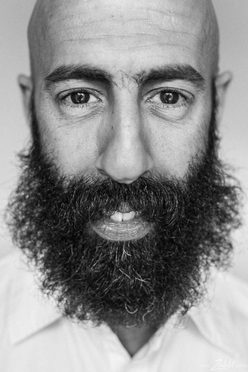 KO: How, then, do you negotiate between your identity and the host culture? Do you change yourself?
2Fik: I don't change myself. That's actually one of the things that used to piss me off when I was younger: I felt like adapting was changing myself. But no, it's not the same thing. Adapting to a new context is actually learning and evolving. I remember one of the things that bothered me was that when I was younger, my family would go visit Morocco, and my parents would always ask me to dress well and act a certain way. I was like, "No, why would I change my ways?" You know, when I was younger I was totally rebellious against this idea of having to bow down to some rules.
For example, when we went to my father's village in the Atlas Mountains of Morocco, you usually dress in a traditional manner. There was a time when I hated going there, so of course I was rocking some flashy clothes—you know, to visually express that I was Westernized and therefore, that I was not linked to the place. But now, the last two or three times I was there, totally the opposite. As soon as I arrive, I go old-school style and put a prayer robe on. You would not guess that the week before I was in Brooklyn having fun with my friends.
That's the beauty of the life that I've got: to be able to switch from certain areas with certain people who speak a certain language, to a whole other just by taking a plane. It's code switching.
KO: Now, let's talk about your residency. I know that you have been very active, especially outside of the colleges in the Northfield community. What are some events you've done so far?
2Fik: The first thing that I did was to participate in the Defeat of Jesse James Day Parade. It was fascinating. I was on a horse, waving at people like, "Hello! Hello!" It was hilarious. People were like, "What the hell is happening here?" It started with this, and it created a discussion [in town].
So, I had an Ask-Me-Anything booth at the Riverwalk Market every Saturday morning of September until mid-October. You know, just creating a space of discussion with strangers. I think it's super interesting to be able to break this mold of people being in their own zone and not interacting with anyone. It seems like social media, with time, has totally twisted the way we interact. Now, we try to interact in our daily life the way we interact online—meaning, we hang out with people with the same point of view as us, and people who will not contradict us.
KO: You've interacted with people from all over the world: Paris, Morocco, Montreal, etc. What is it that interests you about Northfielders?
2Fik: Northfield is a mix of rural people—very white—and a whole bunch of immigrants. With young people coming in and having two colleges, it really changes the face of the town. People are more used to having cultural clashes here in Northfield than, for example, Minneapolis. I'm not saying Minneapolis is white; far from that. But I think the relationship between the "other"—and by that, I mean not white, local—is different. There are so many people from all over the world that the general vibe at Northfield, for me, is refreshing.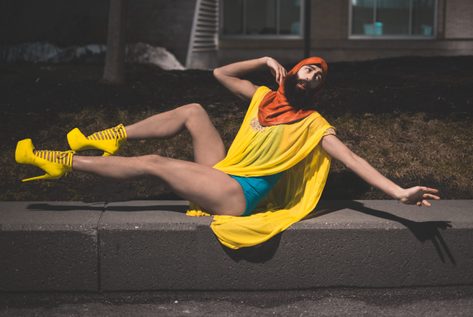 KO: At Carleton, we often problematize our disconnect from the world that lies beyond our campus; that we live in a "Carleton Bubble." Do you feel this way? If so, how can we approach this issue?
2Fik: Oh, trust me, I do [see it]. I go from one to the other all the time. I think it would be so much more fun for everyone if students were more keen to go to town, and also if the townies would show up more on campus. But then again, it's always the perception.
There are a lot of cool things in town and a lot of cool things on campus that actually can make both parties rich—culturally, intellectually, etc. It's like two worlds that should be communicating a bit more.
And I think that's what I'm trying to do—connecting through art. But yes, I think that people should push a tiny bit more in both directions.
KO: Now, let's talk a little bit about your artistic drives and intentions. Why art?
2Fik: I find it fascinating that art connects people in so many different ways. Between the people that know and read about art, and the people that never actually enjoyed it or don't have much knowledge about it—when you attract curiosity and talk about serious topics in a light manner, people actually feel more comfortable to react. I think that this is my biggest strength when it comes to my art practice: that it touches everyone in different manners.
KO: What message do you try to get across with your art?
2Fik: I really just want to create a discussion that is sane about gender, image, perception and identity. Reducing a whole person as features, accent or what you study is super reductive. Your identity is way more than just your image and your physical aspect.
We have—I have—an obligation to push people to think about image and identity in other ways. To respond to your question, "Do I want to change the world?" I think, yeah, I kind of do want to change the world. But, I think it only happens one person at a time.
KO: Do you view that to be your responsibility—or more generally, the artist's role in society?
2Fik: I think our role as artists is to push the buttons that hurt. We have to totally embrace the fact that what we say will not be to everyone's taste. I am 100% comfortable with that.
For me, if someone evolves their point of view—even a tiny bit—about gender identity and perception after seeing some of my work, I am happy that I did my job. That's really what's important to me: using an original and unique manner to push the boundaries of thinking about identities.
I'm quite sneaky in the way I do it, because it involves a lot of humor. Because people think it's funny and laugh, they think that the topic is not serious. But I think this is the best way, because I 100% believe that when someone laughs, their soul is a bit more open to learning something. Let people laugh and sneak in a message; that's what I try to do.
2Fik's artist residency is made possible by the Mellon Public Works project headed by Stephanie Cox, senior lecturer in the French department and the cross-cultural studies department at Carleton College.
Upcoming Events
Wednesday, Nov. 6, 6-8 p.m.
The Ethics of Living Online: A conversation with 2Fik and Alana Conner
Leighton 304, Carleton College
Wednesday, Nov. 13, 7-8:30 p.m.
Feminism & Men: A Book Club with 2Fik on Liz Plank's FOR THE LOVE OF MEN
Content Bookstore, Northfield
Thursday, Nov. 19, 6-8 p.m.
Community Potluck
Cannon Valley Friends House, Northfield