A Carleton Collaboration into Entrepreneurship
Carls helping Carls through an entrepreneurial journey.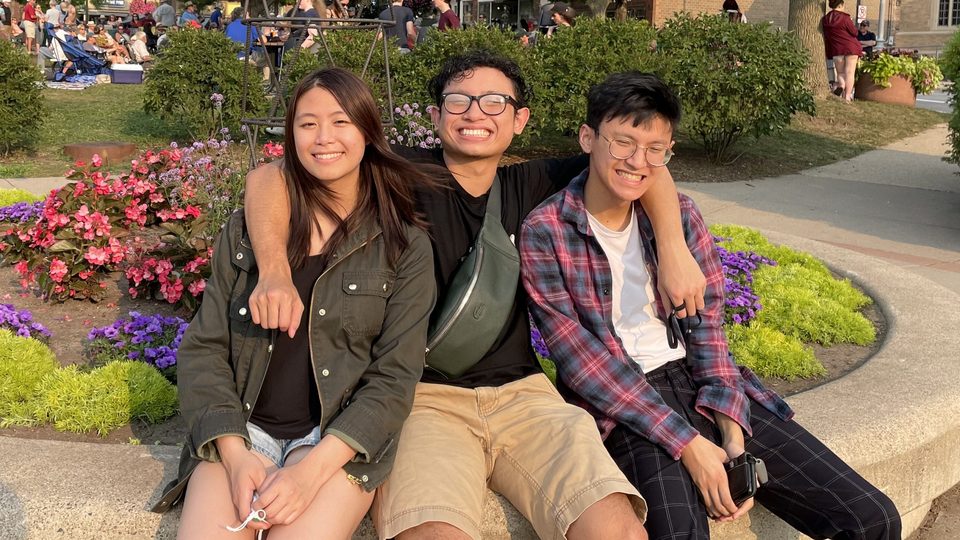 The entrepreneurial spirit is in every liberal arts student—from critical thinking, to problem solving, to effective communication. Three Carleton students took that spirit and turned it into a product called [Discussify], bringing the college, community and other Carls along for the ride.
Kevin Bui '24, Quoc Nguyen '23 and Shannon Liu '23 won the Carleton Start-up Fellowship Competition last spring and received a $10,000 grant to help fund their entryway into entrepreneurship. That was just the start of the Carleton connections for this new venture.
"Our goal of the competition is to support entrepreneurial interests," said Nathan Grawe, Ada M. Harrison Distinguished Teaching Professor of the Social Sciences and host of the start-up competition. "We connect students with mentors, and with this team, it has just been one alum after another helping to develop, improve and implement their idea. From their competition mentor, Catherine Gunsbury '89, to entrepreneur in residence, Jake Phillips '07 to summer mentor, Simon Holzapfel '95, alums have really poured into these young Carls' entrepreneurial development."
Carls helping Carls
"We have alumni who want to see what our students are doing, especially in entrepreneurships, and want to give back and support them," Christopher Tassava, director of Carleton's Grants Office, said. "It pretty quickly grew beyond what we could do in the Grants Office, so we connected with the Carleton Career Center."
Rachel Leatham, associate director of the Career Center, happened to be watching the competition and immediately reached out to the team.
"One of the advantages of being virtual," she said, "was being able to contact them right after and establish those relationships. Unlike past years, this year, we've had those entrepreneurial conversations and connections between the state, the city and the colleges in town with lots of different support circulating all over the place."
This support came from alumni, faculty and community members, like Charlie Kyte, former superintendent of Northfield schools, who helped connect the team with a physical location to do their work. Kyte and Tassava are members of the board of directors of the Northfield Downtown Development Corporation, a local non-profit organization dedicated to maintaining the downtown's vitality. NDDC members immediately saw the benefit of helping Carleton's entrepreneurs work downtown.
"Christopher and I had a conversation with Charlie," Leatham said. "He was telling us how he pulled together a group of established entrepreneurs in Northfield. I told him how creative our students are, and he said, 'let's find a place for them.'"
"Anything we can do to have the colleges and the community have a greater sense of working together is good, and we want to build on that," Kyte said. "There's opportunity to connect people in this community. We have some great connections; it's just about asking and making those connections."
A shared office space, located in downtown Northfield above Merchants Bank, houses the winners from both Carleton's start-up competition and St. Olaf's Ole Cup. Both groups of students can use the space as an entrepreneurial incubator of sorts.
"Creating these types of collaborations is one of our goals right now," Nate Carlson, Northfield economic development coordinator, said. "From an entrepreneurial standpoint, the colleges are a huge opportunity that the city had been missing out on, so this is what we've been looking forward to."
"Once we won the competition, they gave us a check for $10,000 and said, 'go,'" Bui said. "We were a little lost at first, but Rachel got us some furniture in the office space and we were introduced to an alum named Simon who gave us business tools and organizational tips."
"Before Simon came along, there was no organization to our start-up," Liu said. "He's teaching us a lot about the busines aspects and gave us some structure on how to do business better."
"We're developing a community where students can find other students and alumni who have that same passion," Grawe said. "It's fun to see that community come together."
What can [Discussify] do?
According to Bui, Nguyen and Liu's pitch, [Discussify] is a web application that offers an automated, turn-based framework for discussion. Through this framework, everyone participating in the discussion is given a platform to voice their opinion. [Discussify] is intended to replace the need for human moderators, making it an invaluable tool for large-group settings. The platform especially targets higher-education institutions where the student-to-faculty ratio is often very large, allowing educators to easily integrate discussions into their curricula and promote critical thinking amongst students.
"[Discussify] ensures everyone has a voice and everyone has space to talk," Nguyen said. "Carleton has a mission of bringing diverse voices to the College, but if there isn't space for those voices, it doesn't matter. This is less of a business and more of a way to make space for people to be heard."
"Some of us come from rough backgrounds," Bui said. "Education was the way out. If we can create something to help teachers teach better—honestly I don't care about any dollar made."
"I'm more of a shy student," Liu added. "I've definitely experienced getting talked over. We want to make sure those students are heard and can share their thoughts and experiences in the class."
None of the three students had considered entrepreneurship before they came to Carleton. Two are computer science majors and one is a cognitive science major, but, now, they all say the entrepreneurial way of thinking and the liberal arts go hand-in-hand. The group demos the product to professors and teachers every Friday on Zoom to get their feedback and thoughts.
"Some students want the traditional 9-to-5 job, but some absolutely do not," Leatham said. "So entrepreneurial work is more appealing to students who can't envision anything but being creative and having their own schedule to do research and really want to give back in a way they don't see in corporate or non-profit careers."
All three students have jobs outside of creating [Discussify]. Quo is a teaching assistant with Carleton's Summer Liberal Arts Institute, Bui teaches high school students to code online and Liu is conducting research at the Primate Cognition Lab on campus.
After work, they go to their office in downtown Northfield where they are usually just ships passing in the night. One gets there at 3 p.m. and works until 8 p.m., another comes in at 9 p.m. and works until 1 a.m., and so on and so forth.
"They do coding and the back end," Liu said of her business partners. "I do more of the creative work. We've been doing interviews with teachers and professors. I listen to their feedback and see if we can create solutions for their problems with our tool. Our hope is that we make it good enough that professors would use it in their classrooms."
"When everyone asks you why you like Carleton, people say, 'Oh it's the people.' But it really is," Nguyen said. "The fact that Rachel connected us to the city, our alumni connected with us, and other alumni and professors have helped us along the way—it really is the people that have made this experience."
Next entrepreneurial steps
"The next step is to help people and make conversations better," Nguyen said. "The start-up competition gave us a starting point, but even more support following the competition would be wonderful."
Grawe noted that the Carleton Start-Up Fellowship Competition is about $40,000 away from being fully endowed with an alumni challenge match offering one-to-one match for additional donations. "Without alumni help, the competition wouldn't happen."
"When you get into it, there's so much support," Liu said. "Just reaching out to people – everyone is so willing to come out and help us even if they don't have any other involvement. It's been really great."
"The entrepreneurial lifestyle is a liberal arts perspective," Grawe, said. "You're constantly moving between different ways of thinking and knowing. And one of the goals of the competition is to provide a safe space to fail—that's the way we learn."