5 Key Takeaways from Climate Action Week 2019
The week-long effort highlights sustainability on campus and educates the Carleton community about the importance of protecting the environment.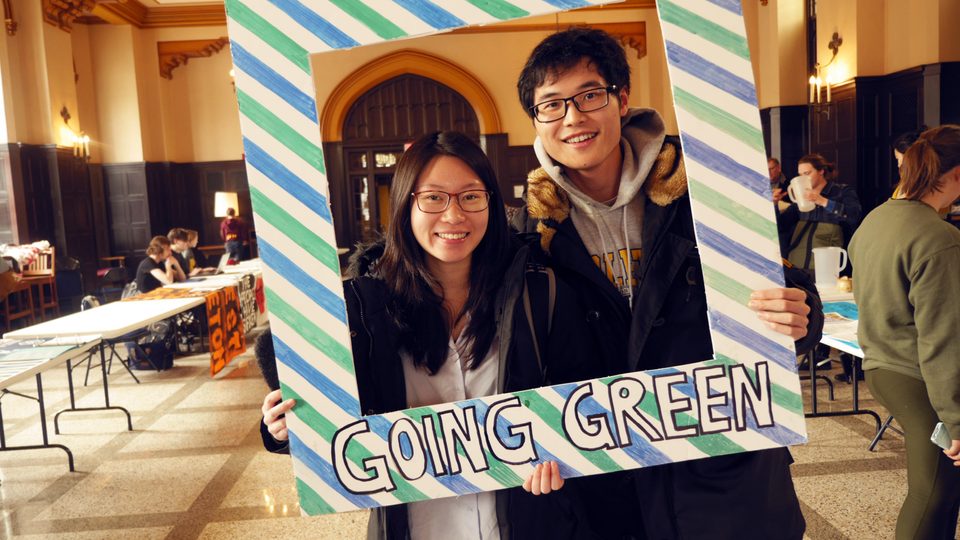 Each year Carleton students participate in Climate Action Week, an initiative hosted by the college's Office of Sustainability to highlight efforts on campus and educate the Carleton community about the importance of protecting the environment. Here are five key takeaways from Climate Action Week 2019, "We Are Water."
Think you need that disposable cup? Think again. Each year, Carleton students use 185,000 disposable cups, costing $104,000 annually, according to Andrew Farias '21, sustainability assistant and environmental advisory committee liaison to the Carleton Student Association. "To highlight the amount of waste that is created," he said, "we remove the cups from the dining halls for one day and encourage students to instead bring a reusable cup or use one of the mugs offered by the dining halls."
Watson and Davis are water-saving machines. Students competed—residence hall against residence hall—in the AquaChallenge, which encouraged students to reduce their water usage during Climate Action Week. Students in both Watson and Davis reduced their consumption by 3% and won an ice cream party prize.
Making an impact can be as easy as turning off your faucet. A panel of water policy experts from Carleton, Northfield and greater Minnesota answered questions about the threats facing Minnesota's water supply and what we can do about them. One suggestion? "Turn off your faucets; it's that simple," said Bruce Morlan, water subcommittee chair of the Northfield Climate Action Plan Advisory Board. "Be personally responsible…be educated…be a role model, but don't be a martyr." Others on the panel were Mary Savina, professor of geology; Kristy Pursell, Cannon River Watershed Partnership executive director; and Brad Redlin, employee of the Minnesota Department of Agriculture.
Water trivia was just the beginning. Sustainability Assistant Caroline Hall '20 organized a water trivia night at The Cave because she "loved the idea of having an event where people who aren't usually involved in sustainability have an opportunity to learn about water issues through a fun, educational trivia night at the Cave," she said. The event was so successful that Hall is considering continuing trivia nights outside of Climate Action Week.
Carleton isn't the only local organization focusing on water in 2019. In fact, the We Are Water theme coincided with the city of Northfield's Year of Water declaration and the Cannon River Watershed Partnership's We Are Water campaign.