15th annual Empty Bowls supports local food shelf
Since its inception in 2005 at Carleton, the project has raised $79,951.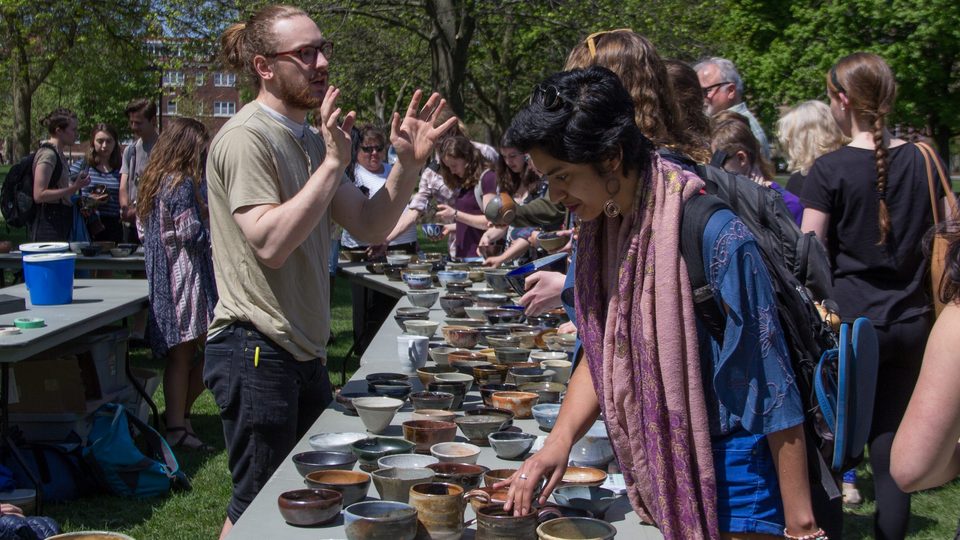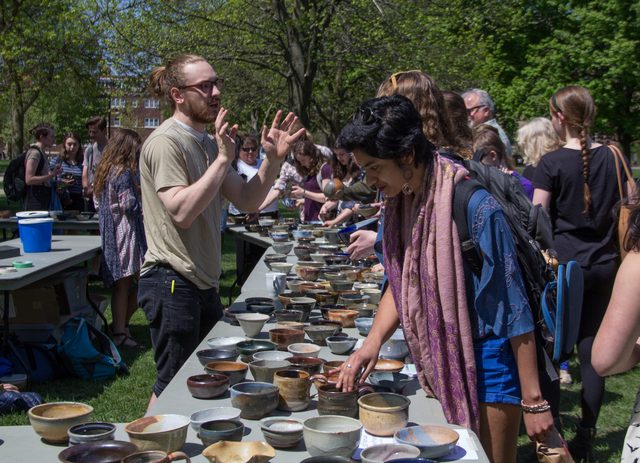 Carleton hosted its 15th annual Empty Bowls community meal on Friday, May 17. With a suggested donation of $20, all community members were invited to choose one of 600 student-made bowls and enjoy a simple meal of soup, bread and fruit together as a community. All donations from the event were directed to the Northfield Community Action Center (CAC) food shelf.
Originally founded in 1990 by Michigan high school teachers Lisa Blackburn and John Hartom to give high school students a chance to impact the local community, the Empty Bowls project has become a prominent national and international movement with local potters, churches, artist organizations and schools. Since its inception in 2005 at Carleton, the project has raised $79,951 for the CAC food shelf.
Fighting hunger since 2004
When art professor Kelly Connole came to Carleton in 2004, she wanted to create a connection between her art and the local community. As a ceramic artist, Connole had many experiences with the concept of Empty Bowls, so she decided to give it a shot here at Carleton.
"I brought Empty Bowls with me when I started in 2004, and since then we've done a lot of work to transform it over the years," Connole said.
Although the event now has a firm position amongst the Carleton traditions, its beginnings were modest. In its first year, the event—which was hosted by Connole and her student Dustin Yager '06 at the Spring Concert—featured no meal and only 150 bowls, raising just over $700.
The following year, Empty Bowls served soup for the first time. With Northfield's Brick Oven Bakery donating fresh bread and Carleton's dining service Bon Appetit providing water, apples and flatware, the event raised $3,000.
Yager, at the time a senior, reflected, "[The event] connects aspiring artists with our local community through personal interaction, financial donations and group work in making the bowls and soups."
Gaining momentum, the event continued to grow. In 2009, Carleton threw a record-setting 490 bowls—three times the number of bowls thrown just three years prior. In 2012, the Center for Community and Civic Engagement (CCCE) began to organize logistics, publicity, soup-making and food donations, and in 2014, Great Harvest Bakery in Burnsville joined Brick Oven in providing bread. The 10th anniversary event in 2015 raised a record-shattering $8,387.
Impact on the community
With a reported poverty rate of 11.4% and 22.8% of residents reporting "low access to food stores," Rice County's food insecurity is a greater problem than one might think. But exactly how do the funds raised at the Empty Bowls project help?
First, all proceeds from Empty Bowls go specifically to the food shelf at Northfield's Community Action Center (CAC), which—in addition to the food shelf—supports a broad range of programs including employment, housing, resource/referral and navigation.
"The CAC has benefited for many years as the recipient of the funds raised by the Empty Bowls event, and has long appreciated the support of Carleton through the fundraiser," said CAC Program Director Anika Rychner. "We believe that [having access to] food is a basic human right, and unfortunately many people in our community experience food insecurity. CAC's food shelf is critical in helping to meet that need, and we could not do this work without the support of our community, whether through volunteer efforts or donations."
The food shelf provides emergency food to around 100 Northfield households every week.
In addition to the financial support, Rychner said events like Empty Bowls, which show support and raise awareness for food insecurity, allow the community to show its care and support of neighbors who often feel isolated.
"Empty Bowls support is felt by the community of neighbors who rely on the food shelf and sends the message that they are cared for and not alone," she said."This is at the heart of why the Community Action Center was founded and why we do this work today."
Many Carleton students echo this idea. Maya Powell '20 (Kenmore, WA), who has been involved with this project since her first year, said, "I am most excited about the ability to give to the community. I think that this sharing is a huge part of Empty Bowls… it allows you to feel incredibly connected not just to those around you, but to a whole network of people working toward the same goals."
"Thank you, Carleton, for all your help and support," Rychner added.
Educational aspect
In addition to the civil engagement component, Connole sees Empty Bowls as an opportunity for learning within the classroom as well.
"I've been interested in embedding [the project] in the curriculum, to not just be a volunteer event for the food shelf, but to tie it into what I believe I'm teaching in ceramics," she said.
In the past, making bowls for the project was part of Connole's advanced-level ceramics course. However, because student interests varied so much, it wasn't always easy to maintain the focus on creating functional objects.
"The making of [the bowls for the project] seemed sort of like an add-on," she said.
So, two years ago, Connole completely restructured the curriculum in ceramics, embedding the Empty Bowls project into the syllabus of a new course (ARTS 230: Ceramics Throwing). In this class, students still learn the history, methods and importance of collaboration that are essential to creating ceramics, but also learn about issues surrounding food scarcity and sustainability.
"[Connole] places an importance on expanding our exploration of ceramics into its history, science and the power that art has in influencing communities, in ways like the Empty Bowls," Ceramics Throwing student Finnegan Keilty '22 (Winston Salem, NC) said.
Another important aspect of the class is the educational collaboration with the community members of Northfield, forging a unique symbiotic relationship.
The Cannon Clay Cooperative, a self-described group of "ten very friendly potters," has long supported Carleton ceramics students, sharing physical resources, such as ingredients or firings; information resources, such as demonstrations and recipes; and opportunities, such as shows and guest artists.
"I always enjoy teaching and sharing information, and it is simply a pleasure for all of us to spend time together and find excuses to enjoy each other's company," potter Glynnis Lessing said. "The colleges have great resources, and we potters have a wealth of experience that we are happy to share."
Rychner of the CAC has also worked with students on understanding food insecurity within the community.
"I have spent time with ceramics students talking about CAC's services in general and specifically our role in hunger relief and creating food access in the community of Northfield," she said. "We've enjoyed the opportunity to get to know the students."
Celebrating 15 years
This year, Carleton celebrated 15 years of Empty Bowls by holding an exhibition in Boliou Hall, and through a series of events to raise awareness of food insecurity, both on and off campus. The programming included a soup-making workshop by Bon Appetit, a recovered food dinner, and a screening of "A Place at the Table," a documentary exploring food insecurity in the United States. A convocation by Twin cities-based food justice activist LaDonna Redmond preceded the community meal.
At its core, said Connole, Empty Bowls is the ideal mix of civic engagement, community bonding and educational goals.
"For me, [Empty Bowls] is a win-win-win: we raise money for the community food shelf and bring together all these students, interest houses, and faculty and staff, but then the pedagogical piece is also unbelievably important in propelling the students in their process," Connole said. "On all three levels it works great."
Empty Bowls is co-sponsored by the Carleton College Department of Art and Art History, the Center for Community and Civic Engagement, the Public Works: Arts & Humanities Connecting Communities Initiative and Bon Appétit.