10 Carls receive Fulbright awards
Meet the Carls who will spend a year abroad on prestigious Fulbright grants.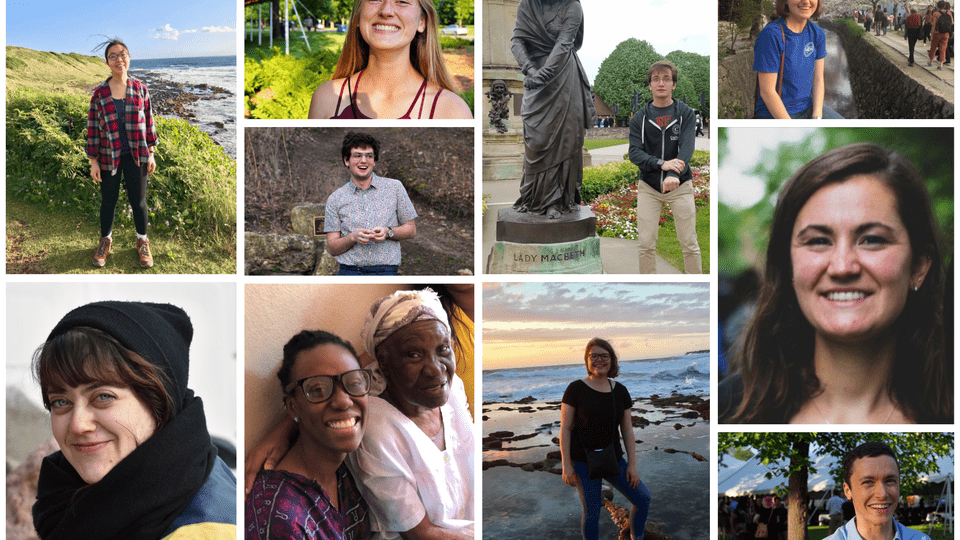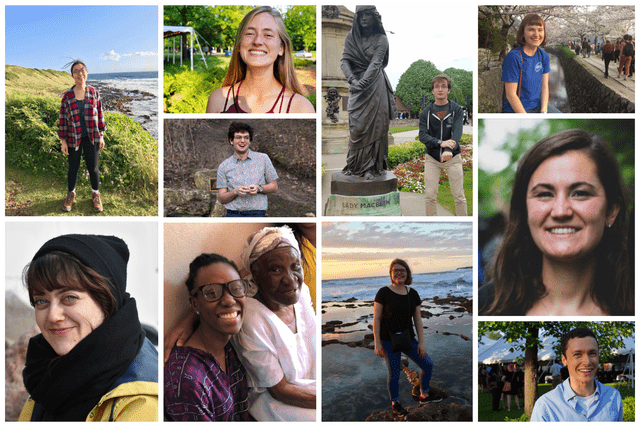 Ten Carleton seniors and recent alumni were recently awarded prestigious Fulbright U.S. Student Program grants.
The Fulbright exchange program allows upcoming graduates and recent alumni to participate in advanced research, international graduate study, and teaching at primary and secondary schools in more than 140 countries worldwide. Around 1,900 U.S. Student grants are awarded annually in all fields of study.
While in their host countries, Carleton's 10 Fulbright winners will spend a year living and learning "on a one-to-one basis in an atmosphere of openness, academic integrity, and intellectual freedom, thereby promoting mutual understanding." Among the factors considered in selecting Fulbright grantees are: quality and feasibility of the proposal, academic record, personal qualifications, language preparation, and an eagerness to promote active engagement with a host community.
Meet the Carls who will spend a year abroad on these prestigious grants: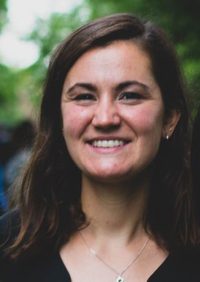 Taylor Barnhill '18
Wellesley, Mass.
Religion (minor in Women's & Gender Studies and South Asian Studies)
Fulbright Location: Varanasi, India
"For my Fulbright I will return to Varanasi, India, where I spent a semester abroad. I am excited to visit my old host family, friends, and professors, and I plan to buckle down on my Hindi studies. Through the ETA position, I'll integrate picture and word games into the classrooms of 6th-8th graders, and I'll apply what I learned from my past experience working with middle-schoolers and English language learners.
During my time in Varanasi in 2016, I began embroidery and knitting. While I will develop my engagement piece further in line with the interests of my students, I want to integrate these interests into my community activities. Also, I plan to continue working with my religion professor in Varanasi as I explore potentials for graduate studies. While I mostly got involved with religious life in Varanasi, I am interested to explore local politics in the wake of this election cycle, which will end about a month before I arrive. Thanks to the help of some wonderful professors at Carleton in the religion, women's and gender studies, and history departments, I am excited to approach this challenge with a critical lens and an open mind."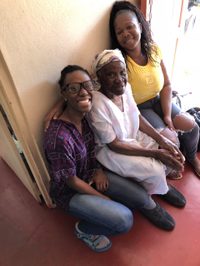 Damali Britton '18
Phoenix, Ariz.
Political Science/International Relations
Fulbright Location: Jamaica
"For my Fulbright, I am traveling to Jamaica to investigate how the ideological origins of Jamaica's mass education system, which emerged following the abolition of slavery, led to a structure that worked to reinforce class divisions. While scholars have studied how approaches to schooling in post-emancipation Jamaica perpetuated class inequalities, there has been limited discussion of the ideologies that informed these approaches. Building on research I started as Mellon Graduate School Exploration Fellow, my focus will be on the period from 1834, the end of slavery, to 1898, the publication of the Lumb Commission's influential report on Jamaican education. This project is an opportunity to further connect with my father's homeland while also examining the continued impact Jamaica's early reliance on slave labor has had on its schools. Though I can't wait for food and festivals, I am most excited about being able to visit my great-grandma (pictured above with my cousin and I) more frequently."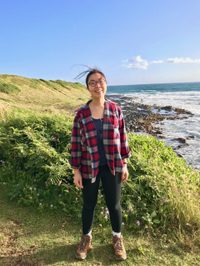 Jennifer Chan '19
South San Francisco, Calif.
English and Psychology
Fulbright Location: South Korea
"During my Fulbright year, I will teach English to primary school students in South Korea. Working with young children will challenge me to think about education in new ways. I might teach numbers and colors by asking students to draw monsters with five blue heads, directions by creating a classroom-city where desks are avenues, getting-to-know-you questions by pairing up student pen pals, and basic vocabulary through Beatles songs. Hopefully my students will be as excited to meet me as I am to meet them!
Outside the classroom, I want to connect with my community through food. Depending on my placement, this might involve leading an after-school cooking club, hosting community dinners, or collecting family recipes on a blog. I'm looking forward to feeling out a new normal and hope that gaps between the day-to-day might include festival days with my host family, a visit to a cafe shaped like a camera, and a mountain odyssey or two."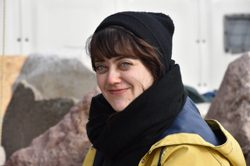 Sarah Goodman '15
Morocco
American Studies
Fulbright Location: Algeria
"I've received a Fulbright Teaching Assistantship to work alongside local professors at a university campus in Algiers, Algeria. I'll be an English-language resource in the classroom and a cultural ambassador through the U.S. Embassy in Algiers.
I graduated from Carleton in 2015 with a degree in American studies and promptly moved overseas, where I've been since. I look forward to both teaching English at a university level and exploring another part of the Maghreb. (Although I've spent time in both Morocco and Tunisia, I've never had the chance to visit Algeria.) I'm excited to study another form of North African Darija and, of course, to try a new regional variety of couscous."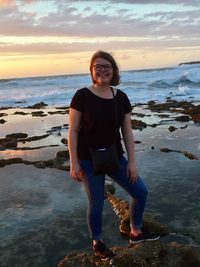 Eleanor Grabowski '19
Baltimore, Md.
English and French/Francophone Studies
Fulbright Location: Vietnam
"Next year, I will be a Fulbright English Teaching Assistant in Vietnam. During my Fulbright, I hope to build upon my knowledge of teaching and skills that I first started learning in my job as a writing consultant in Carleton's Writing Center. In addition to my teaching responsibilities, I am also very excited to learn Vietnamese and to immerse myself in Vietnam's literary culture. For my community engagement project, I hope to get involved in literary events and library volunteering in the location where I am placed. I am looking forward to meeting new people, learning a new language, and learning about Vietnam's culture and history!"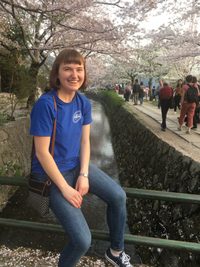 Anne Hackman '19
Warriors Mark, Penn.
English
Fulbright Location: South Korea
"I will spend next year teaching English to secondary school students in South Korea. While I don't yet know where in the country I will be placed, I do know that I will be living with a host family, something that I'm very excited about. Swing dance has been a big part of my life at Carleton, so I am hoping to bring it into the school or community I'm placed into; alternatively, I would love to join a dance group in the community.
Because I've spent very little time in Korea, I'm looking forward to learning as much as I can about the country's culture and history (and also getting to eat Korean food every day). Carleton has given me such great opportunities to work with middle and high school students, and I can't wait to use that experience to connect with students in a new context!"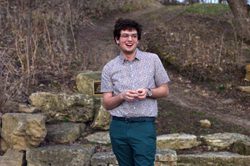 Elliot Schwartz '19
Minneapolis, Minn.
Philosophy and Cognitive Science (minor in Latin)
Fulbright Location: Romania
"Next year, I will be teaching English in Romania at a post-secondary institution. Outside the classroom, I will start a film club showing both Romanian and English-language movies. For me, exploring Romanian cinema was a valuable way to get a sense of Romanian culture and I hope cinema can serve a similar role for my students. Incidentally, if anyone wants a Romanian movie to watch, I highly recommend The Death of Mr. Lazarescu by Cristi Puiu. I will also engage in an independent research project on past and present Jewish life in Romania. My own ancestors were Jews from Moinești in the Moldavia region, and I'm excited to learn more about their history as well as other Romanian Jews like Mihail Sebastian and Tristan Tzara.
There are also many other aspects of Romanian culture I look forward to experiencing while abroad. I love cooking, so I hope to sample (and attempt to recreate) lots of Romanian food. Additionally, as a Latin minor, I'm interested in Romania's history as the Roman province of Dacia and how this heritage manifests in contemporary politics and national identity. Finally, I hope to improve my proficiency in speaking and reading the Romanian language."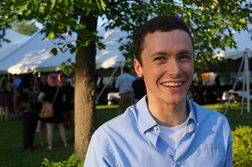 Jonah Shaw '18
Minneapolis, Minn.
Physics
Fulbright Location: Oslo, Norway
"I will be conducting research at the University of Oslo to better understand the role that clouds play in determining the global climate. Specifically, I will use satellite data to analyze and improve the ability of large-scale models to predict the cooling and heating effects of mixed-phase clouds (clouds containing both ice and water particles). I am interested in studying clouds because their influence on the atmosphere is one of the least understood components of the climate, and contributes disproportionately to overall uncertainty in the predictions of Global Climate Models. I look forward to joining the community of scientists who work on these models, and contributing to a project that could improve their operation!
This will be my first experience living abroad, and I am incredibly excited to step into another culture. I am hoping to meet Norwegians through the environmental activism and Nordic skiing communities in Oslo. Adapting to unfamiliar places has a special way of putting our lives in greater context, and I am excited to see what I learn about myself during this time."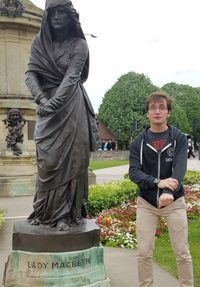 James Smith '19
La Grange, N.C.
English and Linguistics (minor in Spanish)
Fulbright Location: Canary Islands, Spain
"I'll be spending my Fulbright year teaching English in the Canary Islands, Spain. Although I'm not yet sure which island I'll be working on, I know that I'll be in early education and elementary school classrooms, mostly with kids ages three to five. I've worked with elementary literacy a lot at Carleton—both academically and as a volunteer in the Northfield schools—so I'm excited to get to use that experience to help students develop their skills in a second language. Plus, reading and language games are just fun!
I'm also excited to be able to continue my research on discourses of social justice in Spanish children's literature. This research will involve studying the picture book collections of local public libraries and, hopefully, interviewing primary school teachers to understand how they choose, read, and interact with children's books inside and outside of their classrooms."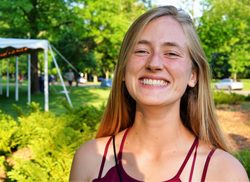 Martha Torstenson '18
St. Paul, Minn.
Mathematics
Fulbright Location: Longyearbyen, Svalbard, Norway
"During my Fulbright year, I will be researching the ways that rain on snow events impact the population dynamics of reindeer and other organisms at the University Centre in Svalbard. One of the impacts of climate change in the arctic is an increase in winter precipitation falling as rain. This can lead to the formation of a layer of ground ice. At its most basic, this ice layer prevents reindeer from accessing their winter forage, leading to an increase in mortality and a decrease in fecundity. However, there are many factors which complicate this relationship. These factors include increasing summer temperatures, leading to higher primary productivity and a longer productive season; spatial variability in ground ice thickness; and changes in reindeer behavior in response to ground ice.
Questions about the relationship between reindeer and rain on snow events exemplify broader ecological questions about variability and the response of ecosystems to a shifting climate regime. For example, how can we integrate our understanding of the life history adaptations organisms have to variability at different scales (i.e. seasonality and intra-annual variability)? How do we expect populations and ecosystems to respond when the degree of variability they experience at these different scales changes? The Arctic is a great model system for these types of questions due to the high degree of seasonality and intra-annual variability in the Arctic climate, the fact that climate change in the Arctic is more pronounced than the global average, and the comparative simplicity and low levels of diversity in Arctic ecosystems. I plan to employ mathematical descriptors of variability and scale, including power functions and fractals, to describe what is happening ecologically.
In addition to my research I am excited to experience life in the Arctic. I plan on spending lots of time exploring the mountains and glaciers of Spitsbergen by foot and by ski, and seeing some wildlife. Hopefully I'll see lots of the reindeer I'll be studying, which is a very cute subspecies of reindeer endemic to Svalbard, and very few polar bears. At 78 degrees north, polar night in Longyearbyen lasts for about 3 months. I think that living in darkness for this long will teach me a lot, and that the sun rising above the horizon for the first time in late February will be very exciting! I'm also looking forward to reconnecting with my relatives in Norway, improving my Norwegian language abilities, and eating a lot of brunost."