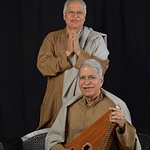 Legendary Hindustani vocalists Pandits Rajan Misra and Sajan Misra will appear at Carleton College on Tuesday, May 15 at 8:15 p.m. in the Kracum Performance Hall. Along with fellow Indian musicians Shantilal Shah on tabla and Sumit Mishra on harmonium, the two vocalists will present a program entitled "Bhairav Se Bhairavi Tak" (the Spectrum of Ragas from Sunrise to Sunset), designed to take audiences "to a world of peace and bliss."
Considered to be among the very best leading Indian classical vocalists today, brothers Rajan and Sajan Misra represent a distinguished musical lineage. The duo has a huge following of international music lovers. Their music carries the sound of the most ancient city on the earth, "Kashi," and embraces those sensibilities to reach out to the contemporary world.
Joining the brothers on tabla is Shantilal Shah, who has been studying and performing Indian classical music with intense passion for the last 40 years. After his initial training under Pandit Mahadev Prasad Mishra of the Banaras Gharana, he became a disciple of Taal-Yogi Pandit Suresh Talwalkar. He has accompanied many eminent Hindustani vocal and instrumental musicians. Along with his accomplishments in the field of Hindustani classical music, he was also a featured performer in the 2004 Hollywood film, Dancing in Twilight, and in the Houston Grand Opera's acclaimed Operetta, River of Light, in 2014. He has trained many disciples with passion and dedication and many of them are professional musicians today.
One of the most prominent harmonium players of India, Sumit Mishra continues a musical legacy from his Father Pt. Sohan Lal Mishra abd his uncle Pt. Mohan Lal Mishra; his family is said to be the torchbearers of the Banaras Gharana (musical lineage) of India. Mishra has performed with many eminent musicians in India and abroad.
This not-to-be-missed appearance at Carleton College is part of an extensive world tour and is officially supported by the Government of India, Air India, and the Indian Council for Cultural Relations (ICC).
This event is sponsored by the Carleton College Department of Music. The Kracum Performance Hall is located in the Weitz Center for Creativity, 320 Third Street East in Northfield. For more information, including disability accommodations, call (507) 222-4475.