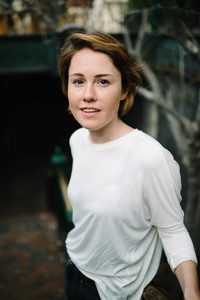 The public is invited to a performance by renowned musician and composer Caroline Shaw at 7 p.m. Friday, April 12, in the Kracum Performance Hall of the Weitz Center for Creativity on the Carleton College campus. A vocalist, violinist, composer and producer and recipient of both a Pulitzer Prize and a Grammy Award, Shaw will perform solo and also be joined by Carleton music faculty performing compositions from her repertoire for string quartets.
Shaw is the youngest recipient of the Pulitzer Prize for Music for her composition, Partita for 8 Voices, a highly-polished and inventive a cappella work that uniquely embraces speech, whispers, sighs, murmurs, wordless melody and novel voice effects. Shaw wrote the composition for the Grammy Award-wining vocal project Roomful of Teeth, dedicated to reimagining the expressive potential of the human voice. Shaw is also a performing member of Roomful of Teeth.
Based in New York, Shaw's career defies categorization—performing around the globe as a violin soloist, chamber musician and vocalist. Recent commissions include works for Carnegie Hall, the Guggenheim Museum, the St. Paul Chamber Orchestra, the Los Angeles Philharmonic, the Seattle Symphony, the Baltimore Symphony and the Orchestra of St. Luke's, and for opera legends Anne Sofie von Otter, Dawn Upshaw and Renée Fleming. She also frequently collaborates with Kanye West, coproducing "The Life of Pablo," and has contributed to records by The National and by Arcade Fire's Richard Reed Parry.
Shaw also works with the Trinity Wall Street Choir, Alarm Will Sound, Wordless Music, Signal, The Yehudim, Victoire, the Mark Morris Dance Group Ensemble and Opera Cabal. Her music has been performed by So Percussion, ACME, the Brentano Quartet and Roomful of Teeth, and her collaboration with artist Jane Philbrick is part of a permanent landscape installation at Mass MoCA.
Shaw has studied at Rice, Yale and Princeton universities, currently teaches at New York University, and is a creative associate at the Juilliard School. She has held residencies at Dumbarton Oaks, the Banff Centre, Music on Main and the Vail Dance Festival. Shaw has been a Yale Baroque Ensemble Fellow and a Rice University Goliard Fellow. As an undergraduate, she was the recipient of a Thomas J. Watson Fellowship to study historical formal gardens and landscape architecture in Europe.
This event is free and open to the public. Sponsored by the Carleton College Department of Music and Arts@Carleton, Shaw's appearance is made possible by the Christopher U. Light Lectureship and the Elizabeth Nason Distinguished Women Visitors Fund. The Christopher U. Light Lectureship in Music was created in 1985 by Light, a member of the Carleton College Class of 1958. Among his many interests, Light is a freelance writer and composer, a record producer and a musician with interests in computers and music.
The Weitz Center for Creativity is located at Third and College Streets in Northfield. For more information, including disability accommodations, call (507) 222-4475.