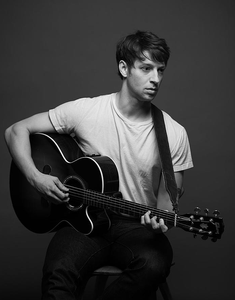 Acclaimed musician and composer Chris Koza will join the Carleton Choir for a special performance on Friday, May 18 at 7 p.m. in the Kracum Performance Hall. Entitled "Seasons," the choir and Koza come together with student poets and visual artists to present a program exploring literal and metaphorical notions of the four seasons. This performance is free and open to the public.
Originally from Oregon, Koza came to Minnesota to study at St. Olaf College where he earned a BA in studio art and philosophy, and has since become a mainstay of the Twin Cities music scene. A multi-instrumentalist, vocalist and composer, he performs as a solo artist and also fronts the popular indie folk-rock band, Rogue Valley. He has written and released 11 albums of original material and his work has reached audiences of all ages all across the world.
The international music blog American UK gave Koza's solo release "The Dark, Delirious Morning" 9 out of 10 stars, calling it "an unpretentious little masterpiece." Paste Magazine calls his band Rogue Valley one of Minnesota's best bands. In 2010 when Rogue Valley was founded, Koza and the band launched an album cycle dedicated to exploring the four seasons. The band released four full-length albums in the next four years, each release timed with a season: "Crater Lake" (spring), "The Bookseller's House" (summer), "Geese in the Flyway" (autumn), and "False Floors" (winter). In 2016, the band released its latest critically acclaimed album, "radiate/dissolve."
Koza's original songs have been used on network and cable television shows, as well as in feature films. As a solo artist and with his bands, Chris has performed alongside and toured with notable national artists such as Ingrid Michaelson, Brandi Carlile, The Jayhawks, James Vincent McMorrow, Stephen Kellogg, Andrew Bird, Tift Merritt, and numerous others. More on Koza's website and Rogue Valley's website.
This event is sponsored by the Carleton College Department of Music. The Kracum Performance Hall is located in the Weitz Center for Creativity at 320 Third Street in Northfield. For more information, including disability accommodations, call (507) 222-4475.