May
15
Chinese Ensemble & Global Music Ensemble Concert
Sun, May 15, 2022 • 3:00pm - 4:00pm (1h) • Kracum Performance Hall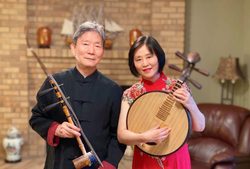 Carleton Chinese Music Ensemble under director Gao Hong. Their Spring concert will feature two Chinese Peking Opera guest artists - Jinghu master Zhengang Xie, and Yueqin master Mei Hu. Other highlights include two world premieres of music written specifically for our Chinese ensemble by composers from Beijing, Dongni An, and Singapore, Sulwyn Lok. The Global Music Ensemble and combos will be featured as well.
Jing Hu master Mr. Zhengang Xie and Yue Qin master Ms. Mei Hu, a husband and wife team, are listed as members of the elite group among the musicians in the Directory of Current Chinese Artists of 1998, which Ms. Hu participated editing. While in China, as the top "Cheng" style Peaking Opera fiddler, Mr. Xie and Ms. Hu performed and recorded as solo Jing hu and Yue Qin players with many top Beijing Opera houses, including the Beijing Opera House and National Opera House. In addition to performing transitional Peking Opera repertoire, Xie has participated in many new opera productions, such as the Peking Opera TV show Cao Xueqin and the new opera The Legend of The White Snake. Xie has also performed in the Great Hall of People in Beijing during a Lunar New Year celebration, and was greeted by the Chairman Jiang Zemin, among other top Chinese government officials.
Since moving to the U.S. in 1999, the couple has brought Chinese music, particularly Peking Opera, to their community. While living in Cincinnati from 2000 to 2020, Xie and Hu performed in concert halls, schools, and universities around the region. In collaborations with University of Cincinnati Symphony Orchestra, they performed concertos such as "In the Dark Night", The Qiao Family Compound" and "The God of Mountain". Most recently, Mr. Xie and Ms. Hu were featured as soloists with the Minnesota Orchestra's inaugural Lunar New Year concert in February 2022, performing "In The Dark Night" and "Welcoming Spring." Xie and Hu currently reside in Plymouth, Minnesota, near their son, Minnesota Orchestra Principal Bassoon Fei Xie, and his family.