Apr
29
Guest Artist: Nakamatsu/Manasse Duo Concert
Fri, April 29, 2022 • 7:30pm - 9:30pm (2h) • Kracum Performance Hall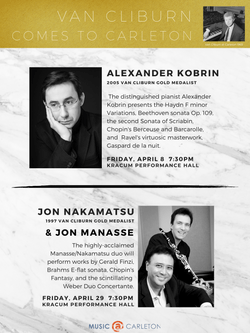 The highly-acclaimed Manasse/Nakamatsu duo has thrilled audiences for decades with their virtuosity and impeccably elegant musicality. The duo will present Gerard Finzi's charming Bagatelles, Brahms' soulful sonata in E-flat, Jon Nakamatsu will perform Chopin's Fantasy in F minor, and the program will conclude with the scintillating Weber Duo Concertante.
Comprised of clarinetist Jon Manasse and pianist Jon Nakamatsu, two of America's most distinguished artists, the Manasse/Nakamatsu Duo immediately established itself with a highly acclaimed 2004 performance in Boston. Subsequent coast-to-coast touring featured appearances on many of the country's most prestigious series. Recent appearances abroad include the Duo's first performances in Cuba in 2017. Since 2006, the Duo has served as Artistic Directors of the renowned Cape Cod Chamber Music Festival, which celebrates 40 years of extraordinary concerts in its August 2019 season. 
The Manasse/Nakamatsu Duo is committed to expanding the concert repertoire for their instruments' beautifully combinative sounds. Commissioned works have included John Novacek's Four Rags for Two Jons and Paquito D'Rivera's The Cape Cod Files. Subsequently expanded and orchestrated by the composer, The Cape Cod Concerto received its world premiere in May 2011. Composers Lowell Liebermann, Gordon Goodwin and Michael Touchi have also written works premiered and toured by the Duo.
​Individually, Jon Manasse and Jon Nakamatsu have developed extensive repertoires and lengthy discographies. Their hundreds of performances include concerto engagements, solo recitals and chamber music collaborations with orchestras, universities and music festivals, here at home and throughout the world. Additionally, Jon Manasse served as the principal clarinetist of The Metropolitan Opera Orchestra, and continues to serve as principal clarinet of the Mostly Mozart Festival Orchestra at Lincoln Center, Orchestra of St. Luke's, American Ballet Theater, and New York City's All-Star Orchestra. Jon Nakamatsu is Gold Medalist of the Tenth Van Cliburn International Piano Competition. The Manasse/Nakamatsu Duo's debut CD of Brahms' Clarinet Sonatas—chosen by The New York Times among its "Best of 2008"—was immediately acclaimed in the paper's review: "Jon Nakamatsu's contribution is just as important as Mr. Manasse's, and their partnership is complete. Mr. Nakamatsu's playing is as meltingly beautiful as Mr. Manasse's. Harmonia Mundi's production is impeccable, capturing such disparate instruments in full color and a lifelike perspective." An all-American album, comprising works of Bernstein, D'Rivera, Gershwin and Novacek, was released to international raves in Fall 2010. More recent recordings include works of Beethoven, Weber, and both the piano and clarinet quintets of Brahms on the final recording of the Tokyo String Quartet. 
Mr. Manasse and Mr. Nakamatsu are invited frequently as guest speakers throughout the country, and also serve as adjudicators at many of the most prestigious music competitions. Jon Manasse graduated from The Juilliard School and currently serves on the faculties of The Juilliard School, Lynn University and Mannes School of Music. Jon Nakamatsu holds degrees in German Studies and Education from Stanford University and is a faculty member at San Francisco Conservatory.
​