Carleton's Music Department features a number of wonderful ensembles, including many in the Jazz Area.
Please see the attached brochure for additional information about the Jazz Program.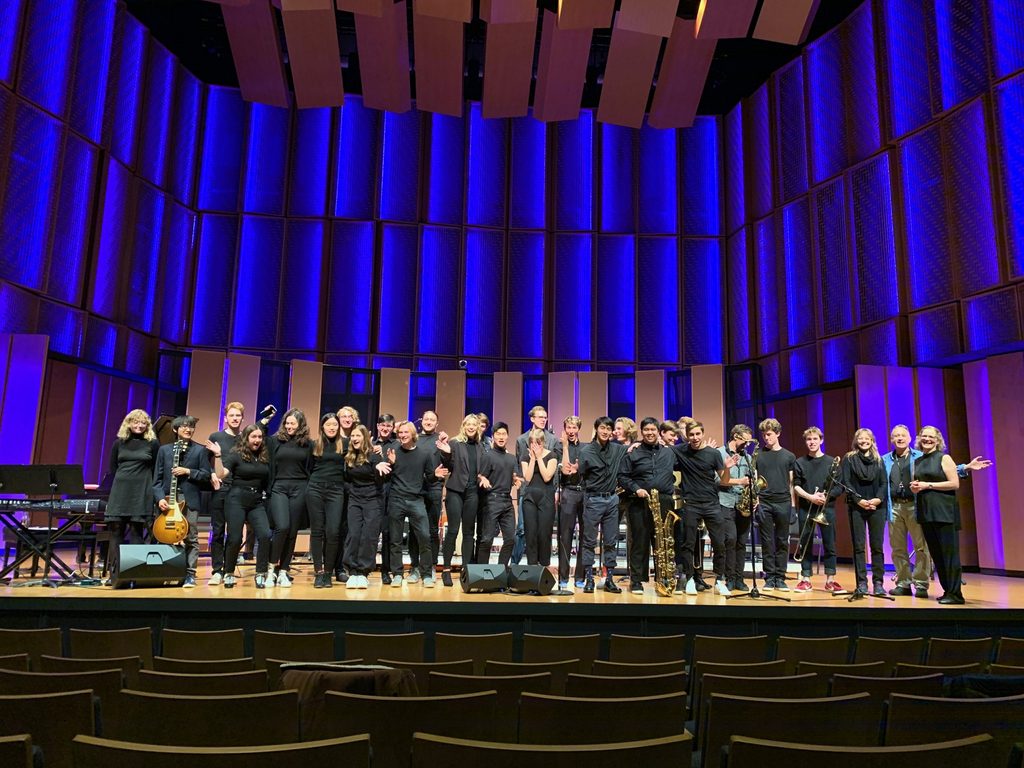 The Carleton Jazz Ensemble
MUSC 190 – 1 credit; S/CR/NC; Arts Practice
Rehearsals: Mondays and Wednesdays, 6:30 – 8:00 p.m. (Shackel Rehearsal Hall)
The Carleton Jazz Ensemble's focus is on improvisation and the fusion between jazz, rock, funk, and Latin influences. This large ensemble often features both student artists and professional musicians from the Twin Cities community.
Each term, new works are created depending on the interests of the members of the group. In addition, each concert features repertoire ranging from historically significant classics to music hot of the press. Often, compositions are also learned by ear.
Subsets of the Jazz Ensemble complement each performance. These "combos" focus even more heavily on improvisation.
Prerequisites: Admission by audition.
New Student Week Jazz Ensemble Auditions
Wednesday, Sept. 7, Jazz auditions: 6:30–8:00 pm  Shackel Hall M126
Thursday, Sept. 8, Scattitude auditions: 5:00–6:30 pm  Shackel Hall M126
Monday, Sept. 12, Jazz Area info meeting: 6:30-8:00 pm Shackel Hall M126
The PDFs on the side of the page contain Jazz Ensemble audition pieces. Find your instrument below, and please prepare the following sections from "Watching the Game":
Piano: Intro and letter G – H
Bass: Intro and letter G – H
Drums: Letter J
Guitar: Letter J
Alto Sax: Letter K – L
Tenor and Bari Sax: Letter J
Trumpet: Letter J
Trombone: Letter J
All auditioners except drummers: Please prepare to perform 3 things:
The portion of the PDF mentioned above
A prepared piece of your choice
Improvise over 12 measures of a blues in a key of your choice
Drum set players: Please prepare a sample of the following grooves: medium swing, up swing, bossa nova, samba, and funk
---
Jazz Chamber Groups
MUSC 195 – 1 credit; S/CR/NC; Arts Practice (time/location TBA)
If you are interested in being in a Jazz Chamber Group, please let Ms. Caviani know at your audition, and she will help connect you with others who are also interested. Any combination of instruments, including vocals, is possible.
Coordinated by Nikki Melville, chamber groups meet once per week with an instructor and once per week on their own. In the Jazz Area, Chamber Group coaches are: Caviani, Harris, and Keel.
Monday, Sept. 13, Jazz Chamber auditions: 6:30–8:00 pm Shackel Hall M126
---
Jazz Workshop
MUSC 196 – 1 credit; S/CR/NC; Arts Practice (time/location TBA)
This is a Workshop format where students learn basic techniques of combo playing, including improvisation.
Student cannot be simultaneously registered for Music 190, Jazz Ensemble. Any instrumentalist or vocalist can register, pending audition.