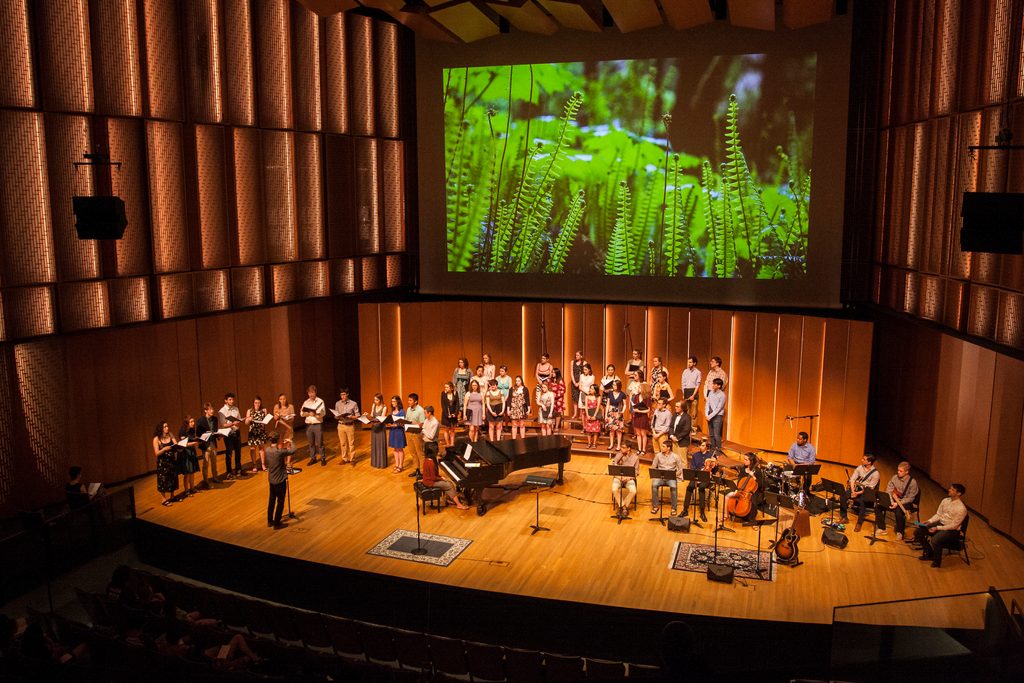 Matthew Olson, Director of the Carleton Choir
Carleton Choir
Mondays & Wednesdays 4:45-6:15 pm (Weitz M215-Applebaum)
MUSC 185 1 credit; S/CR/NC; Arts Practice
The Carleton Choir is a mixed-voice ensemble of 60 students singing repertoire ranging from classical masterworks, to gospel and global songs. Led by Director of Choral Activities Matthew Olson, the choir has recently collaborated with Chris Koza of the band Rogue Valley, GRAMMY award-winning songwriter Carrie Newcomer, choirs from St. Olaf College, and Carleton's own Jazz ensembles. A casual voice placement is required to assess vocal range.
Chamber Choir
Thursdays 5:00-6:30 pm (Weitz M215-Applebaum)
The Carleton Chamber Choir is a select mixed-voice ensemble of 16 students singing challenging repertoire ranging from newly commissioned compositions to music of the Renaissance, Baroque, and Romantic time periods. Membership in the Carleton Choir is required, as is an audition that includes tonal memory and basic sight-reading. A year-long commitment is expected except for those studying abroad or participating in a varsity sport for a term.
Auditions & Voice Placements
To sign up for a voice placement (Carleton Choir) or audition (Chamber Choir), please select a time via Moodle. Voice placements consist of a vocal range check, tonal memory, and conversation about your musical background. Voice auditions for Chamber Choir also include sight reading.
Audition Instructions
Auditions are scheduled through Moodle.
Auditions usually take about 10 minutes, and we try to make these as informal and "user friendly" as possible. Still, good preparation always makes for a less-stressful audition experience, so we encourage you to come prepared!