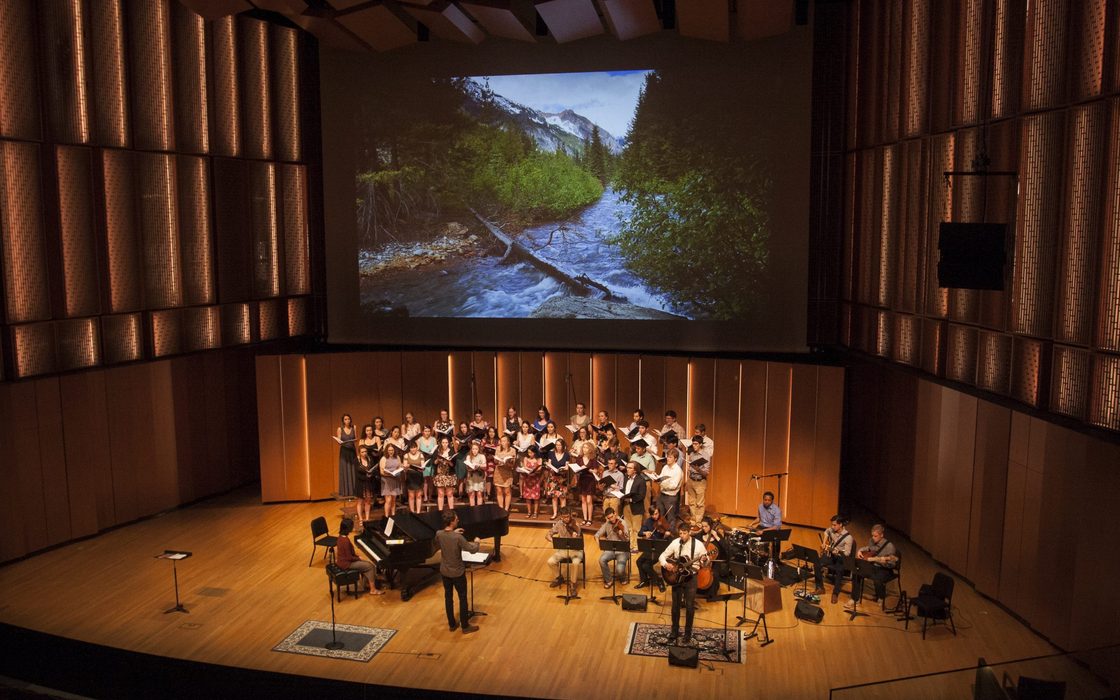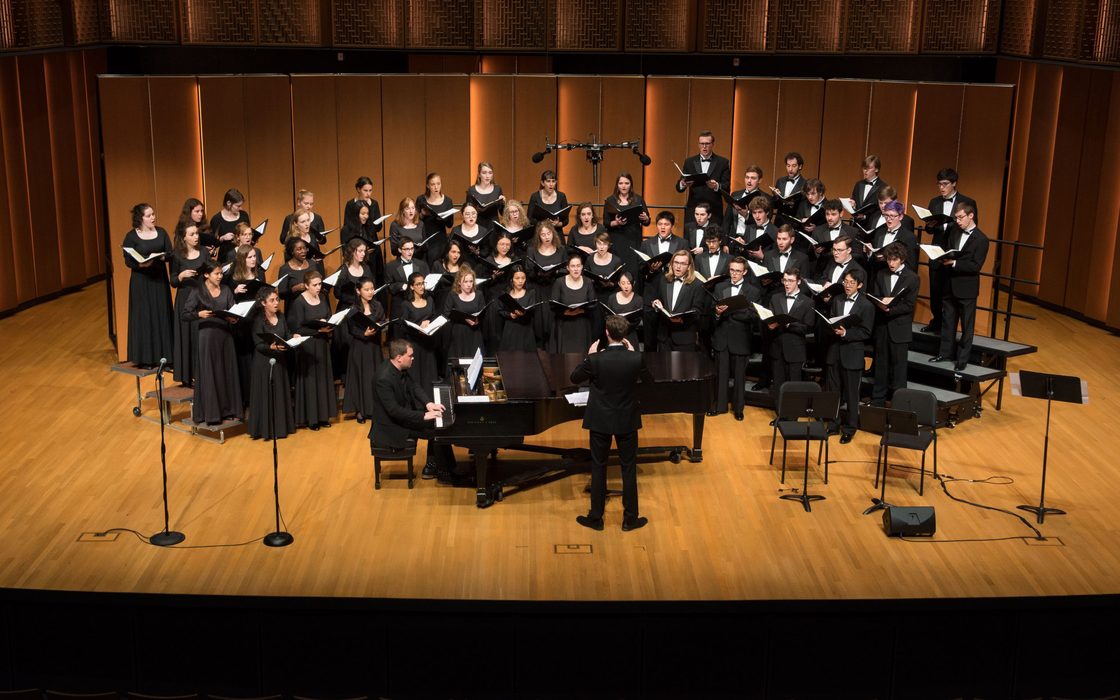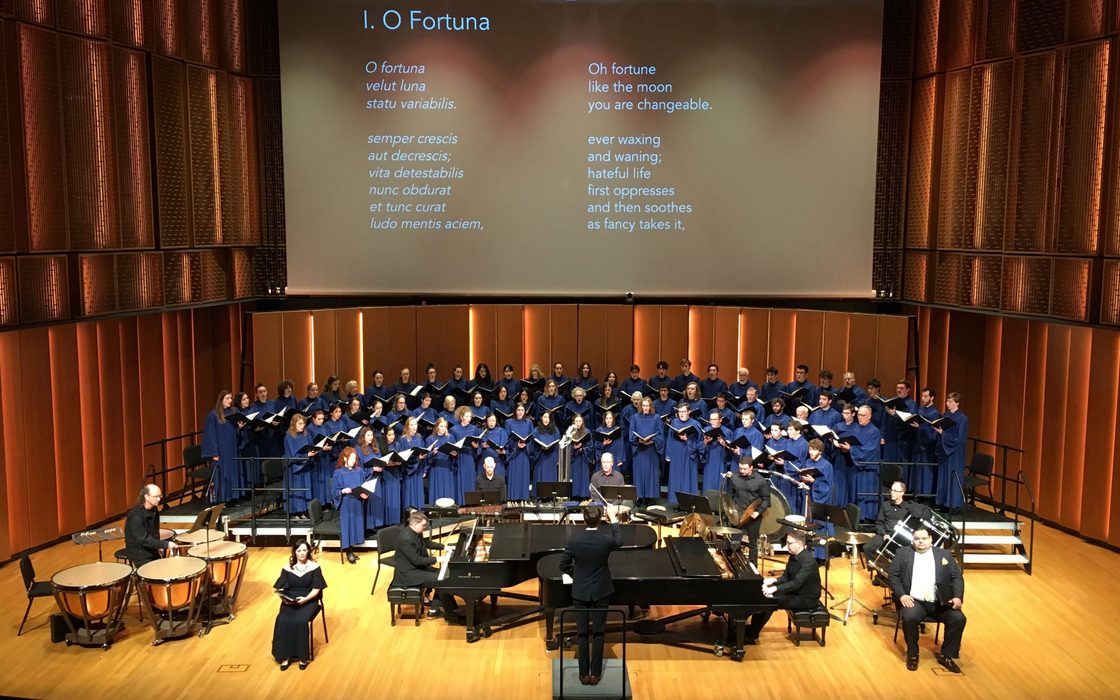 Matthew Olson, Director of the Carleton Choir
Choir & Chamber Choir
Carleton Choir is Carleton's flagship vocal ensemble consisting of 60 mixed voices who strive to create beautiful music within a welcoming and inclusive community. The choir tours every other year, explores broad repertoire ranging from classical music to a cappella covers, and has recently collaborated with acclaimed singers and songwriters including Chris Koza of Rogue Valley and GRAMMY award-winner, Carrie Newcomer. Recent performances also included Orff's Carmina Burana and Handel's Messiah. Carleton Choir rehearses Monday and Wednesdays from 4:45 – 6:15pm the first 8 weeks of the term.
Chamber Choir is a select ensemble of 16-20 intermediate and advanced singers who pursue musical excellence within repertoire ranging from the Renaissance era to commissioned new works. In addition to concerts and tours with the Carleton Choir, the Chamber Choir collaborates with college and professional choirs from around the region including the St. Olaf Chamber Choir. Carleton Chamber Choir members also sing in the Carleton Choir and a full-year commitment is strongly encouraged (with exceptions given for students in a varsity sport, on a study abroad program, or who have received conductor approval). Chamber Choir rehearses Thursdays from 4:45 pm–6:15 pm the first 8 weeks of the term.
Upcoming 2021-2022 Highlights
3-Day Tour to Chicago
Collaboration with the professional choir The Singers on Craig Hella Johnson's masterwork Considering Matthew Shepherd
Premier of a 30-minute commissioned work for jazz ensemble and choir by Laura Caviani
Hosting Portland-based Cappella Romana
Choir & Chamber Choir Placements & Auditions Information
Carleton Choir: A casual voice placement is required to audition for the Carleton Choir and will include a discussion of your musical background, a vocal range check, and pitch matching exercises. If students are complete beginners, they may be encouraged to sign up for Class Voice or private voice instruction to learn fundamentals of singing.
Chamber Choir: Singers interested in Chamber Choir should sign up for a Carleton Choir audition. In addition to a vocal range check and pitch matching exercises, basic sight-reading skills will be assessed.
Choir & Chamber Choir Placements
A casual audition is required for both Carleton Choir and Chamber Choir. During this time, you'll share information about your music background, sing a few vocal warm-ups, have your vocal range assessed, and sing pitch-matching exercises. For those interested in chamber choir, basic sight-reading will also be included. You do not need to prepare an aria or choir excerpt.
First-Year Students: May sign up via Moodle for available times on September 10 and September 12.
Friday, Sep. 10: Check your email for a message from Matthew Olson.
Sunday, Sep. 12: 1:00pm – 5:00pm
Returning Students: Contact Director of Choral Activities, Matthew Olson.
Private Voice Lessons
For private voice lessons please visit the Private Voice Lesson Interviews.