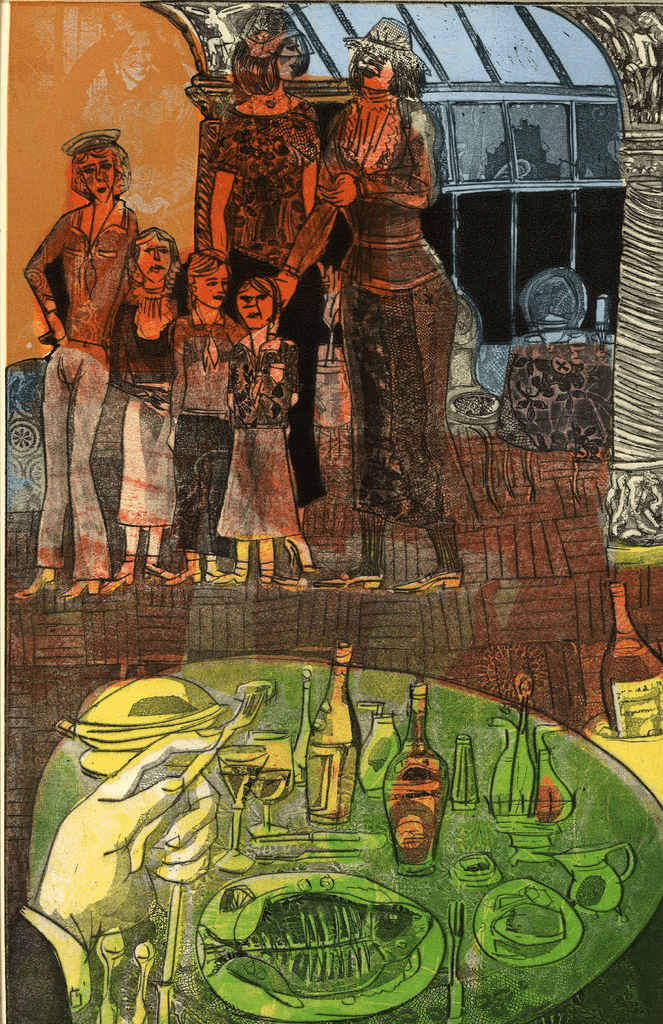 American printmaker Warrington Colescott collaborated with publisher Aquarius Press to create a series of 10 etchings illustrating Thomas Mann's 1912 novella Death in Venice. The story follows a middle-aged writer who travels to Venice to end his writer's block. He finds inspiration in Tadzio, a beautiful adolescent boy vacationing in Venice. Inspiration quickly becomes a passionate obsession, even without any physical or verbal interaction with the boy throughout the plot.
The protagonist falls in love at first sight. This image illustrates the moment when the writer sees the youth in the hotel lobby for the first time. Colescott places the viewer in the position of the writer: we sit at the lonely dinner table, a fork skewering a piece of fish in our hand hovering above the plate, paused in momentary stupefaction at the sight of the boy in a sailor's outfit standing left of his family.
Colescott uses contrasting warm and cool colors to create a rift between the old writer, whose space is a yellowish-green, and youthful beauty, embodied in Tadzio, highlighted in reds and oranges. The sickly green foreshadows the wave of cholera that plagues Venice and infects the writer, eventually killing him.
— Sophie Kissin '14