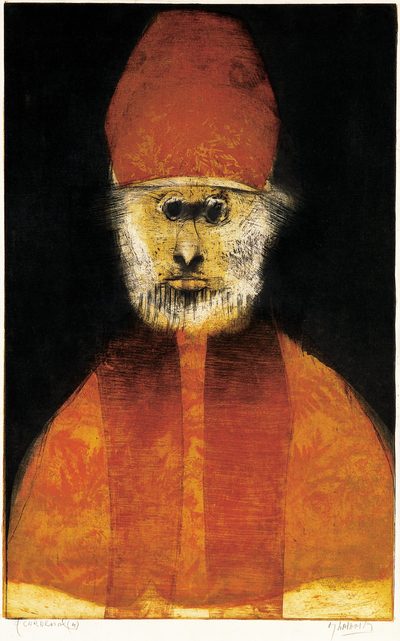 Mauricio Lasansky (b. 1914), an important figure in modern printmaking, helped transform the medium from a genteel process to a more dynamic, experimental one. From his post at the University of Iowa, Lasanksy trained generations of art professors, including Carleton's Dean Warnholtz. Lasansky was the Ward Lucas Lecturer in the Arts at Carleton in 1965.
El Cardenal shows that Lasansky, born in Argentina, was influenced by the tradition of Spanish art, going back to Velasquez and 17th-century Baroque painters and then moving through Picasso. The many different techniques that went into this work suggest Lasansky's experimentation. This piece is rich and dramatic, but it's slightly off in the manner of the best modern artists.
When we displayed the print in the gallery, students commented that they felt the cardinal's eyes following them. There's something about him that really connects to the viewer across large distances.