Apr
16
Imagined Futures, Forgotten Pasts Campus Walking Tour: Gender Norms and Campus Design
Sat, April 16, 2022 • 1:00pm - 2:30pm (1h 30m) • Willis Hall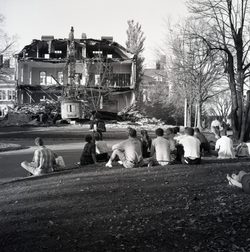 Today's tour is His and Hers: Gender Norms and Campus Design at Carleton
Ever wondered what it would have been like to be a student at Carleton decades, maybe even a century, ago? Unlike many schools at the time, from its founding in 1866, Carleton College accepted students regardless of their gender. However, that does not mean that the social expectations and living spaces of men and women looked the same - especially in the college's first century. Moving chronologically from Carleton's earliest until the 1970s, this tour will examine the gender norms and divisions present in Carleton's past, while considering how the campus' design and buildings hold traces of their former designation as gendered spaces.
The tour is 1.5 hours long, with the last half hour being spent in the exhibition itself (this portion of the tour is optional if you're pressed for time). Departure point is Willis Hall. Please arrive promptly. Thank you and we look forward to taking you on a tour of campus!
Register to reserve your free space.