May
7
Imagined Futures, Forgotten Pasts Campus Walking Tour: Early History of Carleton
Sat, May 7, 2022 • 1:00pm - 2:30pm (1h 30m) • Willis Hall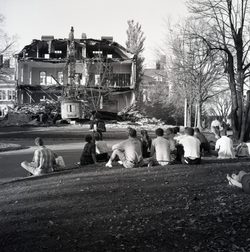 Today's Campus Walking Tour is The Early History of Carleton
The Carleton College campus has continually evolved over its 156 year history. It has transformed from a small school with a handful of buildings only and a tiny student population to the vibrant campus that we know and love today. Come explore Carleton's origins and development from its beginnings in the late 19th century to the changes coming with the turn of the century and WWI on this tour covering the architectural, social, and educational history of Carleton.
The tour is 1.5 hours long, with the last half hour being spent in the exhibition itself (this portion of the tour is optional if you're pressed for time). Departure point is Willis Hall. Please arrive promptly. Thank you and we look forward to taking you on a tour of campus!
Register for your free spot.