Apr
13
Doreen Lynette Garner, Virtual Artist Talk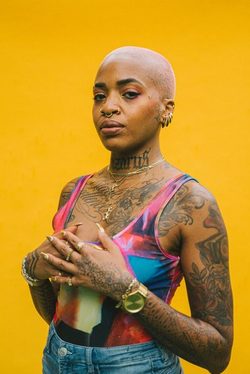 The Doreen Lynette Garner exhibition remains open through Sunday, April 17, 2022. To celebrate the run of the show, we invite you to a virtual artist talk and Q&A with the artist in the final days of the exhibition.
Join OIL Peer Leaders for snacks and conversation at the watch party in the Alumni Guest House Meeting Room!
Doreen Lynette Garner (b. 1986, Philadelphia, PA) is a sculptor, performance artist, and licensed tattoo artist who lives and works in Brooklyn, NY.This event will give insight into Doreen Lynette Garner's artistic practice and methods as well as artworks included in the exhibition. It will also spark a discussion of timely questions about medical care, access to health services, consent, race, and gender.
Join Zoom Meeting https://carleton.zoom.us/j/99058988356?pwd=U2ZQbnp6NzlRS2JxN1JqcWtLZXRvQT09
The Christopher U. Light Lectureship in Music was created in 1985 (1985 for Art and 1984 for Literature) by Mr. Light, Carleton Class of 1958. Among his many interests, Mr. Light is a freelance writer and composer, a record producer and a musician with interests in computers and music.