Jan
19
Doreen Garner Artist Talk
Wed, January 19, 2022 • 4:30pm - 5:30pm (1h) • Weitz Cinema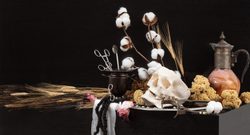 THIS EVENT WILL BE RE-SCHEDULED FOR FEBRUARY.
The Art and Art History Department proudly presents a sponsored Christopher U. Light Lectureship featuring New York-based artist Doreen Garner (b. 1986, Philadelphia, PA). Garner's artwork draws on a troubled American tradition of medically sanctioned experimentation on Black women's bodies, a history which connects to the unequal medical care African Americans receive to this day.
Doreen Garner: an exhibition is open at the Perlman Teaching Museum January 6 - April 17, 2022.