Feb
3
Tour of Doreen Garner Exhibition with Perlman Teaching Museum Director and Curator Sara Cluggish
Thu, February 3, 2022 • 12:00pm - 1:00pm (1h) • Perlman Teaching Museum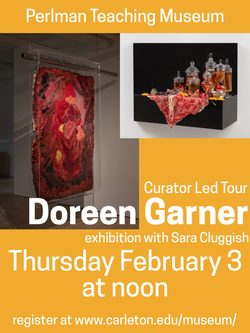 Join Museum Director Sara Cluggish for a 45-minute tour of the Perlman Teaching Museum's new exhibition by artist Doreen Garner (b. 1986, based NYC). The installation showcases a series of dramatically illuminated, corporeal sculptures produced by Garner over the last five years. Utilizing silicone, glass, beads, crystals, rubber, synthetic hair, petroleum jelly, and other materials, the artworks explore a troubled American tradition of medically sanctioned experimentation on Black women's bodies. By refusing to relegate this history into a depoliticized record of the past, Garner emphasizes the problematic relationship between medicine and race that persists today.
Event is open to all, but limited to 30 individuals.  Please use Eventbrite to reserve your spot!
Masks are required. Please see the visit section of our website for full Covid-19 guidelines.