Feb
4
Student Tour of Lessons in Intaglio
Fri, February 4, 2022 • 4:00pm - 5:00pm (1h) • Gould Library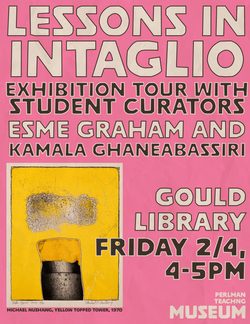 Join two of our student curators Kamala GhaneaBassiri '22 and Esme Graham '22  on Friday, February 4 at 4pm for a tour of the Iowa Print School intaglio prints on display at the Gould Library. Meet in the main lobby near the circulation desk.
A new campus display conceived and curated by Carleton students is now on view in the Gould Library and second floor of the Weitz Center. The 27 works on paper highlight recent Carleton Art Collection acquisitions by printmakers from the Iowa Print School program and influential printmaker and educator Mauricio Lasansky (whose
solo exhibition
 recently opened at the Minneapolis Institute of Art).
Lessons in Intaglio is curated by Perlman Teaching Museum and Gould Library student workers Kamala GhaneaBassiri '22, Esme Graham '22, Arianne Lone '24, Phoebe Pugh '22, Lea McClintock-Shapiro '21, and Lea Winston '22. Their research was heavily influenced by Carleton's Rae Schupack Nathan Professor of Art, Fred Hagstrom who provided invaluable insight into the rich history of the Iowa Print School.