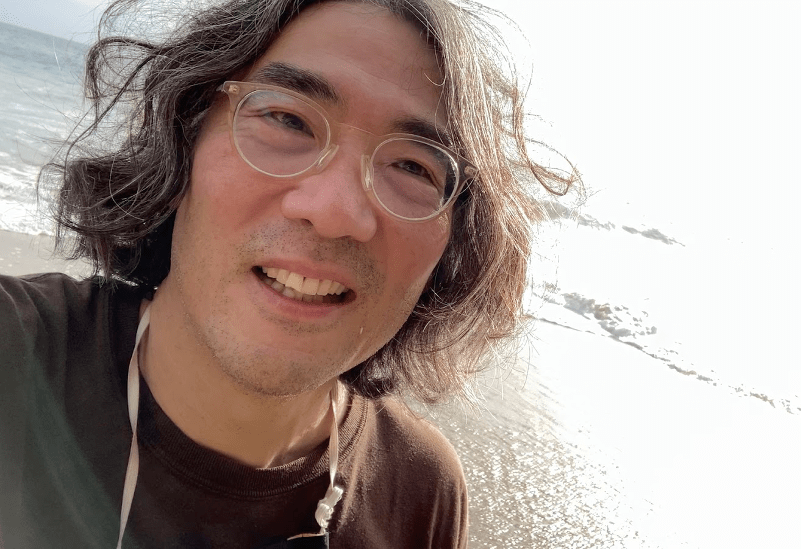 Dan S. Wang '90
Religion Major
Based in Los Angeles, CA
He/Him/His
"I divide my practice into three parts: studio work, writing, and organizing. For over twenty years my primary studio craft was letterpress printing and typography. Nowadays, my studio work makes use of performance, installation, and new media. Current and ongoing obsessions include histories of technology, the political aesthetics of ethno-liberation, the geographies of everyday life, the French Revolution and its afterlives, and cuisines of the Chinese diaspora."
Professional Life Post-Carleton
"After a short post-Carleton career as a social worker for troubled youth, I studied woodcut printmaking in Xi'an, China. This was in 1993, a fairly early venture into China by art world reckoning. After my graduate studies I landed in Chicago in 1998 where I got involved in a rising local/global scene of political artists. There were a few years where my work seemed to be the logical fusion of my main Carleton influences: Fred Hagstrom and Paul Wellstone.
"A few highlights from my so-called career include co-founding and organizing Mess Hall, an experimental cultural space in Chicago (2003); participating as an international resident artist in Vienna for the SOHO in Ottakring festival (2008); speaking to an audience of 400 at Wuhan University (in the city that everyone now has heard of) about the political geography of the American Midwest, and then later the same year speaking about the Wisconsin Uprising at the Third Creative Time Summit on the very weekend that Occupy Wall Street turned into a media spectacle only blocks away (2011); and working as a resident artist at 18th Street Arts Center in Santa Monica (2019-present). I don't print much anymore for my own work but my regular some-time gig remains in Chicago, managing the letterpress shop for the artist Theaster Gates."
Favorite memory of life at Carleton
"I loved taking studio breaks in the old Boliou lobby reading area with the lounge chairs. Reading art magazines in that warm and woozy solarium-like space was a recipe for a quick snooze, especially when it was cold outside."
Favorite memory of studying with Fred Hagstrom
"From our earliest conversations Fred affirmed many of my interests — keep in mind this was before the Internet, in the days of the Reagan-era Sixties hangover when we young GenXers (before our generation had a name) had to hunt for the markers that now we take for granted: Fillmore posters, Iggy and the Stooges, Sun Ra, and trips of all kind. Those exchanges never really stopped and to this day I still get emails from Fred, in that terse style, with a link to some cool experimental music saying 'You might like this. Okay, Bye –F.'
"My college encounters with Fred spanned my entire four years at Carleton. I took a class with him in my very first fall term, at all of eighteen years old. In my senior year, we'd still refer back to works and ideas from four years earlier, giving me a feeling for what it means to evolve as an artist and as a person.
"Outside of campus, seeing his occasional letters to the editor published in ArtPaper, the late Minneapolis art rag, set another example for me. It motivated me to make use of my writing skills in service to the public conversation about art. Once in Chicago, I modeled myself on Fred and contributed barbs and kudos through letters to New Art Examiner, the local art mag of record. The editor-in-chief, Kathryn Hixson (RIP), noticed. She called me up and asked me to write a feature and that's how my writing found ink, and how I learned that Kathryn was also a Carleton alum.
"Later on, at key moments in my own emerging practice, Fred invited me back to campus to give talks, take part in shows, and help with studio projects. Each visit felt like a continuation of my education under his guidance, each time marking a step towards what we've become: lifelong friends with a shared field in common. Because of our long student/teacher relationship while at Carleton — one that exceeded the strictures of my actual major (Religion), and because it continued for years into my development as a professional artist — my experience of having learned under Fred in many respects overflowed the confines of traditional education. What Fred delivered to me over the decades is an art education, an intellectual education, and a life education. For this, I am extremely grateful, and I know I am far from alone."