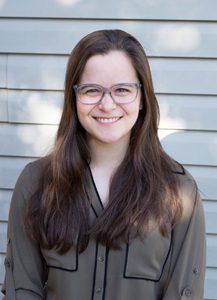 Amanda Zeilinger '19
Art History and Studio Art Majors
Based in St. Paul, Minnesota
She/Her

"How can I show the relationship between humans and our environment in a most minimal way, while still telling a story? Are long- or multiple-exposure photographs more realistic because they hold more moments than a single quick shutter release? These are some of the questions I think about while showing the passage of time in my photographs as well as experimenting with extreme cropping and negative space in images."
Professional Life Post-Carleton
2020
Work at a mosaic studio in Minneapolis
2019–2020
Educational Associate for the Studio Art Department and Perlman Teaching Museum at Carleton
Favorite memory of life at Carleton
"Year after year at Carleton, the photo lab has remained the spot on campus where I felt my most at peace, most productive, and most confident self. There's not one specific memory I have that stands out there, but the whole vibe of that space is unforgettable.
"It's where River would dim the lights and start classes off with a poem, where I first met photo monitor friends over too much pizza, and where we could have late-night homework sessions with music playing almost constantly. Surrounded by the smell of coffee and darkroom chemicals, it's where I feel I grew the most as an artist, student, and friend."
Favorite memory of studying with Linda River Rossi
"One of my first memories of River was the first day of her Digital Landscape class in the spring of 2016. It was a bright day outside and after introductions she took our whole class into the photo studio (with the black and white checkered floor), read us a poem, and turned off the lights — pitch black.
"The room, being a camera obscura, slowly brightened as light filtered in through a small lens in the wall and the scene outside was projected upside down onto the opposite wall. Her classes were always a bit magical. River approaches her work with such grace and gentleness, and I hope to continue incorporating those elements into my own work as well."