Jan
27
Middle East Studies Movie Night
Fri, January 27, 2023 • 7:30pm - 9:30pm (2h) • Leighton 304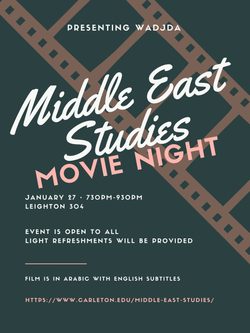 Middle East Studies is excited to announce a Middle East Studies Movie Night!
We will be airing Wadjda (2012). The film, directed by Saudi director Haifaa al-Mansour, was the first Saudi film considered for an Oscar nomination. It focuses on the story of Wadjda, a Saudi girl, who struggles with the bounds and mores of being a girl in that society. The film is in Arabic with English subtitles.
Refreshments will be served!
Event Contact: jelias